Book review: In It Together: the Inside Story of the Coalition Government, By Matthew d'Ancona
John Rentoul admires a close-up account of our divided government but has his doubts about the odd couple who lead it
John Rentoul
Tuesday 08 October 2013 11:13 Comments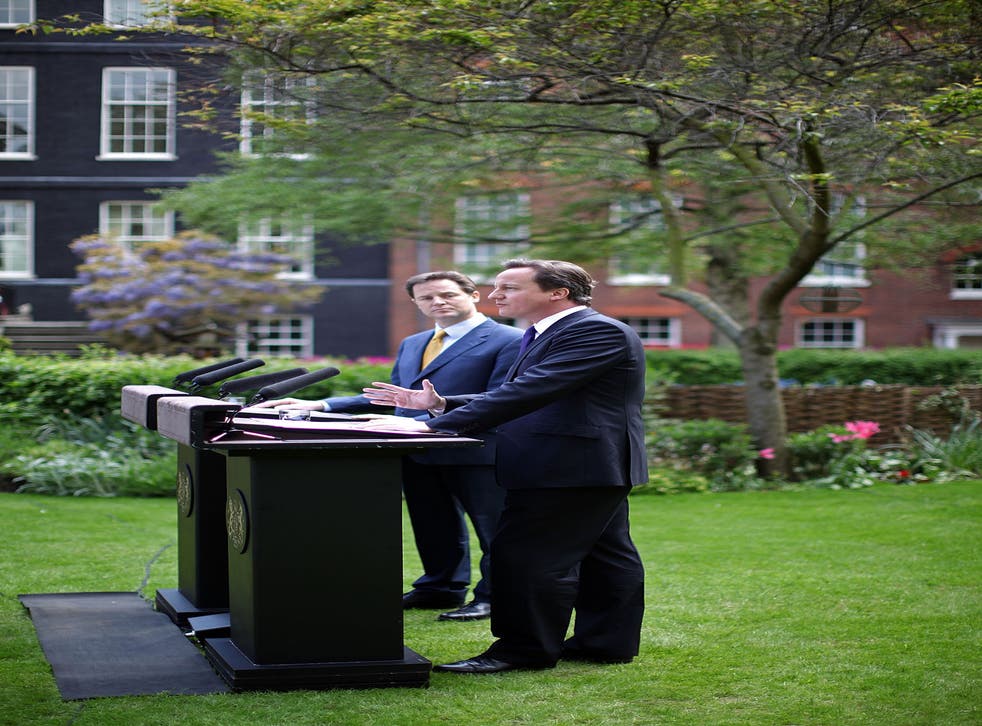 Ihave been beaten at my own game. When Jon Davis and I started teaching a course on the Blair government at Queen Mary, University of London, in 2008, a mere 15 months after its main subject stood down as Prime Minister, we thought we were pushing the boundary of contemporary history as far as it would go. Now Matthew d'Ancona has published a history of a government 19 months before it has even ended.
Get this book at the discounted price of £20 from The Independent Bookshop or call 0843 0600 030
That has one disadvantage, in that we don't know how this story ends. We don't know if this is a five-year government or a 10-year one. Nor can we see clearly what its achievements might be, although restoring the public finances is an unavoidable task – even if it has been fitfully started and actually balancing the books had been repeatedly postponed.
D'Ancona makes a good guess that schools reform will be important in the long run, and that the promise of renegotiation and a referendum on Europe could be. We know, too, that the Olympics, the Libya campaign and the Leveson inquiry will all be "memorable", as Sellars and Yeatman put it.
D'Ancona has the great gift of turning the muddle of daily news into a story that flows naturally from one acute observation to another, deftly identifying the important characters, events and decisions, and describing the interplay of personalities and social forces with a historian's skill. As admirers of his weekly Sunday column know, he has a lovely turn of phrase: "It was an article of faith for Lib Dems that first-past-the-post was wrong in principle, and particularly injurious to them in practice." The writing is of such high quality that we are prepared to forgive the occasional turn too far. We could have done without "A tweet is a long time in politics", and this laboured construction: "Not 'sofa government' as much as a 'so far so good' innovation."
As we admirers also know, d'Ancona has the confidence of most of the players in the story, from the Prime Minister down, and so the book is peppered with authoritative detail where lesser works would have padding. On the election of Ed Miliband as Labour leader, he writes: "Most senior Tories, with the notable exception of William Hague, assumed that the Opposition had made a terrible error." And he quotes Nick Clegg, referring "fondly" to the "kibbutzim" mentality of his own party. It's a revealing description, although I am not so sure about the "fondly".
Above all, d'Ancona retells the main episodes of the coalition government with an impressive sureness of judgement. On the forming of the coalition, his account corroborates that of Andrew Adonis, whose Five Days in May, published earlier this year, says that Labour's leaders were ill-prepared for a hung parliament and were more easily out-negotiated than they should have been. D'Ancona gives a fuller account from the other side of how well-prepared David Cameron and George Osborne were.
Oddly, though, he misses the significance of one last-minute change for which I think the Conservatives had not prepared. It was quite late in the coalition negotiations with the Liberal Democrats that Osborne put his pen through the agreement that the fixed-term parliament would last four years and changed it to five. All around the table agreed immediately. At a stroke, he changed the nature of the government, which would otherwise be facing a general election in seven months' time.
The book is full of new information that fills out and explains better some of the coalition's decisive moments. Osborne advised Clegg not to "sign up to" the tripling of tuition fees, for example. The coalition agreement explicitly provided for the Lib Dems to abstain on that vote, but as Vince Cable had drawn up the policy and Clegg had come to believe in it, Clegg decided to do the honourable – and disastrous – thing.
If Clegg got that wrong, d'Ancona makes it even clearer that Cameron made two big mistakes that will cost him dear at the next election. First, he "won" the referendum to keep the voting system as it is: the Alternative Vote would have given him the largest share of Ukip's second preferences. Second, he lost the chance of fairer constituency boundaries when Clegg took his revenge for Tories voting down House of Lords reform.
Later, in discussions leading to what is now certain to go down in history as the "Omnishambles Budget", d'Ancona reveals that Clegg agreed with Osborne to cut the top rate of income tax all the way back down to 40p in the pound from 50p, in return for a mansion tax on houses worth more than £2m. But the mansion tax was vetoed by Cameron, aware of the sensitivities of Tory donors, and so a compromise rate of 45p was agreed. It was a "tax cut for the rich" that satisfied no one and destroyed the coalition's claim, which d'Ancona took as his title, that we are "All in it together".
Occasionally, d'Ancona's judgement seems faulty. He regrets, for example, Cameron's failure to bring his leadership rival David Davis back into the fold, after Davis resigned from the Shadow Cabinet to tilt at the windmills of Labour's assault on "ancient liberties". This is naive. Davis has a remarkable life story as a working-class Tory, but I understand that Cameron found him one of the most unreasonable people with whom to work and that there was never any prospect of a post for him in government.
In all, though, a magnificent – if interim – book. It captures the way this government has worked in all its nuances. And it never quite dispels the feeling that Cameron and Osborne are like clever student politicians. They are quite good, most of the time, at the game of politics, and have strung Clegg along for the ride most adroitly. But in the end, is it any more than a game for them?
John Rentoul is the author of 'Tony Blair: Prime Minister' (Faber & Faber)
Register for free to continue reading
Registration is a free and easy way to support our truly independent journalism
By registering, you will also enjoy limited access to Premium articles, exclusive newsletters, commenting, and virtual events with our leading journalists
Already have an account? sign in
Join our new commenting forum
Join thought-provoking conversations, follow other Independent readers and see their replies