Charlie Jane Anders, All the Birds in the Sky: 'Fusion of spells and uber-geeks', book review
Anders is editor-in-chief at i09, the blog that deals with science fiction, fantasy, futurism, and pretty much anything of geeky interest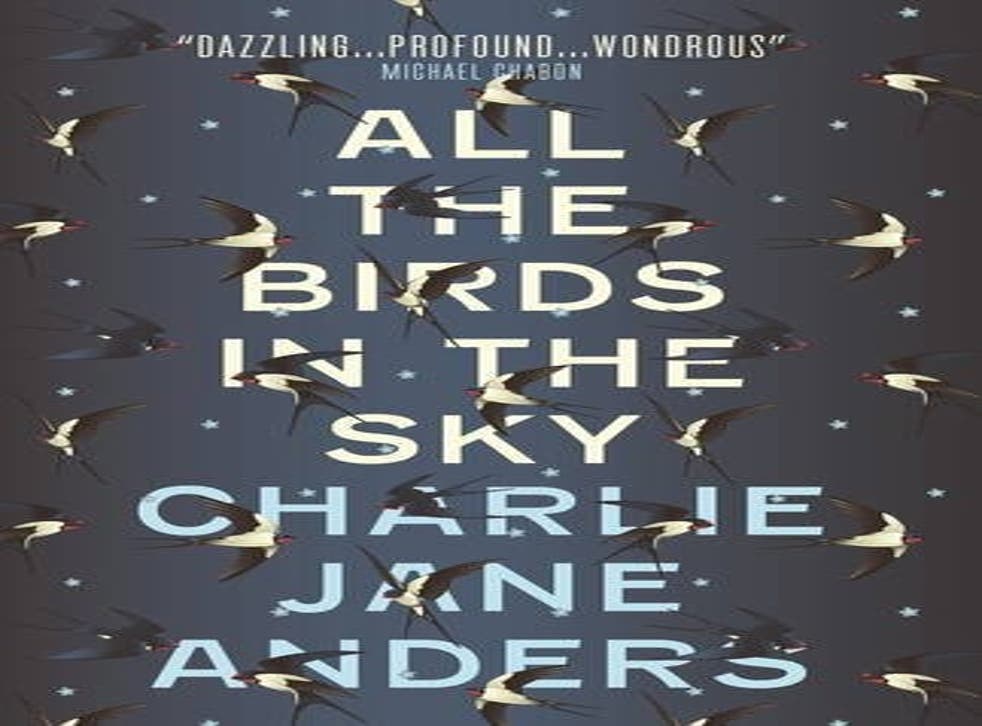 Imagine that Diana Wynne Jones, Douglas Coupland and Neil Gaiman walk into a bar and through some weird fusion of magic and science have a baby. That offspring is Charlie Jane Anders' lyrical debut novel All The Birds In The Sky.
Anders is editor-in-chief at i09, the blog that deals with science fiction, fantasy, futurism, and pretty much anything of geeky interest, and she's applied the same wide-ranging policy to this novel. It has a little bit of science fiction, a little bit of fantasy, and a hell of a lot of fun.
Her two protagonists are Patricia and Laurence, a pair of nerdish outsiders whose paths cross briefly when they are teenagers.
Patricia is a witch, as she discovers when she's six years old and holds a conversation with a wounded bird. Laurence has a more technical, yet no less astonishing, gift; after finding some blueprints on the internet he makes a working time machine.
Yet, despite Patricia and Laurence stumbling on these well-worn tropes of escapist literature, their often gruesome teenage lives barely change; Patricia finds she can do little else other than talk to birds, and that seems to melt away as she grows older.
Laurence's time machine allows him to jump a paltry two seconds into the future; handy for avoiding the fists of bullies, but not much else.
Eventually, they drift apart, and when we meet them again in the second part of the book, as adults in San Francisco, we find that their gifts have indeed changed them. Patricia has attended a school for witches and Laurence is part of an uber-geek think tank.
The 20 best audiobooks

Show all 20
There's also the matter of the impending end of the world. But if catastrophe can be averted, will it be by Patricia's witchily holistic methods, Laurence's technological marvels, or some combination of the two?
Anders has created a special little confection here, a novel with a foot in both camps of science fiction and fantasy, and something that is greater than the sum of its parts.
It's sometimes achingly hip, like the aforementioned Coupland's Generation X updated for the Millennial generation, while the young Patricia's conversations with her bird friends (one's called Dirrp) sometimes make you wonder at the beginning if this is a book for younger readers.
And the sequences with the assassin from an ancient order are pure Gaiman.
But while parts of the book might feel familiar, the whole is completely Anders. She's an important new voice in genre fiction and All The Birds In The Sky marks a brave, genre-bending debut that, as satisfying as it is, perhaps hints at even more greatness to come.
All the Birds in the Sky, by Charlie Jane Anders. Titan Books £7.99
Register for free to continue reading
Registration is a free and easy way to support our truly independent journalism
By registering, you will also enjoy limited access to Premium articles, exclusive newsletters, commenting, and virtual events with our leading journalists
Already have an account? sign in
Register for free to continue reading
Registration is a free and easy way to support our truly independent journalism
By registering, you will also enjoy limited access to Premium articles, exclusive newsletters, commenting, and virtual events with our leading journalists
Already have an account? sign in
Join our new commenting forum
Join thought-provoking conversations, follow other Independent readers and see their replies