Christmas 2014: Best poetry books
Carol Ann Duffy's The Christmas Truce commemorates the night 100 years ago when German, French and British troops left their trenches to mingle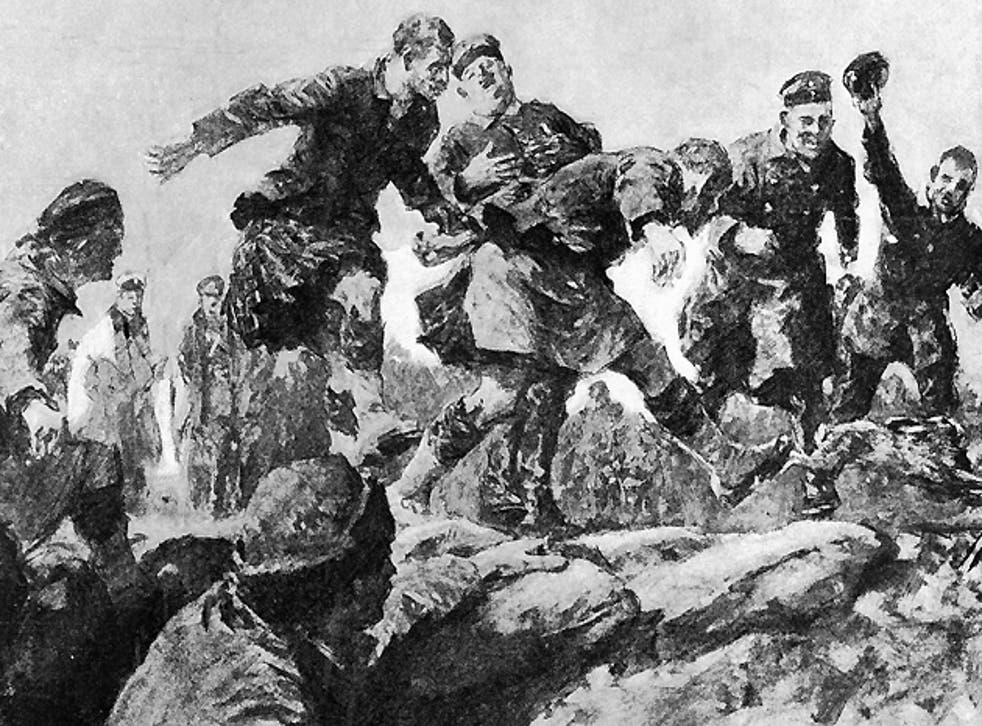 Fans of the poet laureate rejoice! You have three festive choices.
Carol Ann Duffy's The Christmas Truce (Picador, £10.99) commemorates the night 100 years ago when German, French and British troops left their trenches to mingle. A heart-warming tale for children that is likely to bring a lump to adults' throats too; and David Roberts' illustrations are superb.
Dorothy Wordsworth's Christmas Birthday (Picador, £6.99) would make a lovely stocking filler, not so much for the workaday verse as for Tom Duxbury's woodcut-style illustrations, distilling the essence of a frugal, poetic Christmas over 200 years ago. And finally, her New and Collected Poems for Children (Faber, £16.99) is a fine treasury of silly, playful punning.
It's Dylan Thomas's centenary year, and in the weighty Collected Poems (Weidenfeld, £20) it's fascinating to trace images and themes from poem to poem till their final apotheosis in the masterpieces. A quarry of gems, big and small, perfect and misshapen. And is there a Thomas of the future lurking in the latest batch of Faber New Poets? The series, presented in attractive collectable booklets at £5 each, has a good track record, with Joe Dunthorne and Sam Riviere among previous winners. Of the latest beneficiaries, Nos 9-12, two are poetry editors, one at Granta, one at Ambit. The work is by turns pesky, perky, facetious, painfully trendy and moving. Watch out for No 11, Zaffar Kunial, who has a job as a "full-time 'Creative Writer' for Hallmark Cards".
Anna Robinson's Into The Woods (Enitharmon, £9.99) is as sidestepping, winding and circular as a woodland trail. She weaves fantasy, folklore and social history as she uncovers the primeval woodland existing in ghostly form beneath London's streets. Quietly captivating.
Philip Terry's hilarious Dante's Inferno (Carcarnet, £12.95) transposes the first canticle of the Tuscan epic to the University of Essex, its demons made up of grim bursars, vengeful vice-chancellors and doom-laden dons. A working knowledge of the original helps, but even novices will relish the storytelling as Terry reels across campus with poet Ted Berrigan as Virgil. His Beatrice is none other than the supernaturally gracious Marina Warner, who recently stood down from her Essex post amid controversy. Hell, unlike the University of Essex, is part of God's plan ….
Finally, and I hope you won't need it, Daisy Goodwin's 100 Poems to See You Through (Ebury, £10, proceeds to Maggie's Cancer Centres) tackles illness and mortality under headings such as "The Bad News", "Visiting Hours" and "How to Carry on". There is wisdom, acceptance, sharp observation, compassion and humour here. Merry Duffymas!
Register for free to continue reading
Registration is a free and easy way to support our truly independent journalism
By registering, you will also enjoy limited access to Premium articles, exclusive newsletters, commenting, and virtual events with our leading journalists
Already have an account? sign in
Register for free to continue reading
Registration is a free and easy way to support our truly independent journalism
By registering, you will also enjoy limited access to Premium articles, exclusive newsletters, commenting, and virtual events with our leading journalists
Already have an account? sign in
Join our new commenting forum
Join thought-provoking conversations, follow other Independent readers and see their replies