City of Girls by Elizabeth Gilbert, review: A funny, bittersweet, moving coming-of-age story
The new novel from the author of 'Eat, Pray, Love' is a tale of love and loss in New York City, which shows she is as gifted a novelist, as she is a memoirist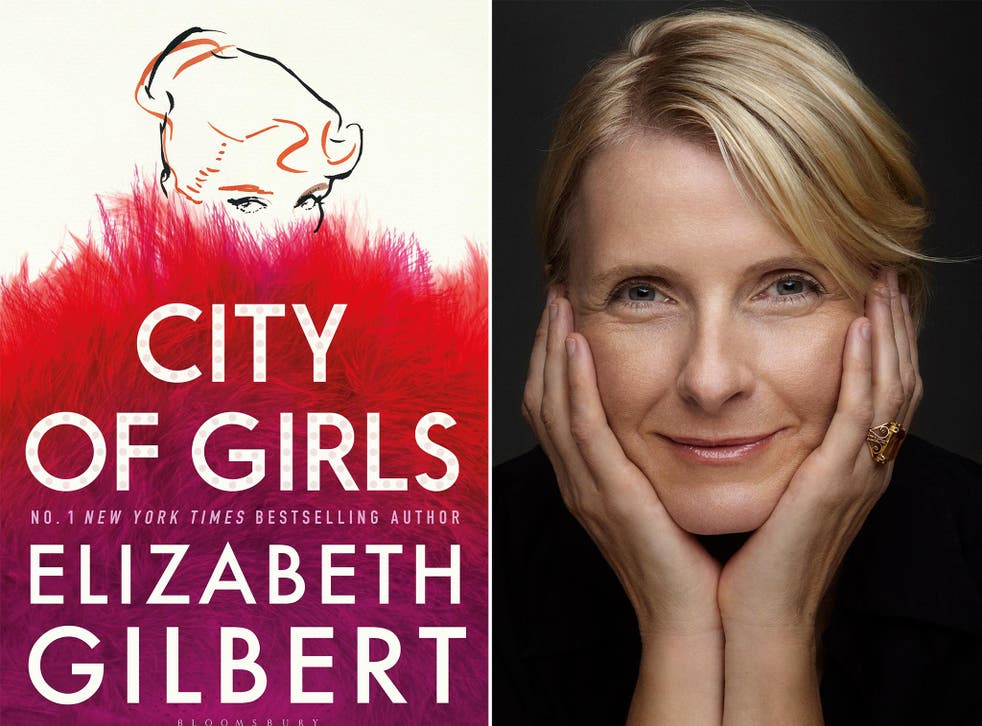 About three years ago, Elizabeth Gilbert, who shot to fame in 2006 with her bestselling memoir Eat, Pray, Love, stopped writing. She became a full-time caretaker for her partner Rayya Elias, her best friend for more than a decade, until Elias's death in January 2018. Gilbert's latest novel, City of Girls, was born out of this experience of love and loss, and her desire to find joy out of her darkest times. The result is a funny, bittersweet, moving coming-of-age story of a woman trying to find her place in the world in the trickiest place (New York City) and at the trickiest time (Second World War).
City of Girls is Gilbert's first book since the self-help manual Big Magic: Creative Living Beyond Fear (2015), and her first novel in six years (The Signature of All Things came out in 2013). The novel is written like a long letter from the perspective of its protagonist Vivian, to a woman named Angela, with the enigmatic purpose of telling her how Vivian met her father. But this is not a story about Angela, nor is it, really, a story about Angela's father – this is Vivian's story, and it begins in 1940 when she gets kicked out of Vassar at the age of 19. (Vivian tells us, with the assurance of someone who doesn't much mind if others judge her, that she cared far more about her own appearance than she did about classes.)
Vivian is sent to live in New York City with her aunt Peg, the owner of a small theatre called the Lily Playhouse. Naturally, it doesn't take long until the naive, sheltered teenager raised in a prim and proper family falls head over heels in love with the Lily, its showgirls, and its endless Martinis. A gifted seamstress, Vivian finds work making costumes for the Lily's kitschy plays, which leaves her ample time for nights out on the town with her new friend, a showgirl called Celia. But there's a war coming, and its first physical manifestation in Vivian's life comes when the gifted, ever-so-glamorous English actress Edna Parker Watson (inspired by the real-life American stage actress Katharine Cornell) finds refuge at the Lily, after her London townhouse gets bombed by the Luftwaffe.
40 books to read while self-isolating

Show all 40
Things change when Edna enters Vivian's life, the way things change when you meet someone who will become, at once, your friend, your mentor – and the person you admire the most on the planet. We watch as Vivian grows, and as her new life in the city brings her the brightest joys and the deepest sorrows. It could all end some time after the Second World War, but the story keeps going – perhaps because you can't really tell the story of a war, and of the people who lived through it, without telling what happened after the ceasefire.
There is so much to love in City of Girls. Vivian's voice is strong and leaves you yearning for more time with her. Her love of sex is unapologetic, and the novel explores female desire in a refreshingly radical way. (Vivian does get judged for her love of one-night stands and her profound lack of interest in marriage, and as her story unfolds from the perspective of her older self, it's interesting to witness the many ways in which this does and doesn't impact her.) Gilbert revels in bringing to life the world of New York City theatre in the Forties, with Vivian's love of fashion making for vivid descriptions of everyone's outfits and costumes. The Second World War chapters feel realistic and are anchored in real-life events such as the devastating bombing of the USS Franklin (which left about 800 people dead). Gilbert bestows upon her protagonist the same freedom she has allowed herself, dating back to her Eat, Pray, Love days: the freedom of watching herself change and evolve.
City of Girls is a historical novel, bringing to life the Forties, the Fifties and the Sixties – and we understand that Vivian is writing this long letter well after the sexual revolution. There's something slightly reminiscent of Forrest Gump in Vivian's tale, in that you truly get to know a character when you see them through several decades. Vivian's story, at its core, is the universal (well, universal to a degree) tale of how one becomes a New Yorker, which makes her feel like "one small dot of humanity in a larger ocean of souls". It's a story of joy and resilience, two qualities that undoubtedly feed off each other – "For a while there's no war, and then there's another war. If you get too upset about it all, you become a stupid, unhappy person – and where's the good in that?" Vivian's aunt Peg asks her young niece.
Women grow old together in more ways than one, and the novel does a wonderful job at encapsulating the many, many ways in which people love each other. Bodies, whether they're touched by a lover or injured in the war, occupy a large portion of Vivian's mind – and the blissful ignorance of doctors when it comes to the female body (Vivian is told to eat liver to help her start menstruating, as well as drink ample amounts of buttermilk to make her breasts grow) is at best comical, at worst infuriating.
Coming-of-age stories which centre on female protagonists are still a relatively rare thing, and a celebrated treat. With City of Girls, Gilbert adds a valuable contribution to the genre – and shows that she's as gifted a novelist, as she is a memoirist.
City of Girls is published by Bloomsbury in the UK (£16.99) and Riverhead Books in the US ($28) on 4 June
Register for free to continue reading
Registration is a free and easy way to support our truly independent journalism
By registering, you will also enjoy limited access to Premium articles, exclusive newsletters, commenting, and virtual events with our leading journalists
Already have an account? sign in
Register for free to continue reading
Registration is a free and easy way to support our truly independent journalism
By registering, you will also enjoy limited access to Premium articles, exclusive newsletters, commenting, and virtual events with our leading journalists
Already have an account? sign in
Join our new commenting forum
Join thought-provoking conversations, follow other Independent readers and see their replies