Curtis White, We, Robots: Staying Human in the Age of Big Data: 'A soulful swipe at science' - book review
'White is unusual in being both a strong supporter of postmodernism and post-structuralism, with a disdain for "reality" and "realism" in art, and a common-sense humanist'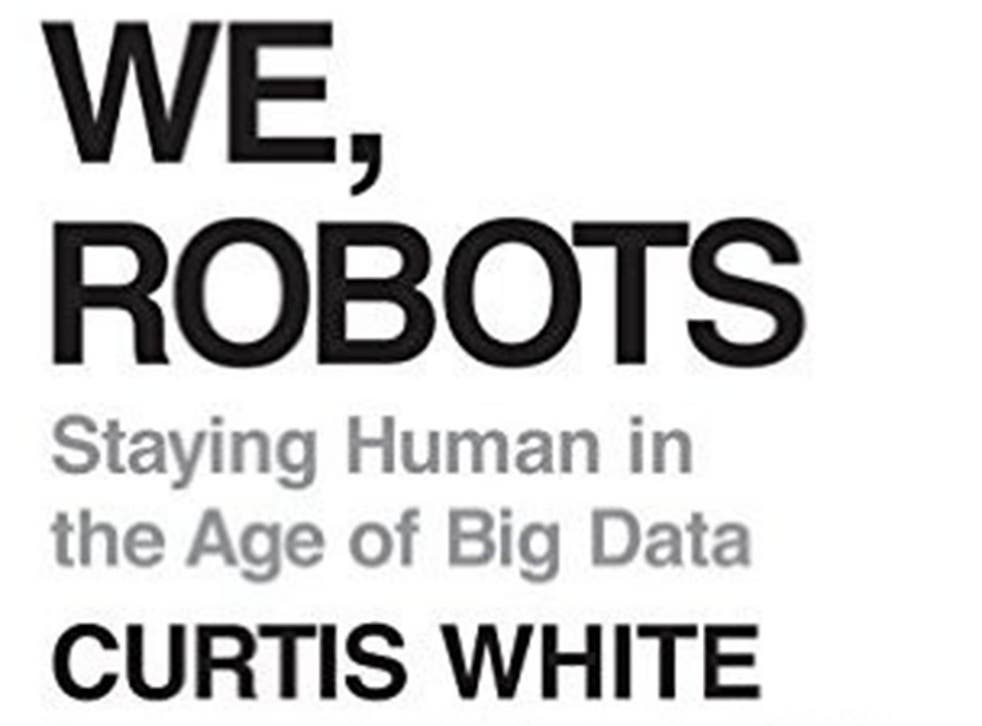 Curtis white is an American professor of English, a writer of experimental fiction and, recently, a social critic best known for The Science Delusion (guess who that's aimed at?). His message is that IT, late-capitalism and the mechanistic mindset are degrading society and the spirit.
What is he for? White wants us to recognise that our knowledge of the world is all fictional, including science. I accept that this is true in the sense that everything has been given a local habitation and a name by us. His fictive relativism does acknowledge that science has provided us with a handle on the physical world that comes in useful from time to time. And when he denounces scientific tropes such as 95 per cent "confidence limits", he is spot on: such statistical constructs "have nothing to do with nature".
I don't believe he is anti-science as such. His targets are the science ideologues such as Richard Dawkins, Daniel Dennett and Sam Harris, who treat it as the only show in town and lend their supposed scientific authority to opinions which are no more soundly based than anyone else's and often less so.
White is particularly good on the current obsession with neuroscience. To EO Wilson's "no scientific quest [for the physical basis of consciousness] is more important", White retorts: "than finding a non-polluting source of energy"? The idea that neuroscience will finally explain consciousness is a delusion. We discover consciousness every morning by waking up. Use it.
The remark about energy sources confirms that Curtis recognises science's importance in some areas but he objects to the way in which every subject now suffers a creeping science takeover, even objecting to nature being considered as an ecosystem (a mechanistic affront to its organic wholeness). Which is maybe pushing it, but his denunciations of the way Silicon Valley has endorsed a kind of New Age Mindful Neo-Buddhism as a balm for the stresses IT itself has helped to create is pertinent.
Curtis's stance can perhaps best be characterised by dropping some of his favourite names and movements: Rabelais, Sterne, Schiller, Proust, the 60s counterculture. He's a Playful Romantic. He's also unusual in being both a strong supporter of postmodernism and post-structuralism, with a disdain for "reality" and "realism" in art, and a common-sense humanist: "We should try ... to make human places, in human proportions, for human purposes." If a word can sum up what he is for, it is "kindness".
His style doesn't always help him gets the message over. Relentlessly scathing and often resorting to vaudeville knockabout, White's polemic sprawls and sometimes loses focus, devoting 22 pages to an analysis of Spike Jonze's film Her, for instance. But sometime he hits it square, as in his denunciation of denizens of the fine-art market: likening them to "South Sea natives who insist on the magical properties of certain queer objects ... but are unable to say why they are so important..."
Given White's overriding message about the tyrannical effects of IT on our lives and his espousal of fiction and the spirit of play, it is good that the book inadvertently demonstrates the joyous creative potential of the spellchecker, in launching "flamingo dancing" (with castanets). That particular robot was obviously in sympathy with White's stand for invention against the forces that would deskill, degrade and roboticise us.
We, Robots: Staying Human in the Age of Big Data, by Curtis White (Melville House, £18.99). Order at £17.09 inc. p&p from the Independent Bookshop
Register for free to continue reading
Registration is a free and easy way to support our truly independent journalism
By registering, you will also enjoy limited access to Premium articles, exclusive newsletters, commenting, and virtual events with our leading journalists
Already have an account? sign in
Register for free to continue reading
Registration is a free and easy way to support our truly independent journalism
By registering, you will also enjoy limited access to Premium articles, exclusive newsletters, commenting, and virtual events with our leading journalists
Already have an account? sign in
Join our new commenting forum
Join thought-provoking conversations, follow other Independent readers and see their replies