Dear Friend, from My Life I Write to You in Your Life by Yiyun Li, book review: Even the description 'memoir' doesn't really do it justice
Yiyun Li's memoir is as far from a 'tell-all' as one can get with its eight essays that are snapshots of her life, including her struggle with mental illness, but it is only a part of the bigger picture
Lucy Scholes
Wednesday 22 February 2017 13:18 Comments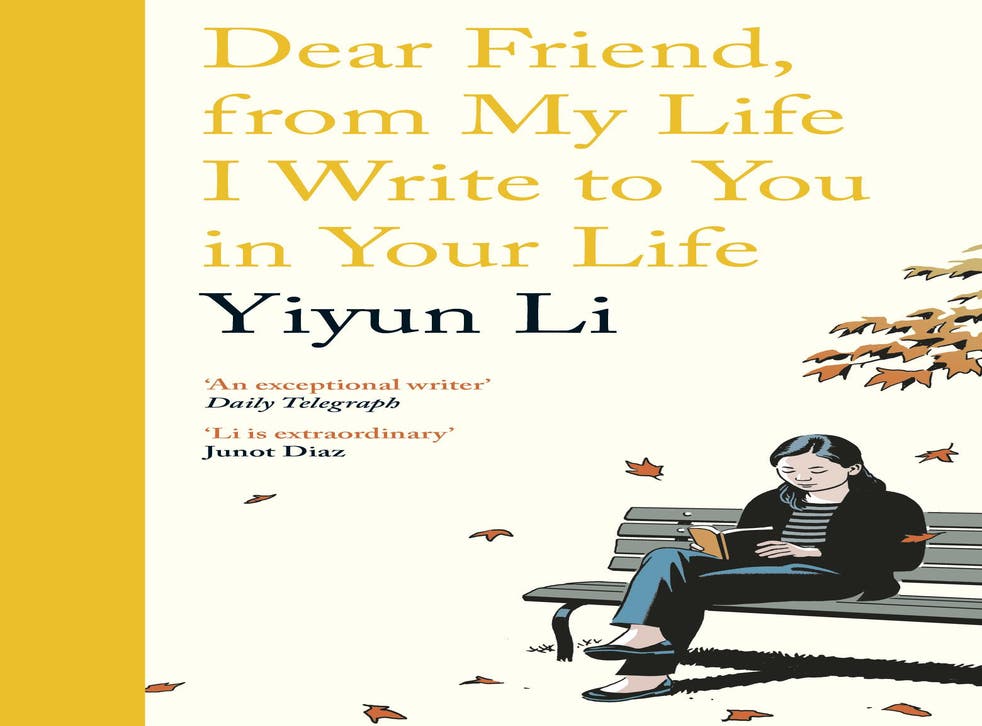 I've never read a memoir quite like Yiyun Li's Dear Friend, from My Life I Write to You in Your Life, not least because I've never encountered a memoirist who openly expresses such distrust of their pronoun of choice. "The moment that I enters my narrative," Li confesses, "my confidence crumbles." Then again, there's little about this elegantly written work that accords with expectations. Even the description "memoir" doesn't really do it justice. Yes, it charts Yi's life: her childhood in Beijing; her stint in the People's Liberation Army; her emigration to America as an young immunologist; and the decade she spent working in labs by day and writing at night before she eventually abandoned her scientific career for that of full-time writer.
And so too it's an account of her struggles with her mental health, written over a period of two years during the course of which she was twice hospitalised for depression and attempted suicide. Yet despite such potentially revealing subject matter, what Yi offers us is not a comprehensive portrait of her life, nor the narrative of her illness, but rather a collage of snapshots, sharp and clearly rendered, but each only a fragment of the bigger picture: eight essays in which personal recollections intermingle with meditations on melancholia and melodrama, and thoughts on the writers and work that have influenced her own. Are we to read between the lines, for example, and draw a cause and effect between her own emotionally unstable mother and the writer's mental health? This is about as far from a "tell-all" memoir as one can get.
Li's decision to become a writer was certainly a much-considered choice, and the right one if we consider the acclaim with which her work – two novels and two short story collections – has been met; but this doesn't mean it wasn't made with a degree of naivety. "When I gave up science," she writes, "I had a blind confidence that in writing I could will myself into a nonentity."
She has always resisted writing autobiographically, and is more than mildly annoyed when readers seek to reduce her work to evidence of her lived experience. Writing from one's life is a different endeavour – her title is taken from a line in Katherine Mansfield's journals, one of the host of writers discussed here: Elizabeth Bowen, Thomas Hardy, Ivan Turgenev, Stefan Zweig, but above all others, the Irish author William Trevor: "A space that had not been known to me was made possible through reading Trevor," Li recalls of first discovering his work.
Her relationship with her own self is a deeply an uneasy one – the way she rails against the autobiographical and the I; her feeling of being "orphaned" from her mother tongue, a "crucial decision" that's hand in hand with the choice she made to write in English, what she tellingly describes as her "private language". There is much alienation and estrangement here, but literature offers her both recovery and discovery: "To write is to find a new way to see the world."
'Dear Friend, from My Life I Write to You in Your Life' by Yiyun Li is published by Hamish Hamilton, £14.99
Register for free to continue reading
Registration is a free and easy way to support our truly independent journalism
By registering, you will also enjoy limited access to Premium articles, exclusive newsletters, commenting, and virtual events with our leading journalists
Already have an account? sign in
Join our new commenting forum
Join thought-provoking conversations, follow other Independent readers and see their replies