Fashion Climbing: A New York Life by Bill Cunningham, review: 'Enjoy the glorious, glamorous ride'
Shortly after Cunningham's death in 2016, the news came out that the manuscript of an unfinished memoir had been discovered among his possessions
Lucy Scholes
Friday 12 October 2018 12:38 Comments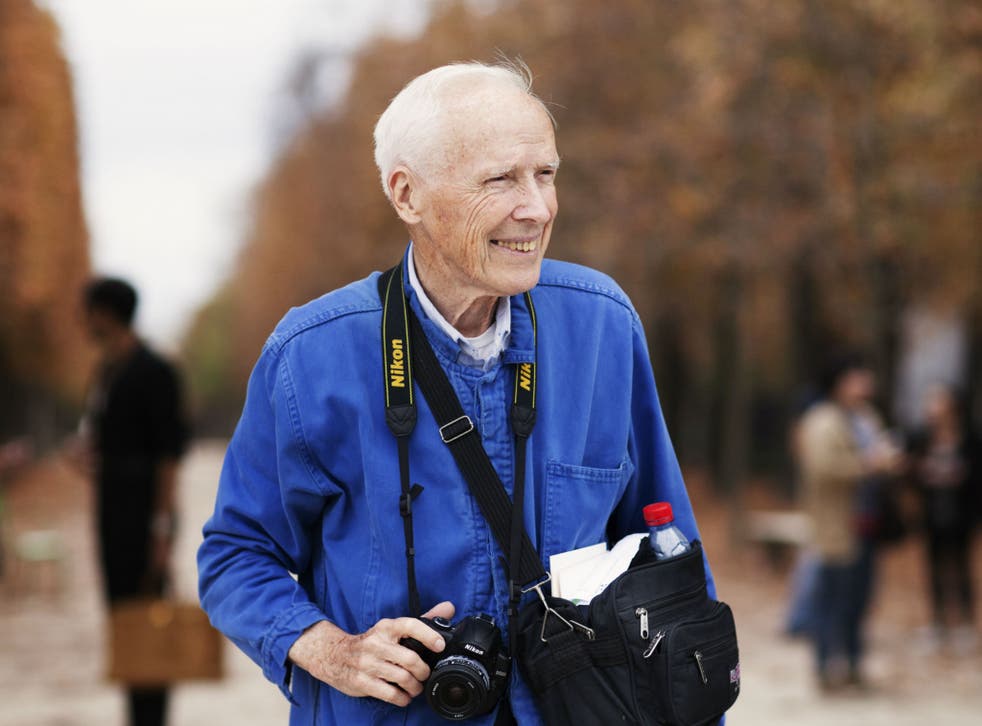 Bill Cunningham was the unassuming New York Times fashion photographer who, despite his documentation of the expected haute couture events, was most famous for his weekly "On the Street" column, the material for which he gleaned while cycling the streets of Manhattan.
Immediately identifiable, riding his bicycle, always dressed in the same blue French worker's jacket, Cunningham lived a near-monastic existence in a tiny studio apartment above Carnegie Hall. If you haven't seen it already, watch Richard Press's charming 2010 documentary Bill Cunningham, New York, in which the director follows his subject around the city. Cunningham's a man who lived for his work and apparently very little else.
Shortly after Cunningham's death in 2016, the news came out that the manuscript of an unfinished memoir had been discovered amongst his possessions. People were excited: perhaps this would reveal a whole new side to him. Fashion Climbing: A New York Life certainly offers us many delights but secrets aren't among them.
Cunningham begins his story at his middle-class Catholic home in "a lace-curtain suburb of Boston". He delights in everything and anything artistic and fashionable from an early age, much to the shame of his puritanical parents. On the first page, he describes having the "hell" beaten out of him by his mother when he was four years old for dressing up in his sister's "prettiest dress".
There's no outpouring of emotion, no baring of his soul, but it's clear his early years at home were hard, made "liveable" only by after-school jobs at department stores where he could revel in women's fashion. "It's a crime families don't understand how their children are oriented," is one of the few explicit things he says on the subject.
Longing for the "razzle-dazzle" of New York, a few years later he abandons his studies at Harvard for a training programme at a New York department store. It's there that he becomes "enchanted" with the millinery department, the first step he takes along the road to becoming William J, one of the most celebrated hat designers of the 1950s.
Success doesn't bring him wealth, but this is a New York in which one can live hand to mouth, spending one's last dime on painting a bathtub gold and filling it with champagne to serve at the best hat show in town. As writer and critic Hilton Als remarks in his introduction to the book, Cunningham's exploits read like something out of Truman Capote's Breakfast at Tiffany's. Cunningham and Holly Golightly would surely have been the very best of friends.
Admittedly, Fashion Climbing is a flawed book. The story tails off after Cunningham stops making hats – the changing fashions of the 1960s put a stop to their popularity – and the final few chapters are patchy. Nor does Als's introduction offer us much in the way of all the unanswered questions we still have. But he's writing here as a fan, not as a critic. He's got the right idea though: this is the only way to read Fashion Climbing. Don't try and judge it by the standards set by other memoirs, just enjoy the glorious, glamorous ride.
Fashion Climbing: A New York Life by Bill Cunningham is published by Chatto & Windus, £16.99
Register for free to continue reading
Registration is a free and easy way to support our truly independent journalism
By registering, you will also enjoy limited access to Premium articles, exclusive newsletters, commenting, and virtual events with our leading journalists
Already have an account? sign in
Join our new commenting forum
Join thought-provoking conversations, follow other Independent readers and see their replies