First Lady by Sonia Purnell, book review: How Clementine Churchill triumphed as a political consort
Churchill's wife has long been dismissed as nothing but chic. This biography tries to set the record straight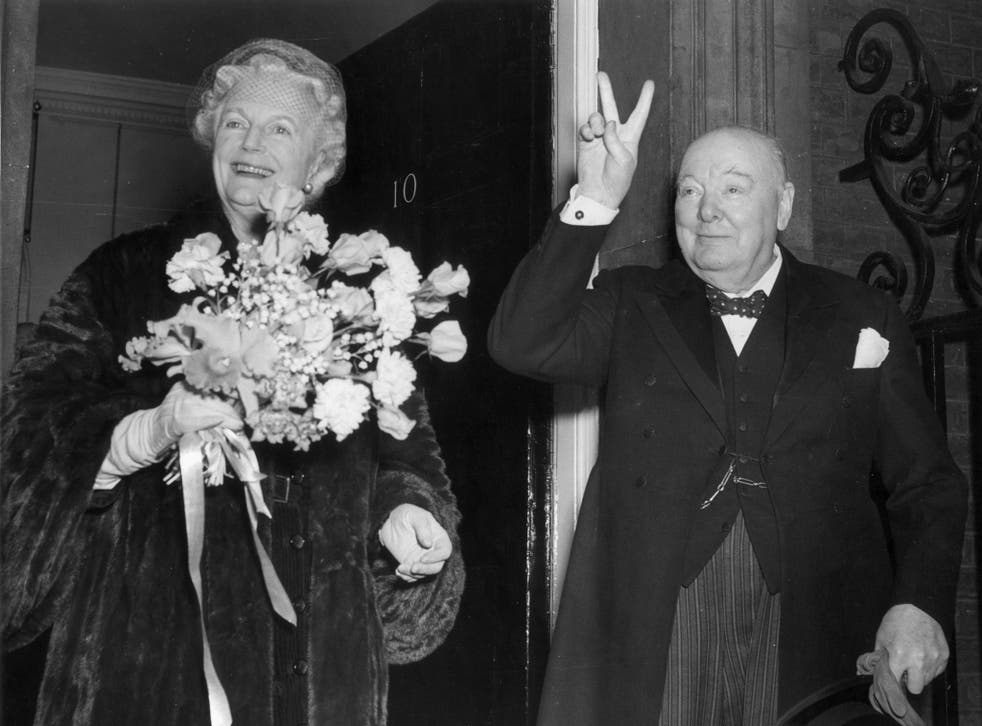 Its publication neatly timed to coincide with both the seventieth anniversary of VE day and the seventy-fifth anniversary of Winston Churchill becoming Prime Minister, Sonia Purnell's biography of Winston's wife Clementine brings her out from behind the shadow cast by the Great Man and argues for her historical importance.
Clementine Churchill, nee Hozier, notoriously private and reserved, with no intimate friends, presents a challenge for a biographer. Purnell accordingly employs novelistic techniques. Her introduction opens with a dramatic reconstruction of the night before the D-Day landings, when Clementine entered the Downing Street Map Room: "she cast her eyes over the long central table, from which the phones never stopped ringing, to the far corner, where, as she expected, she spotted Winston, shoulders hunched, jowly face cast in agonized brooding. She went to him as she knew she must, for no one else, no aide, no general, no friend however loyal, could help him now."
Clementine triumphed as a political consort. How did she do it? Purnell's explanation involves four distinct stories that she intertwines in a compellingly readable way. First: the fairytale of the poor little rich girl who kissed a frog and turned him into a prince. Second: the radical-feminist story of a brave woman who tried to create an authentic life for herself in an upper-class culture that derided women as second-rate, brainless though decorative, valuable only as breeders. Third: the heroic saga of a warrior queen who wanted power but only got it by playing subtle diplomatic games as her husband's eminence grise during two world wars. Fourth: the case-history of a psychologically damaged girl, given no help or healing, who became a cold and distant mother, valuing her Colossus husband over her vulnerable children, and who intermittently suffered from traumatic feelings of insecurity and powerlessness. These were expressed in occasional "hysterical" rages. Clemmie's stiff upper lip won out in the end.
Purnell is also testing a nicely provocative thesis: Clementine Churchill has been written off by most historians as ineffective and unimportant, so that her reputation needs rescue. This biography offers a defence of a woman who was frequently misunderstood because she stayed out of the limelight. Male commentators recognised her beauty and chic but often ignored her intelligence.
Winston Churchill: Life in pictures

Show all 30
The role of political spouse remains contentious in our own day. Each spouse has to re-invent it. In fact, Purnell argues, Clementine did brilliantly. She became her husband's wise counsellor, discreetly offering sound advice, re-writing his speeches, toning down his foolish or angry letters, preventing him from making certain terrible political mistakes and helping to rescue him from the ones he did make. For example, after the tragic debacle of the Dardanelles campaign in 1915, in which Britain lost around 29,000 men, she persuaded Winston to serve (briefly) in the trenches, thus restoring his noble status as a patriot dedicated to his country. Her wheeling and dealing was done behind a veil of gracious femininity. Apparently she helped to negotiate America's entry into the Second World War by seducing emissaries with posh country-house hospitality, sophisticated dinner parties with delicious food, and the company of her sexy young daughter-in-law.
Sometimes Clemmie came out of the closet and declared feminist views. In defiance of Winston she supported women's suffrage, attended several suffragette trials, and ran canteens for women munitions workers. Always a good Liberal, she sympathised with the struggles of working-class women trying to feed and clothe their children in impoverished conditions, and spoke up for them.
She relied, nonetheless, on all the privileges of her class position. Her own domestic troubles involved finding the right townhouse, the right country house, the right number of housemaids and gardeners, the right sort of chef. Her perfectionism meant that few servants stayed very long. Flowers had to be exquisitely arranged. After her midday rest the pillowcases had immediately to be changed. She flew into rages when service was less than ideal. Purnell makes us see that inside the tyrant was a little girl wanting to make everything perfect, so that a harsh inner parent would finally love her. Sometimes Winston was the demanding, imperious baby and she had to look after him. In their nursery language of love she was Kat and he was Pug. She could miaow and raise a velvet paw and show her claws but Pug did as he chose.
Clementine's life certainly had a difficult start. Born into a raffish and dissolute aristocratic family, she endured a painful childhood. Her parents having divorced, and her mother being left penniless, she was passed around different temporary homes. She lived briefly with her mother in Dieppe, where she hobnobbed with a matriarchal fish-merchant, Mme Villain, who subsequently sent her, as a wedding present, a fresh turbot with a lemon stuffed into its mouth. She suffered her mother boxing her ears, also the sadism of whip-happy nannies, a whip-happy aunt. She had to bear the early death of a beloved sister. Having done well at grammar school, she was not allowed to go to university. She briefly worked for her living sewing and teaching French.
Life changed in March 1908. Invited to a grand dinner, Cinderella-like, she despaired of her rags and "was out of the requisite clean white gloves". Luckily, she discovered that after all she possessed "a simple white satin princess dress" and sallied forth. Winston Churchill, arriving characteristically late, sat next to her, and fell in love. She wore more white satin for their wedding. Their marriage flourished because of their frequent and prolonged absences from each other. Winston was often selfish, insensitive and neglectful. She retaliated by going away on luxurious holidays.
Purnell concludes her study with a roll of drums. Clementine enabled Winston to become "the single-minded giant who led Britain, against almost impossible odds, to victory over tyranny. The way she managed a character described by Attlee as 'fifty per cent genius, fifty per cent bloody fool' was itself a type of genius."
Register for free to continue reading
Registration is a free and easy way to support our truly independent journalism
By registering, you will also enjoy limited access to Premium articles, exclusive newsletters, commenting, and virtual events with our leading journalists
Already have an account? sign in
Register for free to continue reading
Registration is a free and easy way to support our truly independent journalism
By registering, you will also enjoy limited access to Premium articles, exclusive newsletters, commenting, and virtual events with our leading journalists
Already have an account? sign in
Join our new commenting forum
Join thought-provoking conversations, follow other Independent readers and see their replies