Friday on My Mind by Nicci French - book review: Crime-writing couple are still making a killing
The climax is thrilling and, as one would hope, deliciously surprising
Andrew Wilson
Tuesday 23 June 2015 20:09 Comments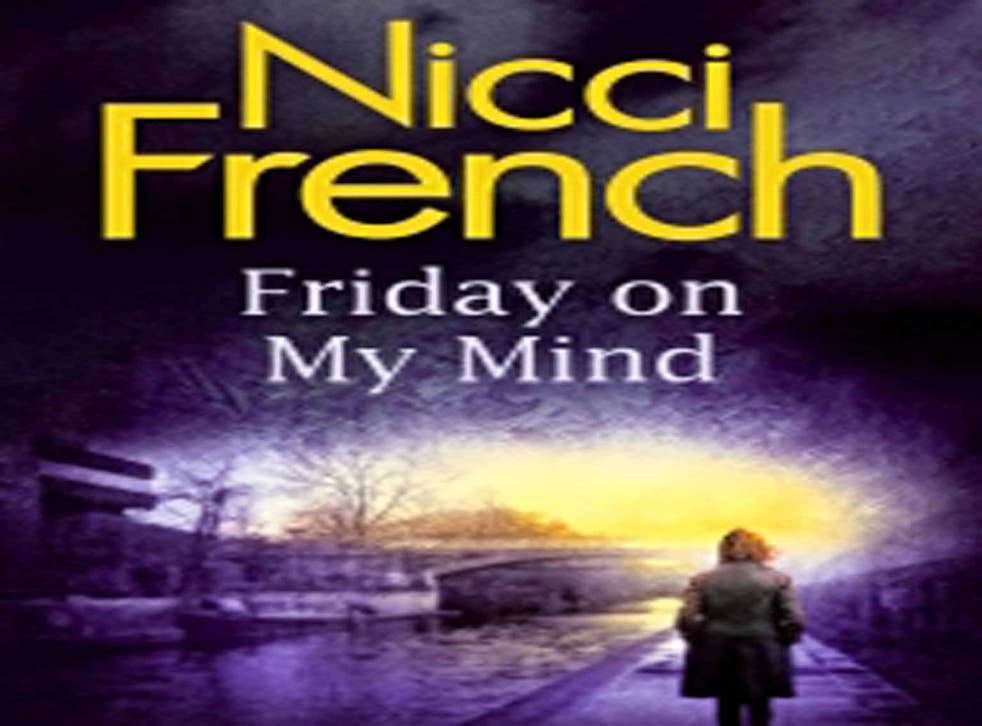 At the beginning of Nicci French's new thriller one of the characters describes the novel's heroine, psychotherapist Frieda Klein, in the following terms. "Wherever this woman goes, trouble follows and people get killed." No shit, Sherlock.
Since her first appearance in French's Blue Monday in 2011, Frieda Klein has seen her fair share of death and despair. She was raped as a teenager, had to deal with the fallout of her father's suicide, and she has been left bloodied and beaten on numerous occasions. In Friday on My Mind, the fifth novel in the series written by the husband-and-wife team Nicci Gerard and Sean French, Klein is in deep water again.
The opening chapter details the discovery of the bloated corpse of her former lover, Sandy Holland, floating in the Thames. When the police find a hospital band with the words "Dr F. Klein" tied around the dead man's wrist – and another piece of incriminating evidence – the authorities immediately suspect her of the crime.
Frieda's belief that Sandy was killed by her arch nemesis – the sinister Dean Reeve, who was first introduced to us back in Blue Monday but whom the police believe to be dead – leads her to disappear and take on another identity. She leaves the comforts of her north London existence and slums it among the drug addicts and economic migrants south of the river. Frieda becomes the hunted, the prey of both the police and the murderer of the man who loved her.
The opening chapter, the discovery of the body told from a child's point of view, is particularly vivid. The sentences are short, sharp and often shocking. The pace is quick and the book is peppered with memorable phrases such as "death is a great seducer". Dark humour imbues the book: when one character discovers that the psychotherapist has posed as the nanny of her children so as to search her house she exclaims, "What the fuck are you doing, Frieda fucking snoop Klein?"
The climax is thrilling and, as one would hope, deliciously surprising. "Therapists, detectives and writers have something in common," the husband-and-wife novelists have said. "In different ways they all impose some sort of narrative on the messiness of existence."
At the end, fans of French's fiction, new and old, will be left counting the days for the release of the sixth novel in the series. All we know is that it will feature, yet again, the indomitable Frieda Klein, that it will have Saturday in its title and, like Friday on My Mind, it will be utterly addictive.
Register for free to continue reading
Registration is a free and easy way to support our truly independent journalism
By registering, you will also enjoy limited access to Premium articles, exclusive newsletters, commenting, and virtual events with our leading journalists
Already have an account? sign in
Join our new commenting forum
Join thought-provoking conversations, follow other Independent readers and see their replies