Gauls, Picts, and Goths – old friends, new adventures in our second round-up of the best children's books
In the second instalment of our three-part series on Christmas books for children, Daniel Hahn picks the season's best titles for ages five to 12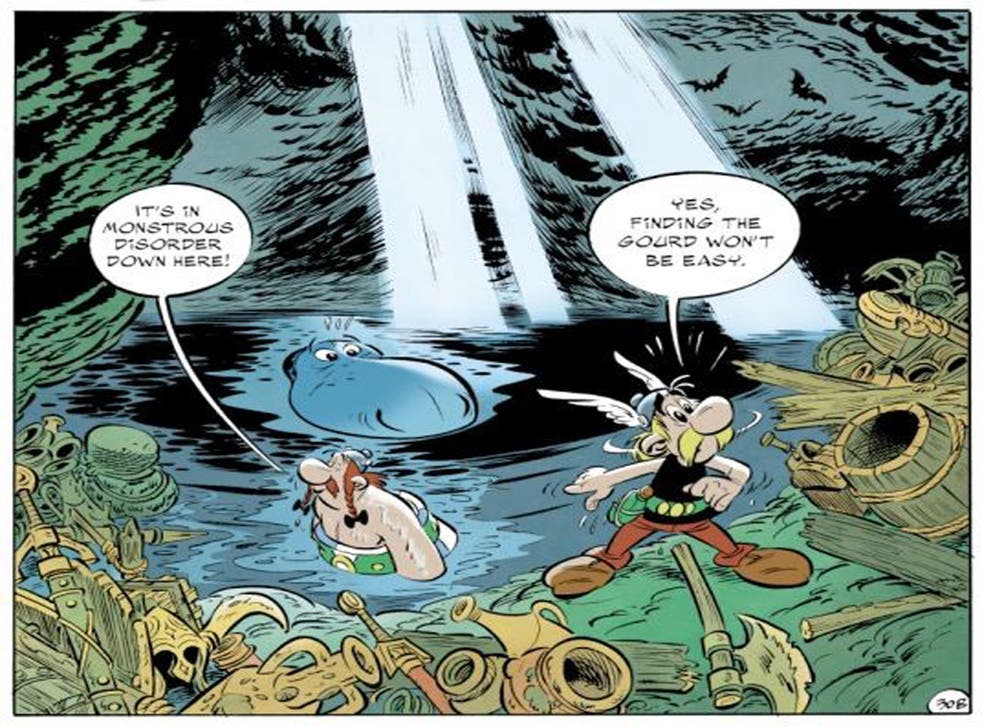 I'm supposed to be recommending children's books, but if there's anyone who can simply transcend age altogether it's my first choice, the little Gaulish warrior called Asterix. I've been reading him for three decades, and every new appearance is a pleasure. This latest album comes to us from a new writer-illustrator team (the first time he's been written by anyone other than Goscinny and Uderzo), and despite the burden of expectations they don't disappoint. Asterix and the Picts (Orion £10.99) sends Asterix and Obelix away from their familiar village to travel to Scotland, where they meet Nessie, Obelix tries his hand at tossing a caber, and they fight some Romans, before returning to Gaul for their traditional end-of-adventure banquet with all their – our – old friends. It's a delight. And while the creative team in France has changed, we can be grateful that the English version remains in the incomparably skilled hands of Anthea Bell, who's translated the books with wit and energy since the very beginning.
Back in May, this paper reported the exciting news that Pushkin Press was starting a children's list, which would focus on books from around the world, translated into English; and judging by their launch titles, we have a lot of treats in store. One highlight thus far is The Good Little Devil and Other Tales, by Pierre Gripari, translated by Sophie Lewis (Pushkin Press, £14.99). It's taken nearly 50 years for these internationally best-selling stories to find their way into English. (Asterix isn't the only venerable old Frenchman we've been eagerly awaiting.) The 13 magical tales are original and offbeat, and quite consistently odd – a potato and a Sultan fall in love, a pig swallows the Pole Star, a great hero gets no credit for his heroic deeds because his name's just too awful – in ways that children readily accept without any of our silly grown-up prejudice against such things, and they're written and translated with humour and charm.
The last few months have also seen the first two slim volumes of Glenda Millard's multi-award-winning "Kingdom of Silk" series reach these shores at last from their native Australia. Millard has that rare gift of making you feel in a few pages that you've known these characters, and this place, always. In the first book, The Naming of Tishkin Silk (Phoenix Yard Books, £5.99), we meet Griffin Silk, and watch him make a friend and come to terms with a secret sadness – it's poignant and lovely. (Be warned: there will be tears.) The focus shifts to Griffin's friend for the next book, Layla, Queen of Hearts (£5.99). And when you've read these and fallen in love with the characters, you'll be relieved to know that a third in the series is due in February.
Next come two terrific new stories, both brilliantly illustrated – and what fun they both are, too! Goth Girl (Macmillan, £9.99) is Chris Riddell's latest, and it's the story of Ada, who lives with her father (and miscellaneous servants and ghosts) in Ghastly-Gorm Hall; it's a lonely life, until she befriends a ghost mouse called Ishmael and joins the Attic Club. The Annual Metaphorical Bicycle Race & Indoor Hunt is approaching, and something strange is afoot … Quirky, clever and (as ever) marvellously detailed to the eye, Goth Girl is a beautiful object, and full of good jokes – a combination that's hard to beat. Now, a new book by either Philip Reeve or Sarah McIntyre is more or less guaranteed to be a treat, and since Oliver and the Seawigs (Oxford University Press, £8.99) is their first collaboration, you'd reasonably expect something special – and that's what you get. Oliver and the Seawigs is a hugely enjoyable read, as 10-year-old Oliver ventures across the sea to rescue his explorer parents who've gone suddenly missing; he discovers the Rambling Isles (about to gather for their septennial Seawig competition), a sea of sarcastic seaweed, a particularly ticklish island controlled by a boy called Stacey de Lacey, an army of sea monkeys, an albatross, a short-sighted mermaid and a big rock called Cliff. Great fun.
Phoenix (David Fickling Books, £12.99) is another collaboration that I'd love to see repeated. Writer SF Said and illustrator Dave McKean join forces to produce that all-too-rare thing in this country, an illustrated book for the relatively older child reader. It's the breathlessly paced story of Lucky who hurtles about the universe in his attempts to understand himself – and also in his fight to save the universe itself, no less. A powerful story of great scope and ambition, from an expert storyteller. And with these gorgeously deep black-and-white illustrations, the great McKean is on absolutely top form here.
Jamila Gavin is one of our most consistently good writers of fiction for children young and old. Now she's turned her hand to Blackberry Blue (Tamarind, £9.99), a collection of fairy tales. Many familiar elements of favourite fairy tales are here – a handsome prince, a wicked stepmother, a giant fish, plenty of magic, darkness and betrayal, love and sacrifice – and the feel is timeless, but the stories are all original, touched with the magic of Gavin's vibrant and varied imagination.
On to a writer who's possibly my favourite creator of fictional families: no one is better at putting words into the mouths of her child characters than Hilary McKay, as her Casson family series has demonstrated so delightfully over the years. Now she's back, with Binny for Short (Hodder, £9.99), in which Binny's family, struggling to make ends meet since the death of her father, move to a shabby little house by the sea. (The family includes six-year-old James, a classic McKay creation.) Binny for Short is warm and shrewd, blissfully funny, and deeply endearing in equal measure.
We end where we began, in Gaul. (Well, OK, France.) In Vango (Walker, £14.99), novelist Timothée de Fombelle and translator Sarah Ardizzone bring us the first part of a thrilling adventure story set around Europe between the wars, a distinctive and atmospherically cinematic tale of Vango and his journey on a quest for identity and truth. These intriguing adventures continue in a second part, due in English next year – I can't wait.
Register for free to continue reading
Registration is a free and easy way to support our truly independent journalism
By registering, you will also enjoy limited access to Premium articles, exclusive newsletters, commenting, and virtual events with our leading journalists
Already have an account? sign in
Register for free to continue reading
Registration is a free and easy way to support our truly independent journalism
By registering, you will also enjoy limited access to Premium articles, exclusive newsletters, commenting, and virtual events with our leading journalists
Already have an account? sign in
Join our new commenting forum
Join thought-provoking conversations, follow other Independent readers and see their replies