Gold Fever: One Man's Adventures on the Trail of the Gold Rush by Steve Boggan, book review
Boggan sets out on a modern-day hunt for gold and discovers its dark side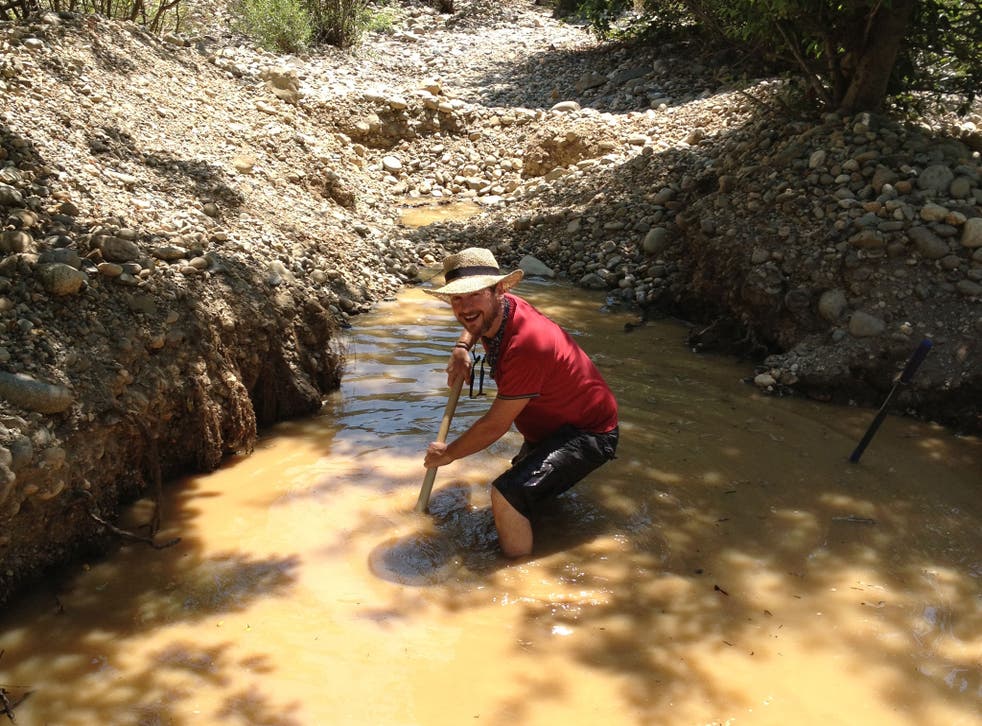 On Thursday 13 March 2008, the price of gold rose higher than $1,000 an ounce for the first time since the Egyptians started mining the precious metal some 6,000 years ago. Within three years it had almost doubled its value again.
California, home to the great gold rush of 1849, found itself once more subject to an inward migration of the determined, the deluded and the desperate, armed with maps, gold pans and blind optimism, all of them to a greater or lesser degree infected with a sickness known as gold fever.
Among their number this time around is a diffident Englishman named Steve Boggan. He has never panned for gold before and cheerfully admits he has slept under canvas only twice: once as a child in his parents' back garden and once at a music festival at which he managed to erect his tent inside out. Equipped from Walmart and with no clear idea what he is doing, he is initially nervous about admitting his inexperience.
"People here (don't) suffer fools gladly and I was coming to the conclusion I was a fool," he tells us. "It would be only a matter of time before I was found out." In fact, of course, his bumbling Anglo-persona disarms all-comers and he finds himself welcomed by the disparate cast of characters he encounters: people like Duane, an army veteran who has lost most of his stomach and 12 foot of intestine to cancer. Unable to get benefits, Duane has taken to hunting for gold, an occupation through which he has literally rebuilt himself. "There wasn't an ounce of fat on Duane and the veins popped out of his skin, forced out by muscles vying for space in his hard, crowded body," Boggan notes somewhat enviously.
At first the author is protected from gold fever by his own ineptitude – his eyesight underwater is so poor he can't tell the difference "between a golden nugget and a chicken nugget" – but gradually he falls under the spell of the mysterious metal. "When you first see gold in a pan, your guts are rearranged and never right themselves," he observes. Dave Mack, a legendarily successful prospector and ex-military man, again blessed with "pecs, legs and biceps… (with) weaves in them like subcutaneous plaits of steel", echoes his words, comparing the discovery of gold to "something on the level of a religious experience, every single time".
There is a darker side to this fascination, as Boggan comes to realise when gold poisons a friendship with a miner with whom he shares a claim. The history of the first gold rush is full of such shadows, accessed here partly through the diaries of three original '49-ers who accompany our present-day adventurer on his travels: they include starvation, lynching, the pollution of rivers with mercury and mine-workings, and above all the genocide of the Native American population who lived in harmony with the landscape before the arrival of the prospectors.
Boggan does a good job relating this story, but it can be found elsewhere. Principally the reader wants to know whether our likeable companion will hit pay dirt and whether he'll be corrupted in the process. Suffice to say his gains are not primarily financial: instead he goes home with "muscle definition for the first time in years, even a flat stomach". There's abs in them thar hills.
James Attlee's 'Station to Station: Searching for Stories on the Great Western Line' is published on 14 May (Guardian Books, £14.99)
Register for free to continue reading
Registration is a free and easy way to support our truly independent journalism
By registering, you will also enjoy limited access to Premium articles, exclusive newsletters, commenting, and virtual events with our leading journalists
Already have an account? sign in
Register for free to continue reading
Registration is a free and easy way to support our truly independent journalism
By registering, you will also enjoy limited access to Premium articles, exclusive newsletters, commenting, and virtual events with our leading journalists
Already have an account? sign in
Join our new commenting forum
Join thought-provoking conversations, follow other Independent readers and see their replies