Hard Choices by Hillary Clinton, book review: Not racy or self-deprecating but blessed with an instant familiarity
Reading Hillary Clinton's memoir was 'nowhere near as bad' as expected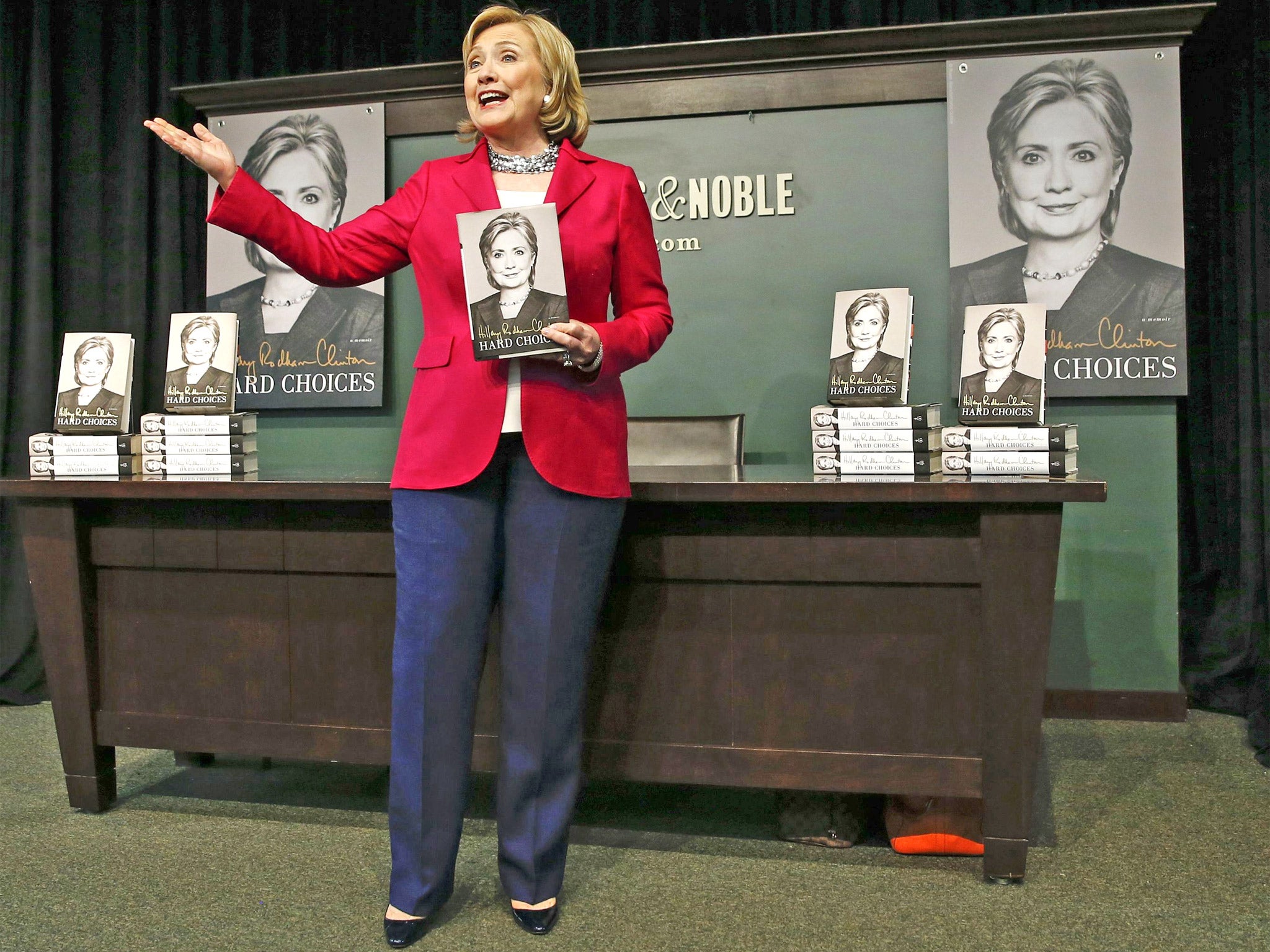 When I was handed a copy of Hard Choices, the memoir of Hillary Clinton's four years as US Secretary of State, I confess, the heart sank.
It wasn't just the weight of the book - at 635 pages, you have to take a deep breath, dive in, and keep going. It was also something to do with Clinton herself. There she is, staring out from the cover, in a shot that you just know was taken over and over until it was exactly as she and her multitude of advisers wanted.
Everything inside will have been similarly skilfully manufactured. This was never going to be a racy, humorous, self-deprecating volume. No searing soul-searcher or tear-jerker, either. As for revelations, there would be a few – the pressure of the reported $8m advance, plus Clinton's desire for a positive pick-up on chat shows would have seen to that – but not many.
So it proved. But I admit, the experience was nowhere near as bad as I expected. As such works go, it's blessed with an instant familiarity: with Hillary herself, and of course, the ever-present Bill in the background, and President Obama; and with the events themselves, which are fresh and in some cases, such as the 11 September 2012 killing of the US ambassador to Libya in Benghazi, Chris Stevens, and three other Americans, still raw.
It helps, too, that it gets off to a flying, deeply personal start. She's lost the Democratic nomination in 2008, and meets with Obama to try and settle their differences. They do, but the account of the session, complete with its awkward silences and unspoken thoughts about the at times bitter battle between them, is vividly told.
Obama offers her a key post in his administration and asserts they will become friends. By the end, when she steps down, Clinton declares that indeed is the case. There is, however, nuance at play here, as there is throughout. It's Obama saying they will be pals, not Clinton; there's the lingering feeling that underneath her composed exterior, Hillary continues to harbour doubts, that her anger burns brightly.
This is the joy here. If ever a political autobiography merited being read between the lines it's this one. Everything is so recent that if she puts a foot wrong and goes too far she will be shot down. That's one aspect. The other, main one, however, is that this is very much unfinished business.
As she makes abundantly clear in the epilogue, Clinton may herself stand for President in 2016. This is a book aimed at positioning her, at sorting out some niggles that could return to haunt her if she was to run; and at presenting her as statesmanlike, White House material in her own right and not as an aide to Obama or a dutiful First Lady to her husband.
On those levels, it more than succeeds. Many Democrats struggled to forgive Clinton her stance on Iraq, when as a Senator she voted in favour of invasion. Now, she confronts their misgivings head-on, and owns up, bravely, to making a mistake (something that some of our own politicians who were in power at the time, have failed to do). Her confession, she hopes, will be seen as a sign of strength rather than weakness.
She rails against her opponents for attempting to make capital from her handling of the Benghazi attack. In a sentence that could be part of a campaign speech to come, she roars: "I will not be part of a political slugfest on the backs of dead Americans."
Clinton wants the world to know she made the right calls – on the Arab Spring, on Syria, on Russia. She doesn't shirk from the most gut-wrenching of decisions either. She pushed for the US Navy Seals to raid the Osama bin Laden compound, when colleagues, notably Robert Gates, the defence secretary, were worrying about the risk.
Obama, too. One of the recurring themes is the hesitancy of the President - he constantly seeks one more opinion before acting. She's anxious as well, that we should take away her experience and wisdom (she will be 69 if elected President in 2016), so there are repeated references to the relative youth of those around Obama.
While the pleasure is in fitting together the pieces in the puzzle, you're left craving to know what Clinton actually thinks. What do she and Bill talk about on their frequent long walks together in the woods? Alas, anyone wanting malicious gossip and pointed observation will need to wait, presumably until Hillary has made her mind up and gone for President and succeeded or failed, or chosen not to run at all. For now she's looking to make friends, not enemies.
There is, however, plenty of insight. She does take you inside closed meetings, so it's possible to imagine what it's like to be opposite Nicolas Sarkozy when he delivers "rapid-fire, almost stream-of-consciousness soliloquies". She manages to penetrate the coldness of Vladimir Putin, by asking him, apropos of nothing at his dacha during a debate about world trade, what he was doing to save the Siberian tigers.
It was wily, deliberate, and extremely feminine. No man would hit him with such a left-field question. But she'd done her homework and knew that one of Putin's passions was wildlife conservation. Sure enough, he took her into his private office and "launched into an animated discourse in English on the fate of the tigers in the east, polar bears in the north, and other endangered species. It was fascinating to see." Putin asked if Bill would like to accompany him to tag polar bears on Franz Josef Land. "I told him I'd ask, and that if he couldn't go, I'd check my schedule. Putin raised an eyebrow in response."
On another occasion, she was sitting next to Putin at a dinner. She said she'd just been to St Petersburg and had seen the memorial to victims of the Nazis' siege of the city, then called Leningrad. Putin then told her the most extraordinary story: how his father during the war came home from the front-line for a break from the fighting. As he approached the apartment where he lived with his wife, he saw a pile of bodies in the in the street and recognised his wife's shoes. He persuaded the men guarding the corpses to let him hold his wife. He dragged her body out, then realised she was still alive. He nursed her back to health, and eight years later their son, Vladimir, was born.
Conscious that she does not want to be sucked in and duped, Clinton checks the claim out with the US Ambassador to Russia, Mike McFaul, who is also a prominent Russia expert. He says he's never heard it before. Writes Clinton: "Obviously, I have no way to verify Putin's story, but I've thought of it often. For me, it sheds some light on the man he has become and the country he governs. He's always testing you, always pushing the boundaries."
Would Putin have told a man the same tale? I doubt it. Of course, that is the conclusion that Clinton wants me to draw. I'm being manipulated, but a certain pleasure lies in knowing that is the case. A game is being played between author and reader. Do I now believe she would make a fine President, if she was to break through what she terms that "last glass ceiling"? More than I did before. That is by no means a ringing endorsement, but it's definite progress. Hard Choices serves her well.
Join our commenting forum
Join thought-provoking conversations, follow other Independent readers and see their replies