Iced shrimp, oxygen and snooker tables: Welcome to the bizarre world of catering to rockstars as a backstage rider
Ozzy Osbourne: Keen on the vitamin B12 shots, apparently (Credit Mick Hutson/Redferns)
Pierre Perrone
Friday 29 August 2014 13:49 Comments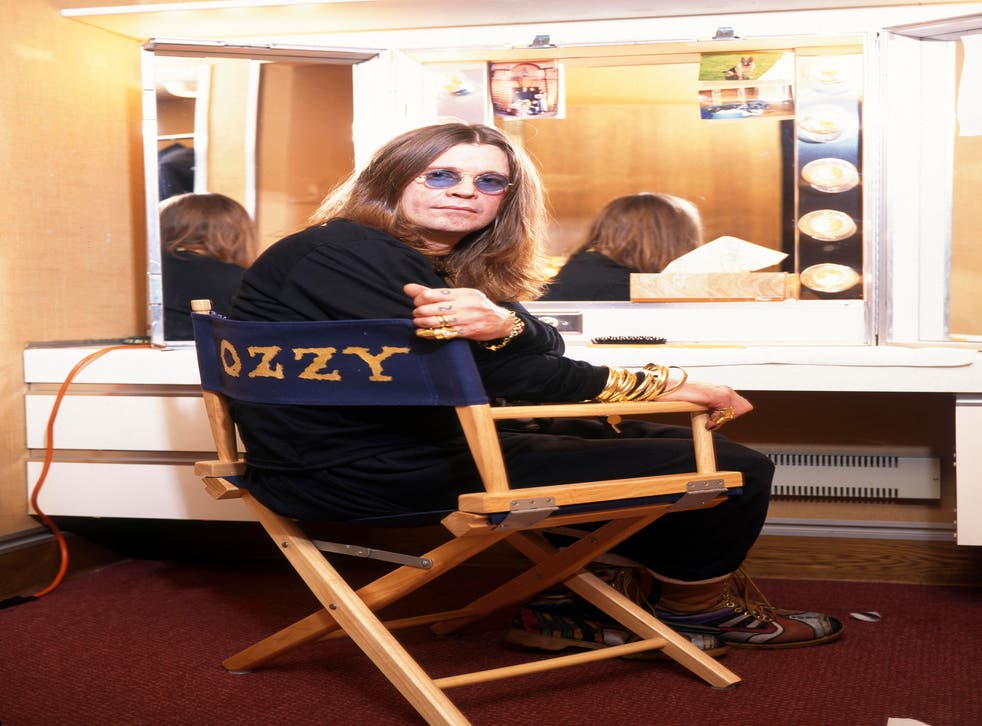 In over 35 years writing about rock, pop, jazz and classical music, I've clocked up the hours waiting backstage for the elusive interview, ridden on tour buses and checked into some of the best and the worst hotels across mainland Europe and the US.
I've given Peter Gabriel, in his 1980 "I Go Swimming" heyday, directions to the nearest stream. I've had food fights with The Damned. I've helped UB40 flush their drug stash down the toilets of a prestigious venue when an over-zealous police force turned up. I've been mobbed with Duran Duran, Spandau Ballet and Haircut One Hundred. I've spent whole days, from soundcheck till dawn, with U2, Simple Minds and Ian Dury. I've come close to exchanging blows with Nick Cave in his Birthday Party pomp. And that's only the early Eighties.
Yet, a few weeks back, while attending the first Umbria Rock Festival in Italy, I was rather taken aback when Paul Weller, once a punk firebrand, insisted on having the backstage marquee, where two dozen journalists, friends of the promoter and various hangers-on had been happily chatting away, cleared and sealed off 10 minutes before he and his musicians walked through to go on stage. The same routine was repeated at the end of his set, even after he good-naturedly encored with Tim Burgess of The Charlatans guesting on "Town Called Malice'". Rather odd behaviour from the Modfather, I thought, even if he has always been rather suspicious of the media.

Of course, the security personnel were only following the orders set out in the rider included alongside the contract sent by the artist's management and agent to the promoter. These riders have grown exponentially since The Beatles requested "police protection of not less than 150 uniformed officers" and stressed they would "not be required to perform before a segregated audience" in the US in 1965. Contracts now stretch to several dozen pages, detailing technical specifications as well as dietary needs, like Van Halen's infamous 1982 rider specifying "M&Ms (Warning: No Brown Ones)" which was just a manager's clever way to ensure promoters had read every little bit of the small print.
While bottles of Evian mineral water are ubiquitous, save for rap duo Outkast who stress "NO EVIAN" – in capital letters – riders contain myriad wants and needs you wouldn't expect a promoter to have to provide, such as socks and boxer shorts – requested by Red Hot Chili Peppers and hip-hop acts galore – as well as condoms – Busta Rhymes, DMX, 50 Cent, Gnarls Barkley et al – that the artists are presumably too busy to purchase themselves. These demands are well documented in Excess All Areas: A Lighthearted Look at the Demands and Idiosyncrasies of Rock Icons on Tour by Susan Richmond, to be published by Backbeat Books in November.
They pale into significance compared to some of the stories you hear or the things you come across on the touring circuit. So let's leave the Jack Daniel's, the bacon – "very important that bacon be available at every meal and during day" request Metallica, whose drummer Lars Ulrich was born in Denmark – and the shrimp – "must be kept on ice" insists 50 Cent's rider – and the wine lists worthy of a convention of sommeliers, and really concentrate on the downright peculiar and ludicrous demands.
Since the bottom fell out of the recorded-music industry, acts have looked to maximise their live income, with some like Paul McCartney now adding invitations to soundchecks to the VIP premium packages on sale to their most dedicated and moneyed fans. For the most part, soundchecks remain closed affairs, which saves the disappointment of watching musicians trying to play along to a backing tape, or a backing vocalist taking instrumentalists through their paces while the nominal frontperson luxuriates in a five-star hotel presidential suite. Even if requests by Barry Manilow that no one be admitted to his soundchecks are genuine, the stage manager at the Montreux Jazz Festival recently admitted to me that Prince had asked why the Stravinski Auditorium was so empty when he arrived mid-afternoon at the venue. The management of the Purple One had indeed specified that no one should watch the rehearsals but Prince claimed he had issued no such directives and requested the stage manager stand in the middle of the hall while he soundchecked. He also didn't mind the stage manager looking him in the eye, which made a mockery of rumours that he is one of those superstars who insist on "no eye contact."
Handshakes, however, can be problematic. In October 2010, I was down in the bowels of the Royal Albert Hall, waiting to meet US rocker Steve Miller, when his tour manager came round with a disinfectant dispenser for me to use before I could shake hands with the guitarist. Making small talk with Miller, I discovered that he simply didn't want to pick up germs that might lead to any future cancellation. Cleanliness was, in this instance, not an indulgence but the sign of a real pro. Toilets remain the most basic backstage requirement, though in 1999 Billy Bragg chided Manic Street Preachers for bringing their own portable toilet to Glastonbury and slapping on it a sign saying: "These facilities are reserved exclusively for the Manic Street Preachers." This the year before the Welsh band topped the UK charts with The Masses Against the Classes.
Still, you can't blame some stars for wanting to keep up the mystique and mistery. They request drapes and tunnels so that punters whose seats are located above them at arenas and football stadiums will only spot them when they hit the stage, not when they're warming up or making a swift costume change. At open-air events, this can go horribly wrong and create lengthy delays. Yes, I mean you, Guns N' Roses at Leeds Festival in 2002, when Axl Rose's motley crew closed the backstage to all traffic for over an hour before entering the stage 90 minutes late via a polytunnel. The roadies for The Prodigy were not best pleased at being unable to move their trucks until Guns N'Roses had started their set. To think that, in their late 1980s heyday, Guns N' Roses were happy with a bottle of Dom Perignon, a few cartons of cigarettes and an "assortment of adult magazines (ie Penthouse, Playboy)".
Masseurs and masseuses are a recurrent backstage feature, from Elton John to Björk via the Beach Boys and Peter Gabriel – "must be ready to DO Peter for 1 hour" trumpets the rider for the singer, who is one of many – AC/DC, Manilow, Metallica, Pearl Jam, Rod Stewart, ZZ Top also feature – with an oxygen supply on standby. Between soundcheck and show time, Eric Clapton likes to play table football – I can vouch for that since he beat me fair and square – Keith Richards and Ronnie Wood favour snooker while Mick Jagger watches cricket on satellite TV, Beck does yoga and Eminem shoots a few hoops when he's not in the games room. The late Luciano Pavarotti seemed permanently breathless between arias so it's no wonder he relied on a golf cart to ferry him from air-conditioned dressing room to stage. Maybe he should have tried a few vitamin B12 shots, like Ozzy Osbourne.
'Excess All Areas: A Lighthearted Look at the Demands and Idiosyncrasies of Rock Icons on Tour' by Susan Richmond, illustrated by Wilf Hanson, out 14 November from Backbeat Books
Register for free to continue reading
Registration is a free and easy way to support our truly independent journalism
By registering, you will also enjoy limited access to Premium articles, exclusive newsletters, commenting, and virtual events with our leading journalists
Already have an account? sign in
Register for free to continue reading
Registration is a free and easy way to support our truly independent journalism
By registering, you will also enjoy limited access to Premium articles, exclusive newsletters, commenting, and virtual events with our leading journalists
Already have an account? sign in
Join our new commenting forum
Join thought-provoking conversations, follow other Independent readers and see their replies