IoS Books of the Year 2012: Children's picture books
This week, our critics choose their best reads of the year. Here, Nicholas Tucker enjoys children's picture books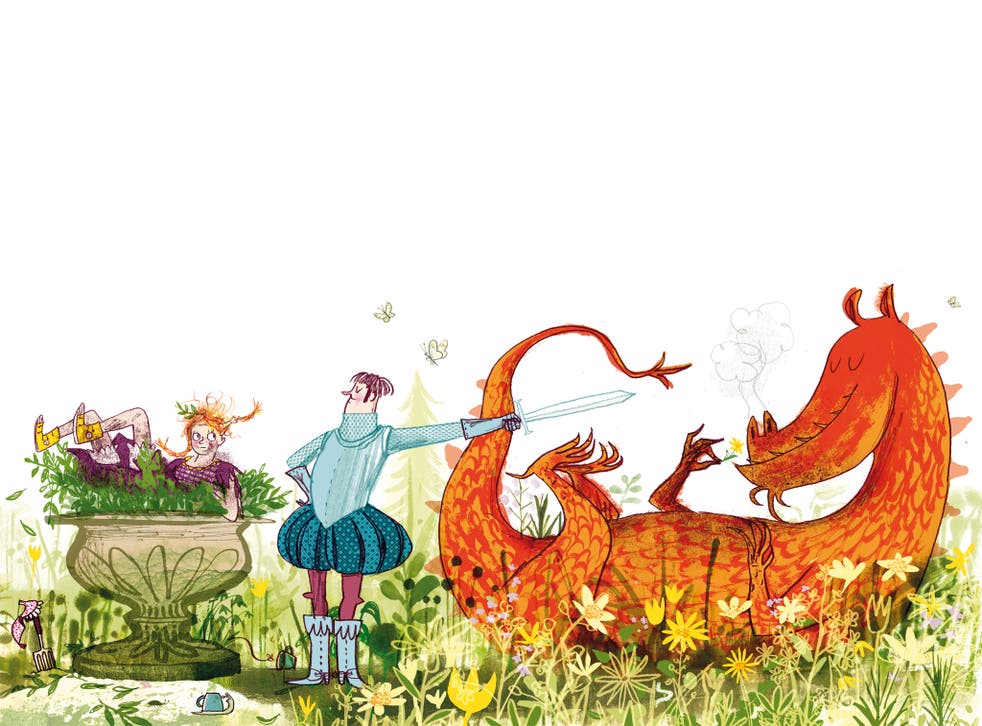 In The Big Jungle Mix-Up (Hachette, £10.99) Gareth Edwards has created an amiable father bear who is regularly put right by Little Bear while they explore a jungle. Father's rhyming guesses about which animal they are encountering are regularly confounded, after a flap is lifted to reveal what was really there. Brightly illustrated by Kanako Usui, this should be popular with infants already delighting in opportunities for proving their elders wrong.
Susan Steggall's super-vivid collage illustrations of bulldozers, trucks and cranes leap from the pages of The Diggers Are Coming! (Frances Lincoln, £11.99), her amazing account of what happens in one year on an urban building site. Rebecca Cole's glowing Lunchtime (Macmillan, £10.99) tells the familiar story of a child who won't eat up. Conjuring up some imaginary wild animals to help her out, the little girl in question finally gets the job done. Gorgeously illustrated with scribbly lines and runny watercolours, this is a superb picture book.
So too is Snip Snap, Look Who's Back! (Hodder, £11.99), written by Mara Bergman and illustrated by Nick Maland. It starts with an alligator creeping through a town and sending everyone into panic-stricken retreat. But brave young Marissa, Eva and Jonathan soon realise that it only wants to play, and eventually a good time is had by all at the local playground. A lovely book, hilarious and at times agreeably scary as well.
More reptiles crop up in Tony Maddox's Well Done, Little Croc! (Piccadilly, £6.99). Never mind that the hero of this story looks more like a green elephant than a crocodile – his achievement in proving to the other sceptical animals in the forest that there are things that only he can do remains thoroughly satisfying. Two Shy Pandas (Andersen, £10.99) describes bravery of a different sort, when lonely Panda and next-door Pandora finally find the courage to visit each other at the same time. After that, it is play all the way, and the two become firm friends. Written by Julia Jarman and illustrated by Susan Varley, this affectionate story is funny and touching in both text and pictures.
My Adventure Island (Scholastic, £6.99) describes, in easy rhyming verse by Timothy Knapman, one day in the imagination of a spirited little boy playing on his own. Our young hero has a high old time in an invented world where everything is possible. But too much solitary play can also have its negative side, and Sarah Warburton's brilliant illustrations show the little boy happy to be finally re-united with mother and big sister after an imaginary game threatened to get out of hand.
A mostly good time is also had in Martin Waddell's The Super Swooper Dinosaur (Orchard, £11.99). When young Hal is joined by an equally junior dinosaur who wants to play, he discovers that none of the normal games suit. When cross Mum intervenes after an over-exuberant water game, it looks as if the now tearful dinosaur will be sent home. But Hal rescues the situation by taking to the air with his new friend, where there's nothing to break or bump into. Leonie Lord's illustrations admirably accompany this nice little story.
Little Grey Rabbit's Noisy Night (Templar, £7.99) brings back Alison Uttley's much loved character for a new mini story, written by Alice Corrie. Nothing much happens, but the mood recaptures the serenity of the original tales, as Squirrel, Hare and Wise Owl take up their accustomed places around the demure heroine in her stone-flagged cottage. Angela Swan's illustrations accurately duplicate Margaret Tempest's original pictures, with attractive pop-ups at each turn of a page bringing a new dimension to this charming little story. Very different in mood, Valerie Thomas's Winnie's Dinosaur Day (Oxford, £10.99) radiates energy from every page. Anarchically illustrated by Korky Paul, this twenty-fifth story of Winnie the good-hearted witch and her cat Wilbur in which they travel back to prehistoric times, is less important than the accompanying pictures, which are crammed with enough visual jokes to keep infants happy for hours.
Leigh Hodgkinson's Goldilocks and Just the One Bear (Nosy Crow, £10.99) is a satirical re-writing of a favourite story. This time it is the bear who invades the home: a posh apartment owned by Goldilocks, now a fashionable wife and mum. Leigh Hodgkinson's bright and stylish illustrations go happily over the top. Another take on the story, The Goldilocks Variations (Walker, 12.99) is devised by the ever-inventive Allan Ahlberg, with pictures from his artist daughter Jessica. Replete with pop-ups, flaps to open, tabs to pull and an accompanying miniature book retelling the story as a play, the whole effort is yet another triumph of ingenuity and sheer fun. Goldilocks this time sets forth on new adventures, some of them involving characters from different fairy stories as well.
In My Granny is a Pirate (Orchard, £10.99) Val McDermid proves she is a dab hand at humorous verse as well as detective stories. This account of a beaming grandmother who is much more than she seems should be especially popular with grandparents who may, at times, feel they are being taken for granted. Arthur Robbins's illustrations mix humour with an occasional touch of mild menace. And Anna Kemp's excellent The Worst Princess (Simon and Schuster, £5.99) is all laughs. Princess Sue decides that she would rather side with the dragon than with the Prince who once rescued her but is now proving such a disappointment as a husband. Told in verse, and wonderfully illustrated by Sara Ogilvie, this picture book is so funny it could be safely recommended for all ages.
The Worst Princess by Anna Kemp
Simon & Schuster, £5.99
"...'You know,' said Sue, as they drank their tea, 'We're a great team, you and me.'
The dragon's belly shook with laughter,
And they both lived happily ever after."
Register for free to continue reading
Registration is a free and easy way to support our truly independent journalism
By registering, you will also enjoy limited access to Premium articles, exclusive newsletters, commenting, and virtual events with our leading journalists
Already have an account? sign in
Register for free to continue reading
Registration is a free and easy way to support our truly independent journalism
By registering, you will also enjoy limited access to Premium articles, exclusive newsletters, commenting, and virtual events with our leading journalists
Already have an account? sign in
Join our new commenting forum
Join thought-provoking conversations, follow other Independent readers and see their replies