Jacky Fleming,The Trouble With Women: And Our Very Small Heads: 'Heroines rescued from the Dustbin of History', book review
Laura Sneddon
Sunday 13 March 2016 14:04 Comments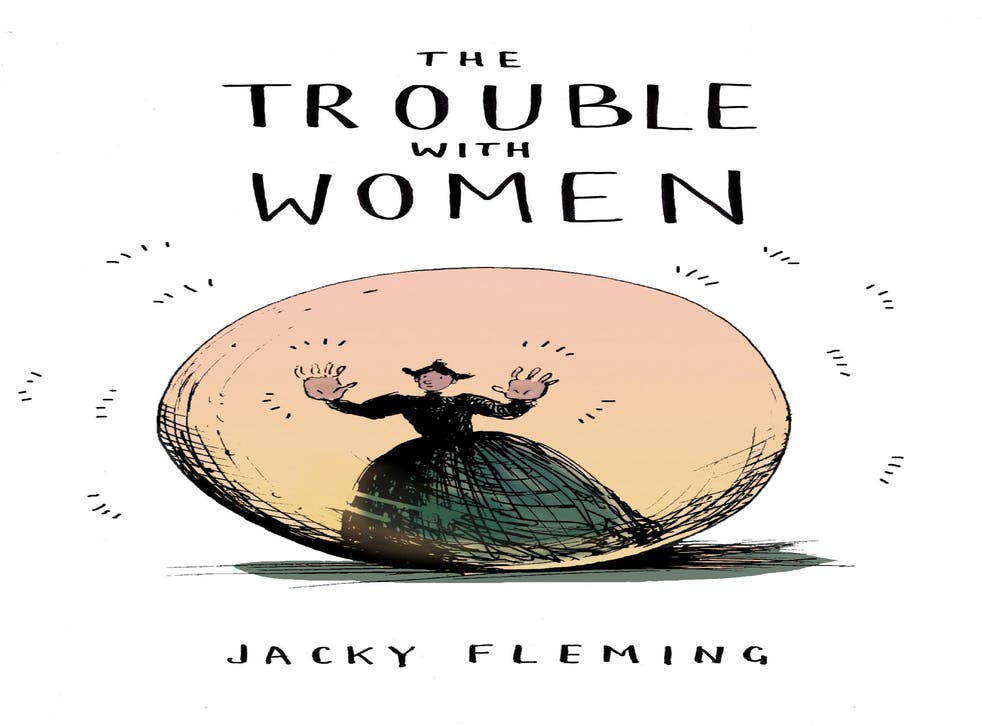 Opening with an explanation as to why the history books are so frightfully overflowing with men, Jacky Fleming lays out the unwritten rules that have dominated the stories we tell ourselves – a complete absence of women in the olden days, the first women having remarkably small heads and completely lacking Einstein-ish genius hair, and a habit of forever being swept out of sight into the Dustbin of History.
Illustrated throughout with pen and ink sketches reminiscent of the best Victorian cartoons, Fleming's anger is wielded with a wit sharp enough to draw blood.
The overall point may be simple, that women have indeed contributed to society and progress throughout the world for very little acknowledgement or thanks, but as recent events in the world of comics have shown, this is a message that cannot be stressed enough.
The 20 best audiobooks

Show all 20
In the year 2016, at the Angoulême International Comics Festival in France, widely recognised as the most prestigious of comic events, the all-male shortlist for the Grand Prix lifetime achievement award prompted the organisers to explain that after all, women had given no significant contribution to the medium.
It must be easy to forget, suggested the invisible women of comics, that in the early history of comics in both France and the UK, women co-created some of the earliest popular characters and strips and continue to shape the future of sequential art today.
Easy, that is, if, like Charles Darwin and Immanuel Kant, these men believe women have smaller brains or that studying and writing make a woman so unattractive that she might as well grow a beard.
Fleming ably skewers the Great Men of History, not to diminish their own works but to highlight those women who were trodden underfoot, and to show the grim foundations that underscore far too many obtuse opinions today.
Like the brilliant fellow cartoonist and historian Kate Beaton, Fleming relishes the scratchy lines that capture the energy and passion of those initial inks, summoning her visions into life as she adds the missing stitches to the needlework of our histories.
The depressing reality of the frustrated potential of many women of the past is spikily addressed, but Fleming also pays tribute to the women who broke through all obstacles to achieve greatness – and, blessedly, doesn't focus only on white middle class ladies who lunched.
With pocket sized print and wicked satire, Fleming avoids becoming too angry in her manifesto – heaven forbid! – by focusing on humour while planting the seeds of broader issues behind the jokes.
Fleming's feminist cartoons have been published throughout the UK media since the late Seventies, delighting fans and confounding critics who can't quite seem to find their sense of humour.
This is a perfect gift for all genders, ages and political persuasions but is sadly confined to the humour section rather than the place it really belongs – the school curriculum.
The Trouble With Women: And Our Very Small Heads, by Jacky Fleming. Square Peg £9.99
Register for free to continue reading
Registration is a free and easy way to support our truly independent journalism
By registering, you will also enjoy limited access to Premium articles, exclusive newsletters, commenting, and virtual events with our leading journalists
Already have an account? sign in
Join our new commenting forum
Join thought-provoking conversations, follow other Independent readers and see their replies