James Comey, A Higher Loyalty, book review: A memoir peppered with brutal asides about Trump, but his version of events rings true
The former FBI director has written a book that is both an earnest, exculpatory confession and a jeremiad against the president
Alasdair Lees
Tuesday 17 April 2018 09:03 Comments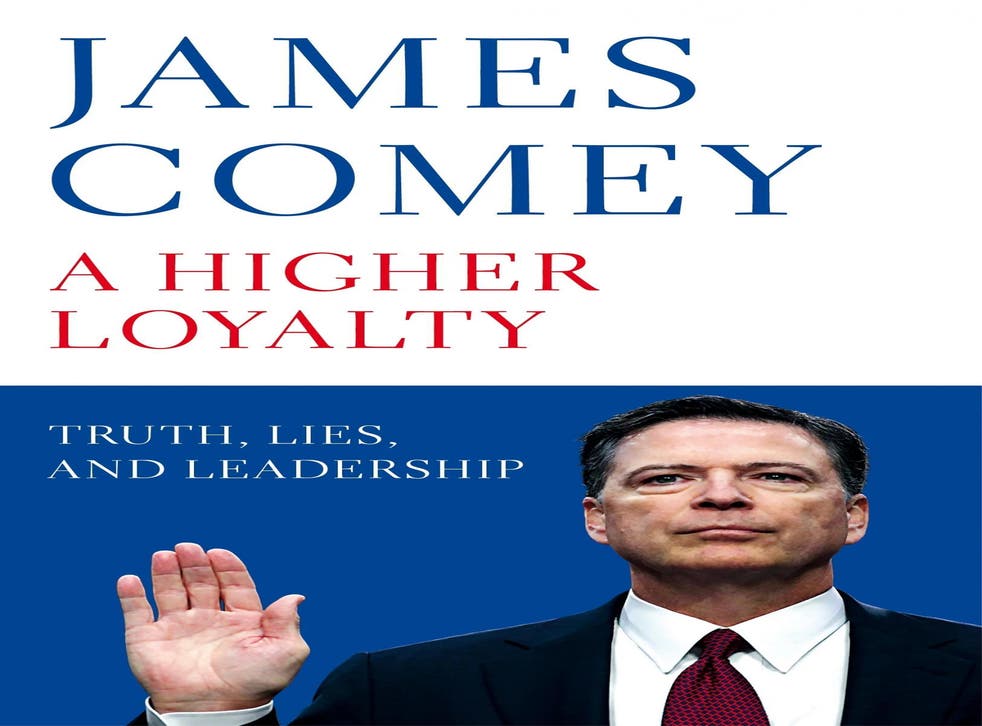 "I don't recall seeing him laugh, ever… his apparent inability to do so … is really very sad in a leader, and a little scary in a president," writes James Comey, the FBI director fired by Donald Trump last May. In his damning new memoir and broadside against the president, he blasts him as a shabby Mafia don who, he thinks, quite possibly cavorted with urinating prostitutes in a Moscow hotel suite in 2013.
The claims made in the book have enraged the 45th incumbent, who, in lurid Sopranos-speak, has branded Comey a lying "slimeball".
A Higher Loyalty is peppered with bitchy asides about Comey's former boss, whom he paints as an insecure ignoramus baffled by words like "calligrapher" and who conducts important White House receptions like an episode of The Price Is Right.
But Comey, is however, as a A Higher Loyalty demonstrates again and again, at heart a Christian moralist, influenced by theologians such as Reinhold Niebuhr. "I can be stubborn, prideful, overconfident and driven by ego," Comey admits at the start of the book. A Higher Loyalty is at once an earnest, exculpatory confession – justifying his actions in controversies from torture and surveillance programmes under George W Bush to the investigation into Hillary Clinton's emails during the 2016 election – and a jeremiad against a national leader "untethered to the truth".
One of Comey's overriding missions is the long-term safeguarding of the FBI's independence from being "waist-deep in the shit" of the Washington cross-fire, to rebuild public trust in such institutions. But there's also an implicit hope that Trump, whom he describes as a "forest fire", will finally immolate himself for provably obstructing justice.
Trump's attempts to sway the inquiry into Michael Flynn – the former national security adviser who pleaded guilty to lying about conversations with the Russian ambassador – are here laid out in disquieting detail. Trump's impulsive decision to fire Comey unleashed a potentially lethal nemesis in the form of special counsel Robert Mueller, who may finally bring him down. As Comey makes clear, such is Trump's "unique brand of chaos".
A lot depends, on reading the book, whether Comey's versions of various events ring true. Mostly they do, and Comey emerges as a decent, well-meaning and thoughtful public servant willing to reflect on his mistakes. The attributes for ethical leadership he advocates – humility, confidence, a willingness to listen and more – are undeniable.
"Forest fires, as painful as they can be, bring growth," he writes in the epilogue. Bullied as a child, Comey is disgusted by the dreary capo di tutti capi who squats behind the Resolute desk, an absurd symbol of a "dangerous" and "vicious" era.
If Comey is right, Trump's reign might be reduced to ashes sooner than we think.
'A Higher Loyalty: Truth, Lies, and Leadership' by James Comey is published by Macmillan in hardback, £20
Register for free to continue reading
Registration is a free and easy way to support our truly independent journalism
By registering, you will also enjoy limited access to Premium articles, exclusive newsletters, commenting, and virtual events with our leading journalists
Already have an account? sign in
Join our new commenting forum
Join thought-provoking conversations, follow other Independent readers and see their replies