Leonora: A Novel by Elena Poniatowska; trans. Amanda Hopkinson, book review
The surrealist painter led a life strange enough for fiction
James Kidd
Thursday 12 March 2015 15:00 Comments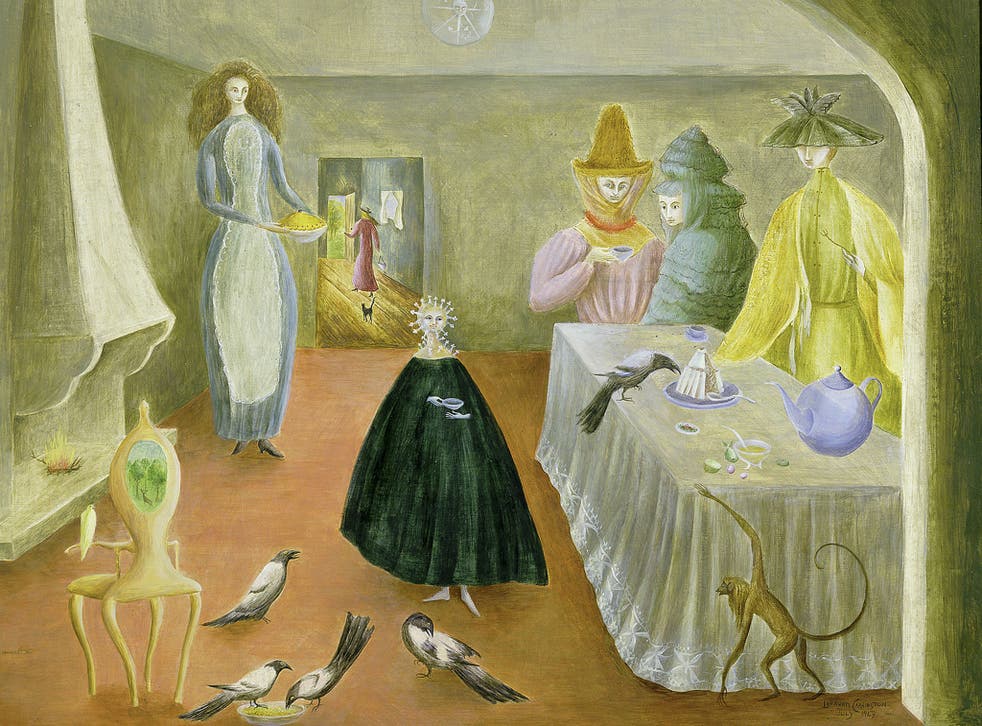 The painter Leonora Carrington, at least as she appears in Elena Poniatowska's 2011 novel, sounds like she would have been exhausting company. As a child, if she was not playing with her imaginary friends (known as sidhes) she was telling anyone who would listen that she was a horse.
Her later success as an artist who specialised in equine surrealism is, Poniatowska suggests, less a matter of choice than temperament. When her father yells, "You are a truly impossible child!", one hears "truly impossible" as a piece of prophetic art criticism that describes the fantastical figures of "The Pomps of the Subsoil" or "The Giantess".
Currently the subject of a retrospective at Tate Liverpool, Leonora was born into a life of wealth and ambition. Her father, the major shareholder in ICI, loved his only daughter, but planned a life for her of debutante balls. Leonora was her father's daughter, for good and bad. Possessed of his determination and drive, she also found in Harold Wilde Carrington the perfect person against which to rebel.
Leonora Carrington at Tate Liverpool

Show all 7
And how Poniatowska's magnetic heroine rebels. Hardly a paragraph goes by in this breathy, breakneck bio-fiction that doesn't attest to Leonora's desire to shake up the status quo. "I am my own mother and my own father. I am a one-off phenomenon," she declares to her own long-suffering mother. This pales in comparison to her wish before "Coming Out" at Buckingham Palace: "I wish I could turn into a hyena. Then I could growl, salivate, change sex and laugh aloud in front of the Queen as a hyena would."
It comes as little surprise that Leonora is welcomed with open arms, and not a few legs, in the artistic circles of post-war Paris. There, her habit of enquiring whether people are nightingales or proclaiming "What I've always held on to inside me at long last will be liberated and gallop forth" is like asking for a light. It certainly seduces Max Ernst, who inspires her to new heights of nonsense: "Max, you are my Holy Grail… Max, you are my misfortune… You are my spoon."
Among the intellectual melodrama and name-dropping elevated to narrative form ("Ady Fidelin… Lee Miller, Eluard's wife, Nush, and Eileen Agar dance naked in the light of their lovers' car headlamps…") are serious points. Leonora's will to eccentricity is ludicrous until her breakdown at the start of the Second World War. Her mental fragility remains until she marries, firstly Renato Leduc and then the Hungarian photographer Imre "Chiki" Weisz, and moves to Mexico, where Poniatowska befriends her.
Her success as an artist in a ferociously male context is also inspiring, even if Poniatowska struggles to convey the full grotesque, and even violent strangeness, of Leonora's art. She might also have wanted to double-check where Oscar Wilde was imprisoned: "The Ballad of Chelmsford Gaol" doesn't quite ring true. But this enormously enjoyable, if frequently ridiculous, evocation of the extraordinary artist gallops gloriously to the end. "I would not like to die in any case, but if I should, may it be in five hundred years, and via a slow process of evaporation."
Register for free to continue reading
Registration is a free and easy way to support our truly independent journalism
By registering, you will also enjoy limited access to Premium articles, exclusive newsletters, commenting, and virtual events with our leading journalists
Already have an account? sign in
Join our new commenting forum
Join thought-provoking conversations, follow other Independent readers and see their replies