Letter to an Unknown Soldier: A New Kind of War Memorial, book review: Pent-up sorrow and satire that bridges the generations
On platform one at Paddington Station, this bronze statue by Charles Jagger represents an unknown soldier in battle dress, reading a letter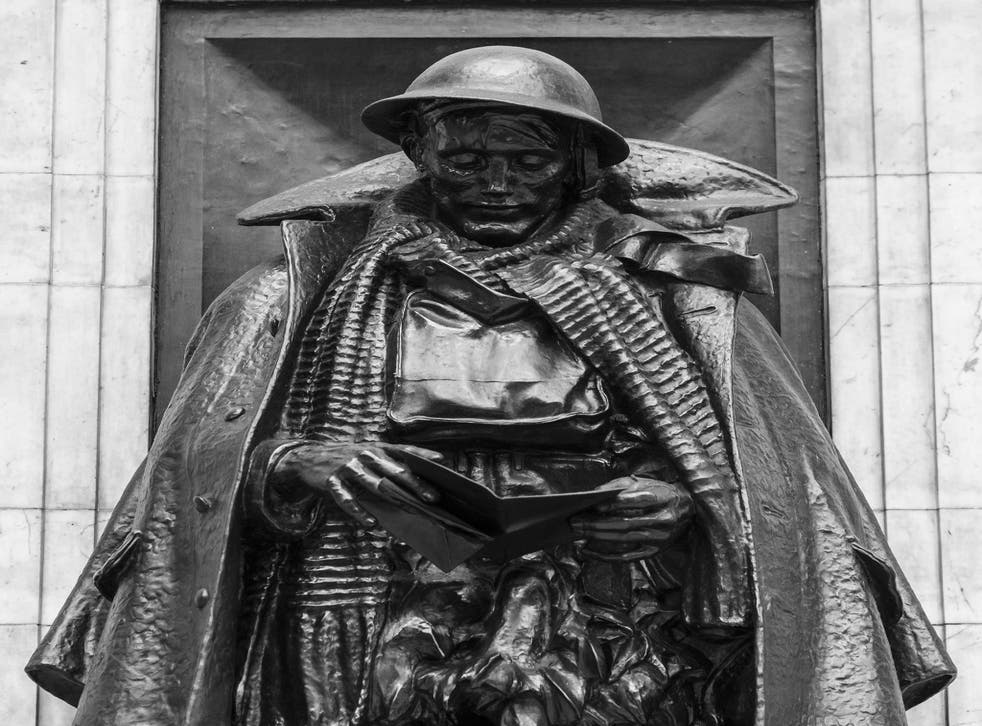 "The necessary supply of heroes must be maintained at all costs," said Sir Edward Carson in 1916.
Siegfried Sassoon commented, "the irony of it. They might as well be rounds of beef, or rounds of ammunition." War propaganda harnesses, from generation to generation, a zombie language of euphemism and cliché.
How best can the lost be remembered and honoured? On platform one at Paddington Station, a bronze statue by Charles Jagger represents an unknown soldier in battle dress, reading a letter. Neil Bartlett and Kate Pullinger conceived "a new kind of war memorial", a centenary website composed of letters to this unknown soldier. Between June 28th and August 4th 2014, 21,000 people wrote to him. The resulting book, sampling letters from young and old, from Britain and its ex-colonies, movingly testifies to the unquiet emotions still inspired by the Great War – and to the family history research that has brought us closer to our grandparents and great grandparents.
"Dear Tom", "Dear Grandfather", "Son": the letter-writers' voices are, as the editors observe, "numerous, various, contradictory, heartbroken, angry, sentimental and true". Typed or handwritten, prose or verse, these acts of personal witness vary between empathic sorrow and bitter satire. Together they challenge the idea of a "hero".
The word "lie" recurs, as does the harrowing conviction that the Armistice was not the end, for we live in a state of "perpetual war for perpetual peace", as Charles Beard put it in 1947. A York student, Kirsty Heyam, recalls a teenage visit to the Flanders battlefields. It left her cold. But two months later, reading Wilfred Owen's "Dulce et Decorum Est", "every word stabbed into my heart, like something I'd never known before". Can poetry change you? Kirsty proves that it can. Owen and Sassoon remain our true educators – although, in a darkly brilliant jeu d'esprit, teacher Stuart Fink from Hornchurch notes, "Now you are the syllabus, the curriculum, amen, the starting-point for wishy-moral dilemma-ing."
For me, the most discouraging letter is David Cameron's, replete with shallow meliorism and zombie diction: "Our world would have been far darker if you had declined the call to act... from your toil and sacrifice there will in time be a better world ... Painting and monuments will depict you." That's all right then, Tommy Atkins: stand easy. As Alyssa Hollingsworth puts it, "Thank you for dying/ Have you heard about the Xbox?"
Order for £12.99 (free p&p) from the Independent Bookshop: 08430 600 030
Register for free to continue reading
Registration is a free and easy way to support our truly independent journalism
By registering, you will also enjoy limited access to Premium articles, exclusive newsletters, commenting, and virtual events with our leading journalists
Already have an account? sign in
Register for free to continue reading
Registration is a free and easy way to support our truly independent journalism
By registering, you will also enjoy limited access to Premium articles, exclusive newsletters, commenting, and virtual events with our leading journalists
Already have an account? sign in
Join our new commenting forum
Join thought-provoking conversations, follow other Independent readers and see their replies