Little Fires Everywhere by Celeste Ng, book review: Deeply satisfying to read
The author's second novel has already been snapped up by Reese Witherspoon for a 'Big Little Lies'-style adaptation
Lucy Scholes
Wednesday 15 November 2017 14:59 Comments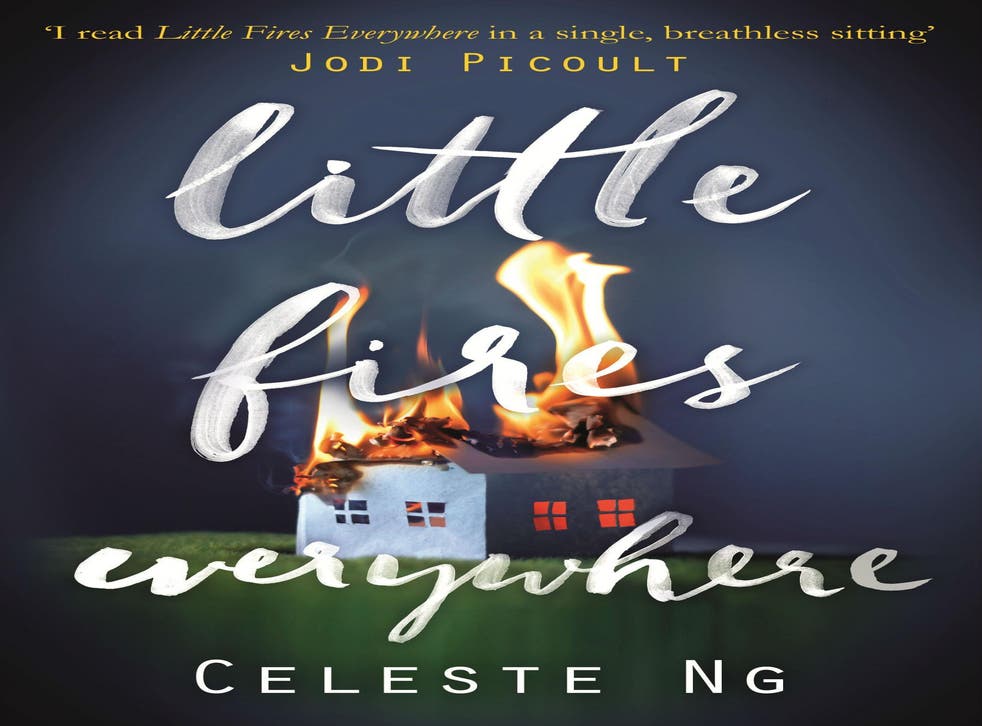 Celeste Ng's second novel Little Fires Everywhere reads not so much as a successor to her first, Everything I Never Told You, and more a companion piece.
Middle-class, Midwest suburban family life is her subject; the teenage girls therein her specialty. Both novels are period pieces – Everything I Never Told You was set in the 1970s, and this time round it's the 1990s: teenagers lounge around watching Jerry Springer, only a privileged few have pagers, and a cinema trip to see Titanic is the hottest date in town.
But perhaps more significantly, Ng adopts a similar narrative structure in each, beginning with a catastrophic event – in Everything I Never Told You it was the discovery of the body of a 16-year-old girl; here in Little Fires Everywhere it's a raging house fire – before swiftly travelling back in time in order to start at the beginning, following the chain of events that each led to these tragic conclusions.
Central to the story played out in Little Fires Everywhere is the clash between two families. The Richardsons – whose large picture-perfect house in Cleveland's progressive Shaker Heights neighbourhood, with its four cars in the copious driveway, is the one going up in smoke when the novel opens – and Mia Warren, a previously nomadic artist, and her 15-year-old daughter Pearl. Mother and daughter are Mrs Richardson's tenants, but then Pearl strikes up a friendship with the Richardson clan – he's a lawyer and she's a reporter, and they have four children: Trip, Lexie, Moody, and Izzy – after which Mrs Richardson, seeing herself as something of a philanthropist, insists that instead of paying rent each month, Mia take on housekeeping duties for the larger family.
Ng is brilliant at observing the small but significant shifts this dynamic entails, complicated further by switched allegiances on either side: Pearl's increasing closeness to the Richardson kids, along with Izzy – the youngest, who's regarded by the rest of her family as a troublemaker – finding refuge in laid-back, bohemian Mia's company. Not to mention the growing tension between the two women as they come down on opposite sides of a custody battle that's making the local news, Mrs Richardson's annoyance at what she's sees as Mia's "perverse pleasure in flaunting the normal order".
At its heart, it's a story about motherhood – surrogacy, abortion, adoption, the trails of a flesh and blood relationship, all versions are considered: "It came, over and over, down to this: What made someone a mother? Was it biology alone, or was it love?"
"The firemen said there were little fires everywhere," Lexie tells her brothers as they eye up the charred, steaming shell that is their home in the aftermath of the blaze. "Multiple points of origin. Possible use of accelerant. Not an accident."
The same could be said of the novel itself. Ng paces her narrative like a pro, consummately entwining multiple threads until each and every character is implicated in the denouement. Deeply satisfying to read, Reese Witherspoon has also already lined it up for a Big Little Lies-style adaptation.
'Little Fires Everywhere' by Celeste Ng is published by Little Brown, £16.99
Register for free to continue reading
Registration is a free and easy way to support our truly independent journalism
By registering, you will also enjoy limited access to Premium articles, exclusive newsletters, commenting, and virtual events with our leading journalists
Already have an account? sign in
Join our new commenting forum
Join thought-provoking conversations, follow other Independent readers and see their replies