Malice by Keigo Higashino, book review: This Japanese classic is well worth investigating
The exploration of murderous feelings in an apparently sophisticated and well-balanced individual marks this book out as an exceptional study of the psychology of murder as well as a skilfully plotted narrative
Jane Jakeman
Wednesday 12 November 2014 17:25 Comments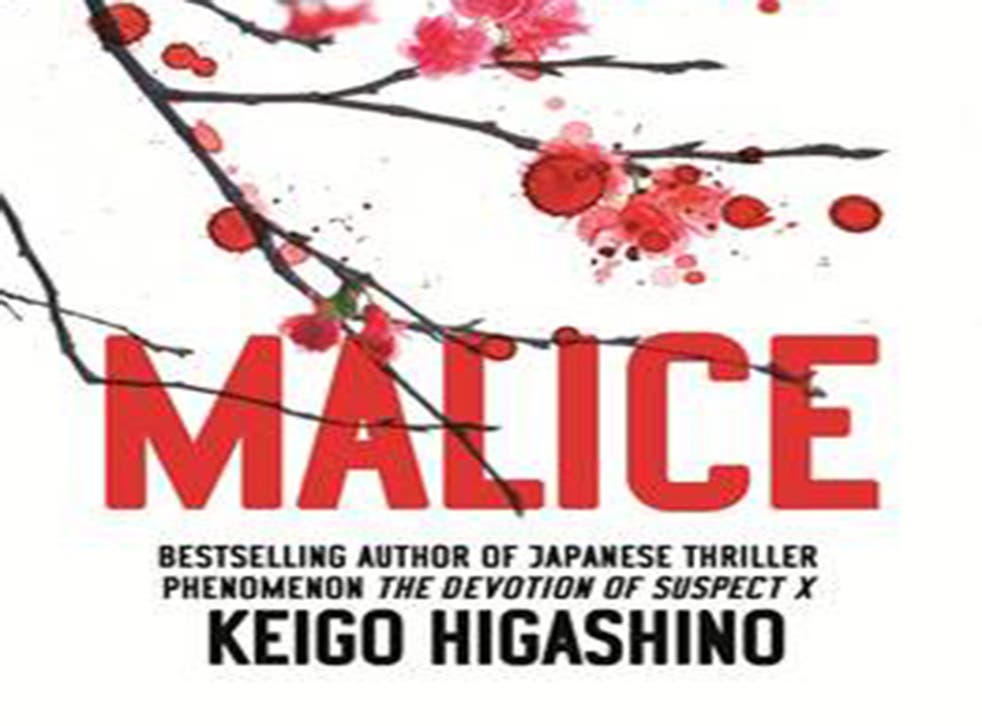 I hate the way people refer to totally dissimilar best-sellers to promote a book.
Higashimo has been called "the Japanese Stieg Larsson", but he is his own man, and in fact much better than the rambling, baggy-plotting Swede.
Malice is essentially a study of intellectuals doing their very nasty damnedest, and especially of the ambitions and jealousies of bookish persons. Osama Nonoguchi, writer of children's books, discovers the body of a fellow author, Kunihiko Hidaka, in his locked office. Nonoguchi admits he has been attracted by Hidaka's beautiful wife, so we are soon made uneasy as to his reliability as a narrator, though, as a writer, he is naturally keeping an account of events.
The story is taken up partly by Kyochiro Kaga, once a fellow teacher with Nonoguchi before the two men developed separate careers and from then on we are in a tense story of rivalry and hatred stretching back many years. Left open on the dead man's computer was part of a novel called The Gates of Ice.
Detective Kaga, being a literary type himself, works out that the murdered man could not possibly have written the apparent number of pages in the time available. "I understand writers are often late", says Kaga, "but do they ever finish early?" Unlikely, as many an editor can testify.
Mysteries are gathering quickly, and Hidaka's novels include one pillorying an old school friend as a schoolboy guilty of rape, a disastrous depiction of a highly sensitive young man who became an artist. The detective's examination of these youthful relationships forms an absorbing study of school bullying, concluding that there may be no real reason for a group to choose a victim, no particular grounds – it is just the "Malice" of the title at work, sometimes persisting into adult life. The randomness of malice is more terrifying than the identifiable causes of envy or jealousy.
In a conversation with his sister, Nonoguchi argues in Hidaka's favour and is asked whether he is so eager to defend him because he himself is a writer, taking us to the core of the relationship between the two men, though apparently there was little connection. In fact, there was a deep dependency and hatred between the two men, and the desperation of an aspiring author to get into print plays its devastating part in the story.
The exploration of murderous feelings in an apparently sophisticated and well-balanced individual marks this book out as an exceptional study of the psychology of murder as well as a skilfully plotted narrative. Malice was published in Japan in 1996 and it is shameful to British crime publishing that it took so long to get into translation.
Order for £10.99 (free p&p) from the Independent Bookshop: 08430 600 030
Register for free to continue reading
Registration is a free and easy way to support our truly independent journalism
By registering, you will also enjoy limited access to Premium articles, exclusive newsletters, commenting, and virtual events with our leading journalists
Already have an account? sign in
Join our new commenting forum
Join thought-provoking conversations, follow other Independent readers and see their replies