Mark Rothko: Towards The Light In The Chapel by Annie Cohen-Solal, book review
A portrait of the artist as an angry man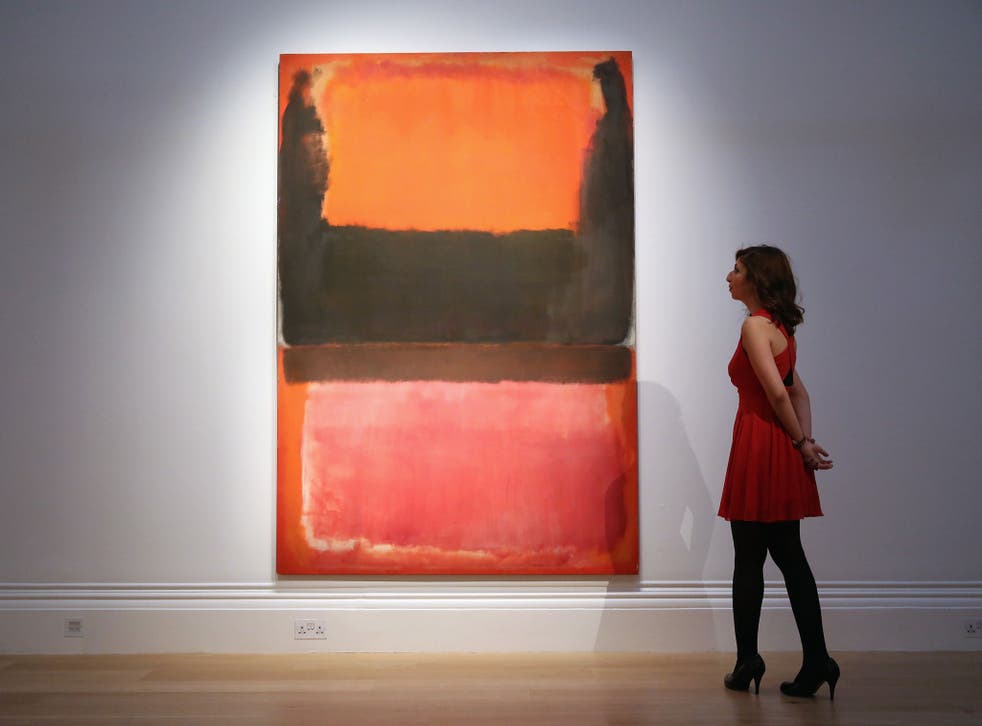 In August 1913, nine-year-old Marcus Rotkovitch landed at Ellis Island with his mother and sister. The new arrivals were on their way from Dvinsk, Russia, where conditions for Jews had become intolerable, to Portland, Oregon, where the family patriarch, Yacov, was already settled.
As young Marcus travelled across America, he wore a sign bearing the words: "I do not speak English." It would be another 25 years before he became an American citizen, and not until 1940 did he begin to call himself Mark Rothko, a name which now ranks as one of the most famous in the history of modern art.
In this moving and readable biography, Cohen-Solal tells the story of Rothko's life through the prism of his Jewishness. Early on, we learn how his pharmacist father decided to send his youngest son to an orthodox school in Dvinsk and how Rothko struggled to adapt to a more secular life in America. Although he excelled at his liberal high school, and won a scholarship to Yale, he resented the discrimination he suffered at the elite university and dropped out in his second year.
While working at menial jobs in New York, Rothko began taking painting classes. Cohen-Solal argues that he saw in art an opportunity to channel the anger he felt at being displaced and persecuted. "I was never able to forgive [the] transplantation to a land where I never felt entirely at home," he said.
Although he made friends outside the Jewish community, she shows how a list of Jewish connections played an important part in his rise. One of the first to encourage him was Max Weber, a Russian Jewish artist who became Rothko's tutor.
It wasn't until the late 1940s that Rothko discovered his mature style and began to paint the large, mesmerising canvases that still captivate audiences today.
In these dazzling fields of colour, Cohen-Solal traces the artist's attempt to find solace from the feelings of alienation and gloom that had plagued him since childhood.
This biographical interpretation of Rothko's paintings is often frowned upon by academics, but Cohen-Solal makes her case well. Rothko struggled with his two marriages (the first ended in divorce, the second in separation), and even his increasing fame made him unhappy. "He was a poor boy and he just couldn't get used to riches," said his Jewish dealer Sidney Janis. "It depressed him."
Indeed, as America boomed, and Rothko's wallet with it, the more bitter he became. This is reflected in the saga of the paintings he made for the Four Seasons restaurant, now in Tate Modern. "I hope to paint something that will ruin the appetites of every son of a bitch who ever eats in that room," Rothko told a journalist in 1959, before pulling out of the $35,000 contract. He became nostalgic for what he saw as the more spiritual traditions of Europe, describing New York as "a place of shop-keeping mentalities".
In his final years, Rothko suffered from heart disease and depression, and in February 1970, aged 66, he was found dead in his studio, the result of a grisly suicide.
But Cohen-Solal's book ends on a positive note. In 2013 the Mark Rothko Centre opened in Daugavpils – formerly Dvinsk – in Latvia, complete with six paintings by the artist donated by his two children.
They also paid for the restoration of the city's last remaining synagogue, an act of reconciliation with their father's homeland which – exactly 100 years after little Marcus Rotkovitch left for America – would surely have pleased him.
Join our new commenting forum
Join thought-provoking conversations, follow other Independent readers and see their replies