MOD: A Very British Style, By Richard Weight
More than just a pop or fashion trend, 'Mod' style helped to propel British culture from past to future.
Gavin James Bower
Friday 29 March 2013 20:00 Comments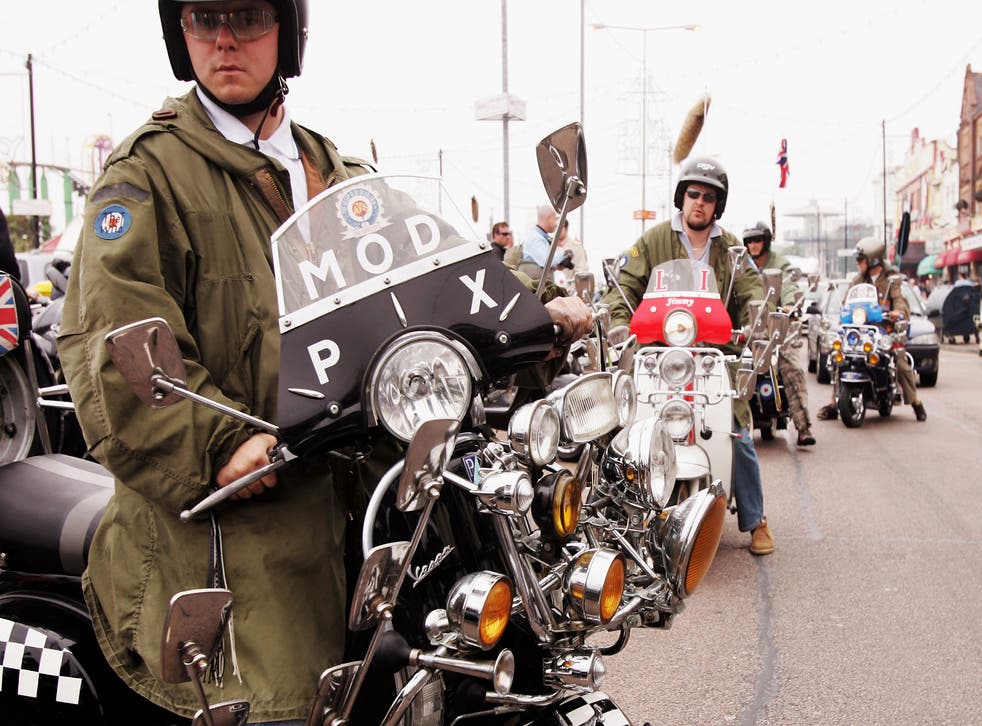 First things first, and no pun intended: MOD is a weighty book. Its scope is almost as impressive as its Conran-esque endpapers, for this doorstopper of a hardback tracks the Mod movement from its origins in Soho's 1950s jazz scene right through to last year's London Olympics – a game of cultural follow-the-leader stylishly won, much like Bradley Wiggins in 2012, by Mod itself.
The Mods now reign supreme in practically every area of British life. Wiggins's gold-medal performance in the Games was greeted by headlines of "MOD Rule" and "MOD For It". It's no coincidence that Ben Sherman, the quintessentially Modish brand launched in Brighton and celebrating its 50th year in 2013, features heavily in what's essentially a victory parade – not merely of "the modern", but of Mod's endurance over a half-century.
This is no cultish love-in, mind you. For Weight, Mod wasn't just Britain's "first truly youth movement"; it was more successful than any other in distilling and distributing modernist ideas. Weight, from the outset, treats the two as distinct though not mutually exclusive. Modernism, it's made clear, was popularised by Mod – the latter quite literally taking the former "to market". The Mods weren't just shopping for the sake of it but "shopping with taste", a popular - in the real sense - "club" for a working-class promised a world in which class didn't exist at all. Music, art, fashion: all were up for grabs at a time when "teenager", "lifestyle" and "cool" were - it's hard to imagine now - little more than neologisms.
Weight's love for music – Small Faces, the Who, Kinks and Beatles, Bowie, the Jam, Pistols and Specials, Morrissey, the Gallaghers, and more – is exhaustive. So, too, is his interest in film. The obvious inclusion of Quadrophenia is paired with Len Deighton's Harry Palmer declaiming the merits of champignons:"'It's not just the label; these really do have a better flavour". Michael Caine, not Phil Daniels, is for Weight Mod's ideal: a fastidious and fierce "Man" in the modern sense, just as at home in the kitchen as he is the bedroom (and equally in charge in both).
There are gripes, but if the book's heavy on Pete Townshend then it can't be accused of being light when it comes to the issues of misogyny and racism that surrounded Mod – or, for that matter, Rockers and Punks. Weight makes no excuses for any of them. Some of the claims for ownership might feel like a stretch – there's a tendency to put everything under the one, albeit natty, umbrella – but he demands, among other things, that you reconsider what it really meant to live in "Cool Britannia".
The title of a Sixties song by Brit art-schoolers the Bonzo Dog Doo-Dah Band (as well as a flavour of Ben & Jerry's ice cream), it was bastardised in the Nineties by the likes of Vanity Fair to proclaim a resurgent Britain: in art, music and politics. New Labour saw an end to all that (two wars and no World Cups later, rock stars are no longer queuing up at Tony Blair's security-heavy door), but Weight doesn't shy away from the inherent conservatism and contradictions of a cult gone mainstream. The factories closed the shopping malls didn't, and for all the talk of Utopia, the working class more often than not stayed working-class.
Weight's convincing where it counts, though. If not quite Mods, then we Brits see ourselves as "modern" nowadays not in spite but because of a handful of forward-thinking jazz-heads, who, generation after generation, never quite grew out of skinny ties and pointy shoes. Glam, Northern Soul, Punk, Rave and Brit Pop, alongside fashion powerhouses like Sherman and Paul Smith, are all disciples of one, singularly higher power. Indeed, and as this beautifully designed and reasonably priced commodity argues so well, In Mod We Trust.
Gavin James Bower's novel 'Made in Britain' is published by Quartet
Register for free to continue reading
Registration is a free and easy way to support our truly independent journalism
By registering, you will also enjoy limited access to Premium articles, exclusive newsletters, commenting, and virtual events with our leading journalists
Already have an account? sign in
Join our new commenting forum
Join thought-provoking conversations, follow other Independent readers and see their replies