Palestine Speaks, edited by Cate Malek & Mateo Hoke; Letters to Palestine, edited by Vijay Prashad, book reviews
Oral histories make vivid Palestinians' trials and avoid presenting them as victims
Donald Macintyre
Thursday 23 April 2015 13:24 Comments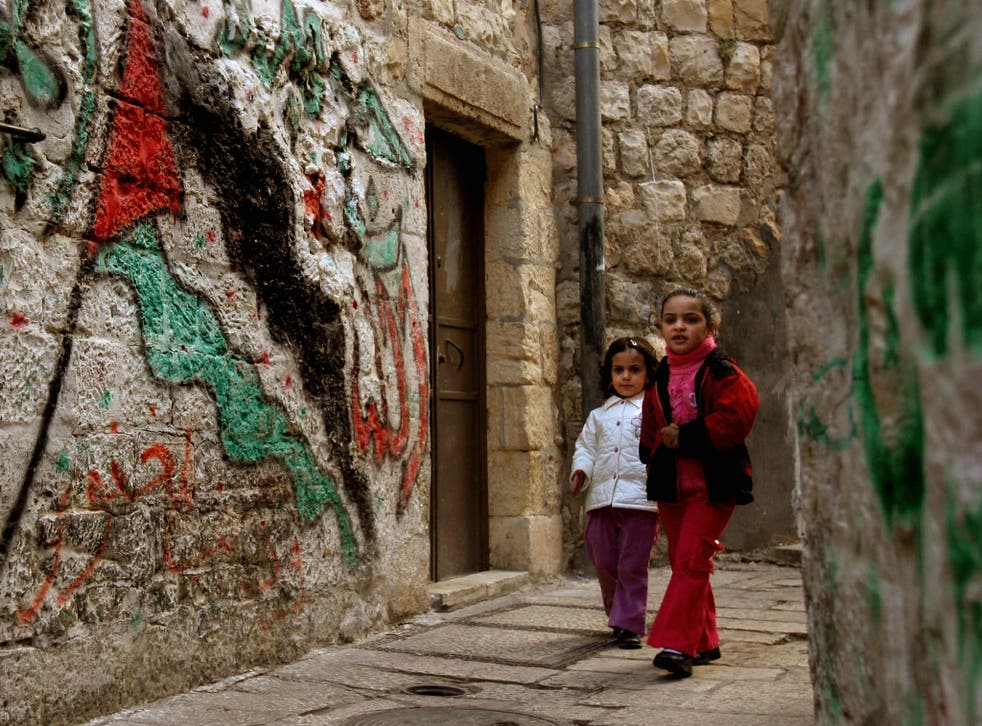 The great Studs terkel, who pretty well invented modern oral history in the last century, wrote: "What I bring to the interview is respect. The person recognises that you respect them because you're listening. [So] they feel good about talking to you."
It's in Terkel's spirit that Cate Malek and Mateo Hoke compiled autobiographical accounts by 14 Palestinians (and two Israelis) which wonderfully illuminate the realities of life under occupation. Their interviews are with "ordinary" people, but as Terkel also wrote: "'Ordinary'" is a word I loathe... I have come across ordinary people who have done extraordinary things."
Just such a person is Ibtisam Ilzghayyer, a victim of childhood polio who runs a cultural education centre for children and women in Bethlehem, who describes her routine humiliations at checkpoints without self-pity, and laments that she can no longer take her charges to the city which the world says it wants to be the Palestinian, as well as the Israeli, capital: "This is the first generation of Palestinians that isn't able to see Jerusalem easily."
Or Jamal Bakr, the Gaza fisherman whose livelihood was virtually destroyed along with his $10,000 (£6,700) boat by the Israeli navy but because his son, nearly killed in the attack, survived, felt "compensated with millions of dollars by getting my son back". Or the Palestinian-American IBM employee Fadi Shihab, who having counter-intuitively taken his wife and children from Tennessee to Gaza sends them back at the outset of Israel's military onslaught in 2014, staying behind with his widowed mother.
While the full apparatus of Israeli occupation – the relentless grabbing of West Bank land, the surveillance, movement restrictions, arrests, and brutal interrogation – is exposed here, the book triumphantly avoids the lifeless objectification in writing by some supporters of Palestinians as well as their enemies. These are not mere "victims" but people who retain their aspirations, talents, loyalties – family as well as national – despite all the obstacles.
Similarly, one of the most powerful essays in Letters to Palestine, a collection of US writing about the conflict, in the ironically titled "Imagining myself in Palestine" by the novelist Randa Jarrar, is her memory of her father weeping when Israeli Prime Minister Yitzhak Rabin was assassinated in 1995, saying he had been the Palestinians' "last chance". Jarrar describes in minute detail her arrest, detention, and questioning at Ben Gurion airport ending in arbitrary deportation and a 10-year entry ban, which eliminates her hopes of visiting her sister in Ramallah. Though Jarrar never makes the point explicitly, the experience reads like a metaphor of Palestinian exclusion, exile and dispossession.
What is perhaps most hopeful about both these books is their emergence from the US. I think Vijay Prashad, in his introduction to Letters to Palestine, places too much reliance on the Boycott, Divestment and Sanctions campaign, with its fuzziness on whether Israel should even exist within 1967 borders. But he rightly notes that "slowly, cautiously, sections of the US population have broken with the pro-Israel consensus". The most important change may be the nascent revolt among –especially young – American Jews, accelerated after the 2014 Gaza war, against the "Israel right or wrong" loyalties epitomised by the American Israel Public Affairs Committee. For it's such a shift in US public opinion against Israel's treatment of the Palestinians that may in the long term prove crucial to a just peace.
Register for free to continue reading
Registration is a free and easy way to support our truly independent journalism
By registering, you will also enjoy limited access to Premium articles, exclusive newsletters, commenting, and virtual events with our leading journalists
Already have an account? sign in
Join our new commenting forum
Join thought-provoking conversations, follow other Independent readers and see their replies