Paperback reviews: Beneath the Heart of the Sea, Malice, White Beech, The Rise of Islamic State, The Poetry of Sex
Chase's original is worth reading for the small, poignant details that reveal the depths of the hunger after being sunk by an enraged sperm whale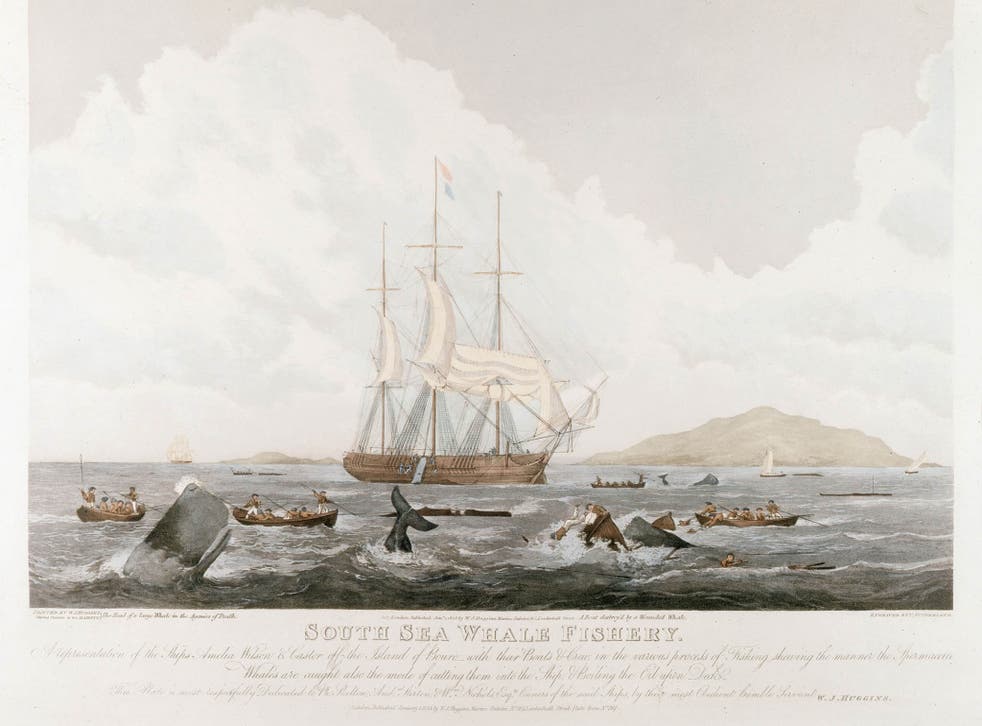 Beneath the Heart of the Sea by Owen Chase (Hesperus £7.99)
Owen Chase was first mate on the Essex, a Nantucket whaling ship that was sunk by an enraged sperm whale in the middle of the Pacific Ocean in 1820. Cast adrift in tiny lifeboats, Chase and his fellow survivors considered their options. To the west lay the Marquesas Islands, which they feared were inhabited by cannibal tribes; to the east, much farther away, the coast of Chile. The sailors chose the latter, but headwinds blew them off course and they spent months at sea with little food or water. In a tragic irony, they were forced to resort to cannibalism themselves before they were rescued by a passing American vessel.
Chase wrote about his harrowing experiences in this memoir, first published in 1821. It has been reissued to tie in with Ron Howard's film version, out later this year; both the book and the movie are being marketed as "the true story that inspired Moby-Dick". Chase was, in fact, only one among many sources for Herman Melville's great novel (although, to be fair, a big-screen adaptation of, say, Thomas Beale's The Natural History of the Sperm Whale would probably have struggled to get the Hollywood green light).
Melville charitably called Chase's book a "plain and faithful narrative," but it's rather awkwardly written; you can find more dramatic renditions of the Essex story in Charles Olson's Call Me Ishmael (1947) and Nathaniel Philbrick's National Book Award-winning In the Heart of the Sea (2000) – the latter draws on other survivors' accounts and forms the basis of Howard's film. Nevertheless, Chase's original is worth reading for the small, poignant details that reveal the depths of the hunger that led him to transgress that terrible taboo: when flying fish land in the bottom of Chase's boat, the sailors gobble them down raw, "scales, wings and all".
***
Malice by Keigo Higashino (trs by Alexander o Smith) (Abacus £8.99)
It may seem strange from the country that gave us Hello Kitty, but cats often get a raw deal in Japanese literature. In the work of Yukio Mishima and Haruki Murakami, moggie-murder is a recurring trope – it's often used as shorthand to suggest a character's criminal psychosis.
Cat-killing is also a major plot device in this superb mystery-thriller from the Japanese novelist Keigo Higashino. The book centres on the murder of a famous writer, Hidaka– a crime that may or may not have something to do with his tendency to poison the neighbourhood kittens. The chief suspect is another writer, Nonoguchi, whose unreliable testimony forms the bulk of the narrative; we also hear from Kaga, the workaholic detective assigned to the case.
To reveal any more would be to risk spoiling this novel's revelatory pleasures. Suffice it to say that the story has more twists and turns than the Tokyo metro – and proves that Higashino is a master of the form.
****
White Beech by Germaine Greer (Bloomsbury £9.99)
In 2001, Germaine Greer bought a run-down dairy farm in Queensland. This memoir tells the story of how she teamed up with her botanist sister to turn the land into a forest reserve, a haven for birds and beasts and rare white beech trees. Greer's writing about nature is truly wonderful: a bird's "fanned brick-red tail is edged with a white so bright it seems to leave tracks in the sunlit air"; "emus loped beside me … my ears tuned to the electric sizzle of the finches' song". Indeed, to fulfil her stated goal of "conveying the deep joy that rebuilding wild nature can bring" Greer might have given freer rein to this poetic impulse, and submitted the more academic parts of the book to a bit of pruning.
****
The Rise of Islamic State by Patrick Cockburn (Verso £9.99)
Veteran Independent on Sunday journalist Patrick Cockburn is one of our foremost experts on the Middle East, and this book, which addresses the rise of Islamic State of Iraq and the Levant (Isis), is essential reading. Cockburn describes how the militant jihadi group has taken advantage of the weakness of the Iraqi government and the Syrian civil war to win a huge swathe of territory. Cockburn examines and analyses very recent Isis assaults and also takes a step back to explore how these events reflect wider trends, including the conflict between Sunni and Shi'a, and the resurgent Cold War between the US and Russia. Cockburn's conclusion is chastening: "A new and terrifying state has been born that will not easily disappear."
*****
The Poetry of Sex, edited by Sophie Hannah (Penguin £9.99)
Whether you're loved up after Valentine's Day, or sick of the whole shebang, this collection of poetry about sex will have something for you. Sophie Hannah's excellent selection ranges over centuries, from Ovid to Carol Ann Duffy. The tone moves from the ecstatically sensual (Michelle McGrane's "If You Are Lucky": "the hot-breathed arrival of desire/the frenzied coupling/as you opened soundlessly/and the world flooded into you") to the playful (E E Cummings's "May I Feel": "may i touch said he/how much said she/ a lot said he/why not said she"). You also get no fewer than two lust-drenched poems about the James Bond actor Daniel Craig for your money, if he's your thing.
****
Register for free to continue reading
Registration is a free and easy way to support our truly independent journalism
By registering, you will also enjoy limited access to Premium articles, exclusive newsletters, commenting, and virtual events with our leading journalists
Already have an account? sign in
Register for free to continue reading
Registration is a free and easy way to support our truly independent journalism
By registering, you will also enjoy limited access to Premium articles, exclusive newsletters, commenting, and virtual events with our leading journalists
Already have an account? sign in
Join our new commenting forum
Join thought-provoking conversations, follow other Independent readers and see their replies