Review: The Orphan Choir, By Sophie Hannah
Innovative score and an eerie twist
Daneet Steffens
Saturday 15 June 2013 19:39 Comments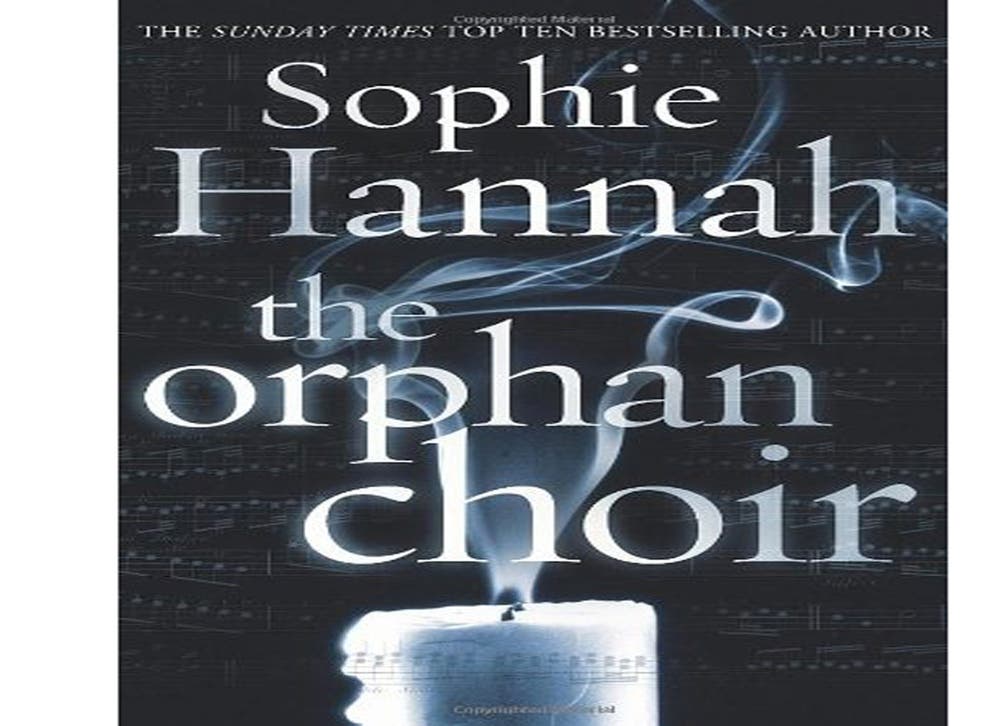 Louise Caroline Beeston is one put-upon lady. Her next-door neighbour, Justin, is ruining her life with noise pollution in the form of excessively loud and random selections of pop music. To exacerbate matters, Louise's husband is insisting on getting their home sandblasted which will keep them wrapped in dust and darkness for the foreseeable future, and her choirboy son, Joseph, has a musical director, Dr Freeman, whose beard annoys her to no end. Sophie Hannah transmits the humorous edge of self-focused, highly-obsessed characters like nobody's business: in many of her other books, this often turns out to be the mark of a person whose apparent paranoia proves to be perceptively on the money. In The Orphan Choir, Louise emerges from a similar mould, but with a novel twist.
Sharp to the point of being the equivalent of a poke in the eye with a prickly stick, Louise is both amusing and horrifying in her observations, and always damning in her judgements. Constantly questioning and second-guessing others' comments, actions and intents – when someone mentions that Joseph's age, seven, is the "perfect age," Louise immediately wonders "what's wrong with six and eight?" – she's both fascinating and repellent, your basic obnoxious busybody.
Louise obsesses and fumes about the "invasion" of her home – "I know that the killer aspect of unwelcome sound is not the decibels but the disempowering feeling of having no control over your own environment and life" – rapidly turning the Justin-related drama into a high dudgeon palaver involving environmental health officers, a "noise diary," and her increasingly-harassed husband, Stuart. But is she a reliable narrator? While raging against Justin, she also ogles his plush interior decorating enviously and, in one astonishing moment, smoothly pinches some of his marijuana supply. She also seems to be spending a lot of time at home in her pyjamas.
Increasingly agitated, she spots an ad for Swallowfield, a luxurious residential estate "Where Putting Nature First is Second Nature". Seduced initially by the idyllic images of lush landscapes, Louise is completely sold when she learns that no loud noises are allowed on-site – even splashing in the pool is frowned upon. Swallowfield, Louise decides, will be home.
So far, so trademark Hannah. But The Orphan Choir is her first foray into ghost-story territory, and gradually, almost imperceptively, it sneaks into that chilling arena, a creepy, tension-filled surprise. Part of a line of horror novellas produced by the Hammer/Arrow Books partnership, The Orphan Choir reveals a new aspect to Hannah's writing: she has proven her innovative skills in the form of psychological suspense multiple times; turns out she's no slouch when it comes to conjuring up ghostly presences either.
Register for free to continue reading
Registration is a free and easy way to support our truly independent journalism
By registering, you will also enjoy limited access to Premium articles, exclusive newsletters, commenting, and virtual events with our leading journalists
Already have an account? sign in
Join our new commenting forum
Join thought-provoking conversations, follow other Independent readers and see their replies