Robicheaux: You Know My Name by James Lee Burke, book review: It doesn't disappoint
Burke's much-loved character, Dave Robicheaux, returns in this mystery set in Louisiana and finds himself in a predicament that will horrify but grip long-term followers of the books in particular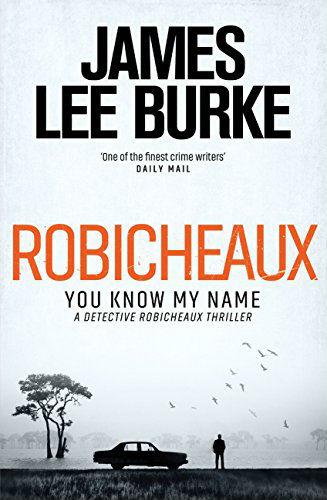 Is this the last in the series of the great crime writer James Lee Burke's novels featuring Cajun detective Dave Robicheaux? That eponymous title and an air of mortality as pungent as the semi-tropical Louisiana setting of these outstanding novels would suggest this may be the case.
It isn't down to a diminishing of Burke's powers at the age of 81 if so: this 21st instalment is as rewarding and superbly written as any in the series since the first, 1987's The Neon Rain.
Reading these novels over time offers a unique experience summed up well by Nick Cave, an ardent devotee of this most poetic and spiritual of American mystery writers: "There's just something extraordinarily comforting about going back to these same phrases that he uses over and over again, the same story over and over again, but beautifully executed."
Burke kicks off Robicheaux ingeniously by placing its hero in a predicament that will horrify but grip long-term followers of the books in particular. A constant of all the novels has been Robicheaux's struggles with alcoholism, depression and Vietnam trauma. One of Burke's great strengths has been to gift his protagonist with very human flaws: abiding feelings of anguish, shame, self-disgust and the temptations of rage.
Robicheaux is grieving after being widowed for the third time. As his sobriety finally cracks, he finds himself back on "the dirty boogie". "They live in me like a snake that slowly swallows its prey," he says of his demons, "compressing it into a canister of despair and pain." Prone to psychotic visions of the dead, he reflects that there is "no afterlife but only one life, a continuum in which all time occurs at once, like a dream inside the mind of God". Alcohol appears to him "like an irresistible thread from an erotic dream you can't let go of at first light".
He wakes from an alcoholic blackout to find that he may have torn apart with his hands the man who killed his wife in a car accident. But is he being set up, and if so, why? As ever, the plot opens out to encompass a vivid cast of characters that reflect the singular culture of Louisiana, including a Robert Penn Warrenesque novelist, a charismatic local oligarch with presidential ambitions and a seedy white supremacist. Also in place are Burke's masterly command of natural description, that gaudy, rambunctious dialogue and his hero's lyrical meditations on virtue and corruption, shot through with a kind of personal liberation theology.
Above all, perhaps, Burke's greatest talent lies in offering up some of the most memorable antagonists in contemporary fiction, crime or otherwise. Hitchcock famously asserted 'the more successful the villain, the more successful the picture'. Robicheaux doesn't disappoint.
The "contract cleaner" Chester Wimple is a malefactor only Burke could've conjured: "The man who got on the flight from Miami to New Orleans and took a seat next to a huge black woman whose rolls of fat seemed to drip into the aisle wore Bermuda shorts, red tennis shoes, a canary-yellow T-shirt with Mickey Mouse's face on it, and big, round sunglasses that were as black as welders' goggles. His skin was the color of powdered milk, his hair like wisps of corn silk on a doll's head, his smile a slice of watermelon."
Wimple, in "queer-bait" pants, with a face like "a smiling dildo", taken to eating fudge bars, dispatches his victims with the logic of a tormented four-year-old: "I like children. They make me happy. You were very bad."
He's as brilliant a manifestation of evil as any Burke has created. If this really is the end, fans can relish the delicious prospect of going back to the beginning and starting this electrifying series all over again.
'Robicheaux: You Know My Name' by James Lee Burke is published by Orion in hardback, £19.99
Join our commenting forum
Join thought-provoking conversations, follow other Independent readers and see their replies