Romantic Moderns, By Alexandra Harris<br />Britten, By John Bridcut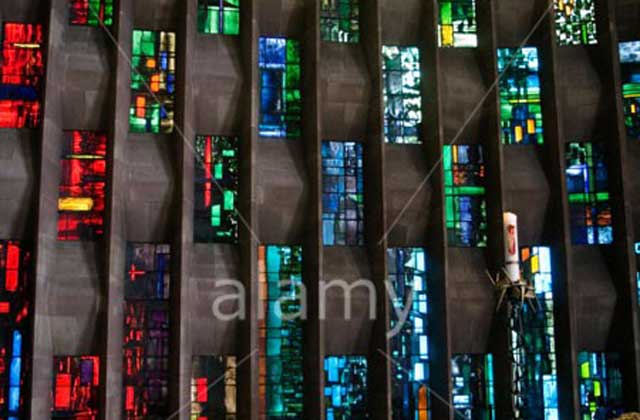 Sometime in the early 1960s, not too long after its consecration, I remember taking a coach trip with my mother to see the rebuilt Coventry Cathedral. It hardly needs a hotshot psychologist to spot why a whole day of his mother's undivided attention should leave such an indelible trace on a small child with three brothers (how did she find the time?). Whatever the motive, that day remains my earliest memory of intense aesthetic pleasure: Basil Spence's light-filled, sandstone-walled interiors; the blazing stained-glass windows of John Piper; Graham Sutherland's imperious tapestry; Elizabeth Frink and Jacob Epstein's massy, muscular sculptures.
The new cathedral, sited next to the bombed-out ruins of the old, belongs to a time just after the main focus of Alexandra Harris's wonderfully eloquent and illuminating book. Yet the rebirth of Coventry from the ashes of devastating war gave her "Romantic Moderns" the ideal stage on which a wide public could witness, and applaud, their fruitful marriage of tradition and innovation; of the glow of the old with the shock of the new. And hear it: in 1962, the cathedral hosted the premiere of Benjamin Britten's War Requiem, which fused the Latin Mass with Wilfred Owen's poetry from the trenches in a musical plea for peace that resonated around the world.
John Bridcut's delightful and original guide to Britten's life and music recalls that the disc of the Requiem – released just after the Cuban Missile Crisis – sold 200,000 copies within a year and won three Grammy awards. Coventry, it seems, can still work its romantically modern magic. John Lennon visited, and admired, it. Now the cathedral hopes to commission a new work from Yoko Ono in time for its 50th anniversary in 2012.
That strikes me as apt. Deservedly swathed in critical plaudits and now prize citations (it won the Guardian First Book Award), Harris's truly outstanding study of "English writers, artists and the imagination from Virginia Woolf to John Piper" has arrived at exactly the right juncture. This year, cheerleaders for a narrow and exclusive definition of artistic modernism such as Gabriel Josipovici have – wittingly or not – helped to unleash some pretty silly polemics about, and against, what the exiled German scholar Nikolaus Pevsner famously called "the Englishness of English art". Junior critics have pompously opined on its deplorable humanism and provincialism in contrast with those thrilling avant-gardists sur le continong.
Now, glib binary divisions are the bane of the adolescent mind (whatever its calendar age). Harris's erudite, genial and supremely well-written book makes a bracing antidote to them. Striding with enviable assurance across the 1930s and 1940s, from painting and sculpture through to fiction and essays, graphic design, architecture, music, cookery and gardening, she explains how the arts of the nation sought – often with lasting success – to ally a rooted sense of place and history with the audacity of form and vision found at the European cutting-edge.
Romantic Moderns proves, in language often as sinuous, graceful and colourful as the work of its subjects, that black-and-white distinctions will always tell a big, fat lie about our cultural past. It evidence comes from poems and recipe-books; from blocks of flats and art journals; memoirs and travel guides; interior designs and advertising posters. Examples stretch from the "horticultural modernism" of avant-gardener Christopher Tunnard (one of his creations, the Kensington Roof Gardens, still thrives across the road from the office where I write) to the history-haunted prose of Virginia Woolf in Orlando or Between the Acts; from the updated pastoralism of Powell and Pressburger in baroque movies such as A Canterbury Tale to the wave-lashed soundscape of Britten's "homecoming" masterpiece, Peter Grimes.
Harris dubs the artist John Nash's mid-1930s essays in the pro-abstraction magazine Axis as "brilliant peace-making interventions". Her book is another one, except that the exchange and eclecticism that it celebrates should not be dismissed as some soggy fogbound compromise. "The reconciliation of art and place" - the goal that in 1942 drew Britten back from New York to Aldeburgh, and to Peter Grimes – was seldom a trouble-free task. Like the architectural critic and poet John Betjeman in the 1930s, falling in love with the riotous clutter of Victoriana while never quite forsaking his respect for the clean lines and white spaces of the International Style, many of these artists faced both ways, "looking out on both curlicues and voids".
And why not? Harris emphatically refuses to referee another round in the tired old bout of "English" Ancients versus "Continental" Moderns. Instead, she thinks outside the ring. From the great refugee modernist Berthold Lubetkin, who embellished the functionalism of his Highpoint flats in Highgate with Athenian caryatids, to the iconic marriage of a monochrome modern palette with English pictorial planting in Vita Sackville-West's "White Garden" at Sissinghurst, the age mixed, and matched, with relish. Taste-makers jumped out of their boxes, eager to straddle both vernacular and international allegiances. Philip Heseltine, the composer known as "Peter Warlock", not only joined the early-music revival with The English Ayre but was "the first Englishman to write a substantial appreciation of Arnold Schoenberg".
Yet an ominous bass line pulsed beneath these frisky arabesques. Harris listens to it closely. In this "heady and disembodied" time of industrial slump, suburban sprawl, then the fear and fact of global warfare, her painters and designers, novelists and gardeners, sought "a kind of art that is about embodiment". The age demanded concrete "stock-taking", through an aesthetic of minutely detailed annotations and anthologies, as ribbon developers or German bombers menaced the spirit of a beloved place.
Later, whether in TS Eliot's Four Quartets or the Bloomsbury veteran Duncan Grant's murals for a Sussex church, this new work on old sites strove in a time of mortal danger to forge "a shared public imagery of national survival". Via his talks in a blitzed London, Pevsner – from Leipzig via Göttingen – refined his ideas on "Das Englische in der englischen Kunst" at "a moment of urgent patriotism".
Yet when victory came in 1945, Evelyn Waugh - in Brideshead Revisited - set the flamboyant aestheticism of Charles Ryder against the levelling, democratic forces of postwar reform. The "romantic modern" synthesis looked doomed. But a vast public never lost their taste for it. From Woolf to Eliot, Britten to Piper, its leading lights gleam as warmly now as ever. Some have grown in radiance. In a rare oversight, Harris all but forgets the visionary film-maker Humphrey Jennings. His amazing poetic bricolage merged surrealist and documentary modes.
No book can shade in every corner of this field. Beyond Peter Grimes, Harris gives relatively little space to music. Here, Bridcut's expert and entertaining tour of Britten comes into its own. Its thematic overview of one towering "romantic modern" changes key from commentaries on every work and year-by-year biography to gatherings of quotes by and about the composer whose music – as Robin Holloway said - "has the power to connect the avant-garde with the lost paradise of tonality". I'm glad that Bridcut loves the community theatre-piece based on the mystery plays, Noye's Fludde. As he writes, "it chokes an adult audience every time". A treble in a children's choir whose patron was Britten himself, I repeatedly sang that piece in a variety of makeshift animal costumes (chicken, otter, ox). It never misfired.
Popularisers far more than patricians, the "romantic moderns" cast their spell deep and wide. Harris's exemplary book shows why it endures.
Join our commenting forum
Join thought-provoking conversations, follow other Independent readers and see their replies