Stalin's Daughter: The Extraordinary and Tumultuous life of Svetlana Alliluyeva by Rosemary Sullivan, book review
A new biography of Stalin's daughter tells the story of a woman tortured by her past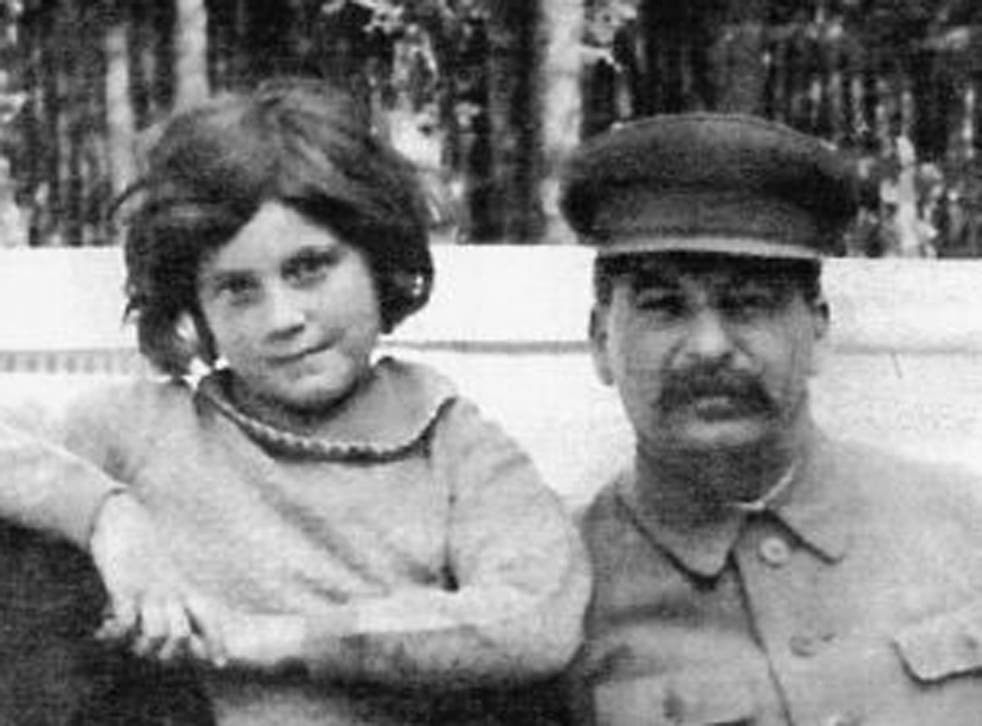 Seared on the memory of Svetlana Alliluyeva, daughter of the Soviet leader Joseph Stalin, was the moment she was taken to kiss her dead mother in her open coffin. She was only six at the time, and she screamed and drew back. Her 31-year-old mother, Nadya, had shot herself in the heart but Svetlana was told she had died of peritonitis. It was only 10 years later she found out the truth; this knowledge was part of the harsh awakening which made her see her mother as yet another victim of the repressive policies of her father.
The sense of abandonment Svetlana experienced following her mother's death stayed with her for the rest of her life, turning the needy child into an emotionally demanding woman. As Rosemary Sullivan's biography shows, she craved a "normal" family life and just wanted to be loved for herself. Yet despite her valiant attempts, she could never break free from the curse of being the daughter of one of the world's most brutal dictators.
When Svetlana was a child her father showed an uncharacteristic gentleness to his only daughter. He called her "my little hostess" and claimed he was her secretary, she was in charge and should give him orders. He signed his letters "little Papa", sat her on his lap and showered her with tobacco kisses. However, once she started to assert her independence their relationship changed. Aged 17 she fell in love with the film-maker Aleksei Kapler. Stalin taped her phone conversations, then had Kapler sent to the Gulag for 10 years for his indiscreet affair. Confronting Svetlana, he hit her in an uncontrollable rage. It was not only her lover who disappeared, her aunts and uncles from her mother's family also "vanished" for "talking a lot" about Nadya.
After Stalin's death in 1953, Svetlana learnt the extent of his crimes. The paradox of her life was how to reconcile the father who had loved her with the man who could murder millions. She did not believe that he suffered any pangs of conscience, but she saw him as an isolated, unhappy man who had sacrificed everything human in the pursuit of power. She warned that to dismiss him as simply monstrous was an error because he never acted alone and had thousands of accomplices.
Svetlana's ultimate rejection of Stalin's legacy came when she was 41. In 1967 she defected to the West leaving her two children, Joseph 21 and Katya 16, behind. She wrote to them: "It is impossible to be always a slave." However, even in the free world she was not liberated. To finance her new life she published her memoir for $1.5 million – only Churchill's memoirs had sold for more. However, she gave most of the money to charity. When she tried to write other books she discovered people were only interested in her father, not her views. In 1984, feeling exploited and disillusioned, she defected back to Russia. She longed to be reunited with her children, but they rejected her. After 18 months she returned to the West where she lived a nomadic existence between Britain and America until her death in 2011.
Driven by an insatiable emotional hunger throughout her life, Svetlana was always looking for a man to heal her psychological wounds. She had many affairs and marriages, most ended badly. The nearest she came to finding the unconditional love she craved was with her youngest daughter Olga, born from her marriage to an American architect.
An award winning poet and academic, Sullivan has written a biography on an epic scale, with a combination of tragedy and history worthy of a Russian novel. She recreates with clarity and compassion the life of a brave woman who could never escape Stalin's sins. As Svetlana lamented: "Wherever I go, whether to Australia or some island, I will always be the political prisoner of my father's name."
Register for free to continue reading
Registration is a free and easy way to support our truly independent journalism
By registering, you will also enjoy limited access to Premium articles, exclusive newsletters, commenting, and virtual events with our leading journalists
Already have an account? sign in
Register for free to continue reading
Registration is a free and easy way to support our truly independent journalism
By registering, you will also enjoy limited access to Premium articles, exclusive newsletters, commenting, and virtual events with our leading journalists
Already have an account? sign in
Join our new commenting forum
Join thought-provoking conversations, follow other Independent readers and see their replies