The Black Country by Kerry Hadley-Pryce - book review: Marriage most macabre
Salt - £8.99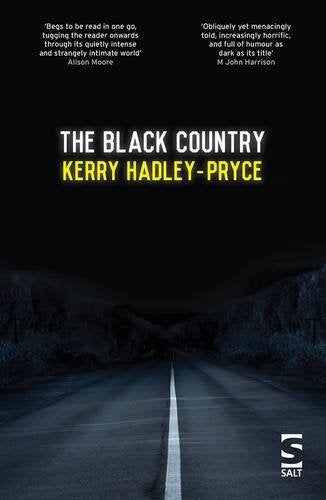 You could, if you wanted, reduce Kerry Hadley-Pryce's debut to a pile of zeitgeisty comparisons. Relationship in enigmatic trouble à la Gone Girl or Before I Go to Sleep? Check. Missing, damaged teenager à la every novel with "girl" in the title? Check. Alcoholism that twists reality into nightmares à la Girl on the Train? Such parallels do a disservice to an original and disquieting first novel that transforms the intimacy of a romance into a thing of darkness. Imagine Gone Girl directed not by David Fincher but David Lynch and you'll get the woozy picture. It is a comparison that The Black Country's cover seems to crave: a single, white road line illuminated by headlights that are swallowed by the surrounding and very Lynchian night.
Maddie and Harry are trapped in the unhappiest of marriages, circling one another in endless rounds of distrust, contempt, and thinly veiled violence. Almost all of these subtexts are exposed after a university reunion when an incensed Maddie runs over the same man she had illicitly kissed earlier that evening. Returning to the scene of the crime, they find enough evidence to prove the collision, but otherwise they habeas no corpus.
In many psychological thrillers, this mystery would drive the plot. In The Black Country, the fissure that destroys Maddie and Harry was present long before the hit and run. What elevates their torturous disintegration is Hadley-Pryce's inventive narration. A third person lurks in the marriage and the story, one who reports and interprets the action, seeming to know Maddie and Harry better than they know themselves.
This takes a little getting used to. What feels initially like a device to enhance the uncanny, suffocating mood solidifies as you sense an actual presence in the book: "But Maddie was with me. Where else would she be?" This gothic love triangle (or is that a square?) has drawbacks. The twists that emerge after the airless confines of the first half break the spell just a little. No matter how revealing, the plot coincidences are bewilderingly coincidental. Perhaps this is why the story is forced to explain its big reveal, unlike earlier crucial scenes.
For the most part, however, The Black Country is a macabre triumph, whether you read it as a horror fable about love or a meditation on the controlling character of the artist. Either way, this ambitious and memorable first novel loiters like a rotting fish left behind the fridge. I mean this in a good way. The Black Country really is something else.
Join our commenting forum
Join thought-provoking conversations, follow other Independent readers and see their replies