The Bride Test, Helen Hoang, review: a sweet romance that explores autism
The bestselling author of 'The Kiss Quotient' accomplishes somewhat of a tour de force in her new novel in making us understand – and feel – both perspectives in this romance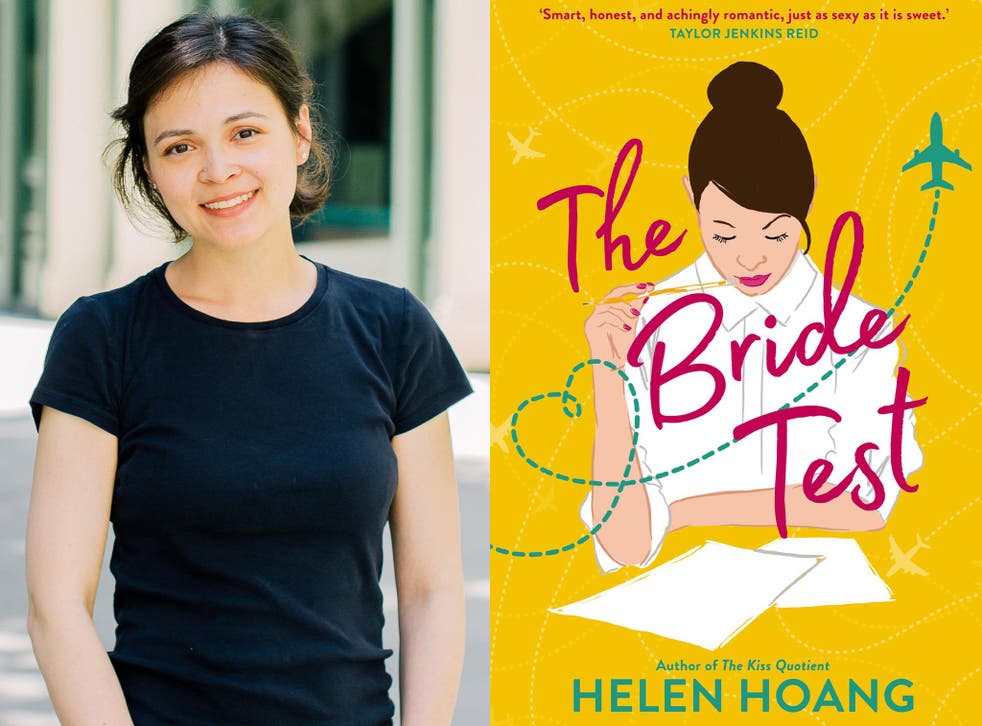 When we first meet Esme Tran, the heroine of Helen Hoang's new novel The Bride Test, she's busy scrubbing toilets in a Ho Chi Minh City hotel. A couple of elegant, heartbroken women distract her from her task by coming in, one after the other, looking for a private spot to dry their tears. The next person to walk in is a wealthy Vietnamese-American woman who, as it turns out, is looking for a wife for her son Khai Diep – and eliminated the two aforementioned women. Cô Nga (as she introduces herself) does, however, take an interest in Esme. Would she like to come to California for a summer and attempt to make the very handsome Khai her husband?
Esme is (somewhat understandably) reluctant. She's a single mother to her five-year-old daughter, and her own mother and grandmother need her at home. But travelling to America is a unique opportunity – one that could set her on the path to finding her biological father, an elusive Berkeley graduate. So Esme crosses the Pacific Ocean, determined to make the most of her stay in California. What follows is a sweet, touching romance that is light and breezy in tone but not in content, and a fitting follow-up to Hoang's critically acclaimed debut The Kiss Quotient (2018).
Khai, naturally, doesn't take kindly to his mother's insistence on finding him a spouse, especially when Esme's presence in his apartment begins disrupting his well-established routine. But – this is, after all, a romance – he does find himself irresistibly attracted to Esme, who herself isn't indifferent to Khai's charms. On the surface, nothing stands in the lovebirds' way (Esme is there quite literally for the sole purpose of partnering up with Khai), except themselves. Khai has autism and believes himself incapable of love. Esme, meanwhile, is convinced she, a self-described country girl from Vietnam, isn't good enough for Khai – and her insecurities project onto most of her interactions with him.
The 25 best books by women

Show all 25
Hoang, who has herself been diagnosed with a form of autism spectrum disorder in line with Asperger's Syndrome (which inspired her previous novel The Kiss Quotient), accomplishes somewhat of a tour de force in making us understand – and feel – both Khai's and Esme's perspectives. We know what information is being misinterpreted, and why these two people, who are evidently perfect for each other, also keep misreading each other. Hoang is an avid reader of romance novels, and it shows: she delivers a classic tale of will they/ won't they, and the expertly handled chase between the two lovers is at times heartbreaking, at times frustrating, but always delightful.
The novel is powered by several solid themes, too – not that the matters of the heart are inherently frivolous. Esme's journey is inspired by Hoang's mother's own experience moving from Vietnam to America. The Bride Test is at its best when Esme tries to find her place, not just in her new country, but in the world. There is something universal in her quest, too: how can she accept herself, while also giving herself permission to build a different life? Esme must also decide how she wants to go about chasing new opportunities – and she's far too proud, honest and capable to think a green card marriage to Khai will bring her fulfilment. "In this country of empowered people, justice, and fairness, opportunities were there for everyone," the novel reads at one point, summarising Esme's musings about America. "Marriage and birth couldn't be the only ways to belong here. She didn't believe that."
Khai, too, brings something new to the table. His autism isn't an obstacle, in and of itself, to his love story with Esme. Things simply have to be explained and managed. Khai, for example, has sensory issues and cannot bear light touches. Firm touches, however, are okay. He wants to be touched by Esme – that much is very clear – but must first explain to her how he can be touched, opening up the kind of realistic, profoundly human dialogue that is always needed in romance literature.
Hoang, whose career as a novelist was jump-started by a pitching contest on Twitter (through which she found her literary agent) has been movingly open about her journey as an author. With The Bride Test, she shows that she has truly found her voice – an important, entertaining, skilful voice at that.
'The Bride Test' is published by Atlantic Books in the UK (£7.99)
Join our new commenting forum
Join thought-provoking conversations, follow other Independent readers and see their replies