The Dust of Promises, by Ahlam Mosteghanemi - book review: Allegories of erotic love and acts of political resistance
Translated by Nancy Roberts, the narrative moves slowly, under a luxuriant outgrowth of meditations on love, in the form of riddle, hyperbole, paradox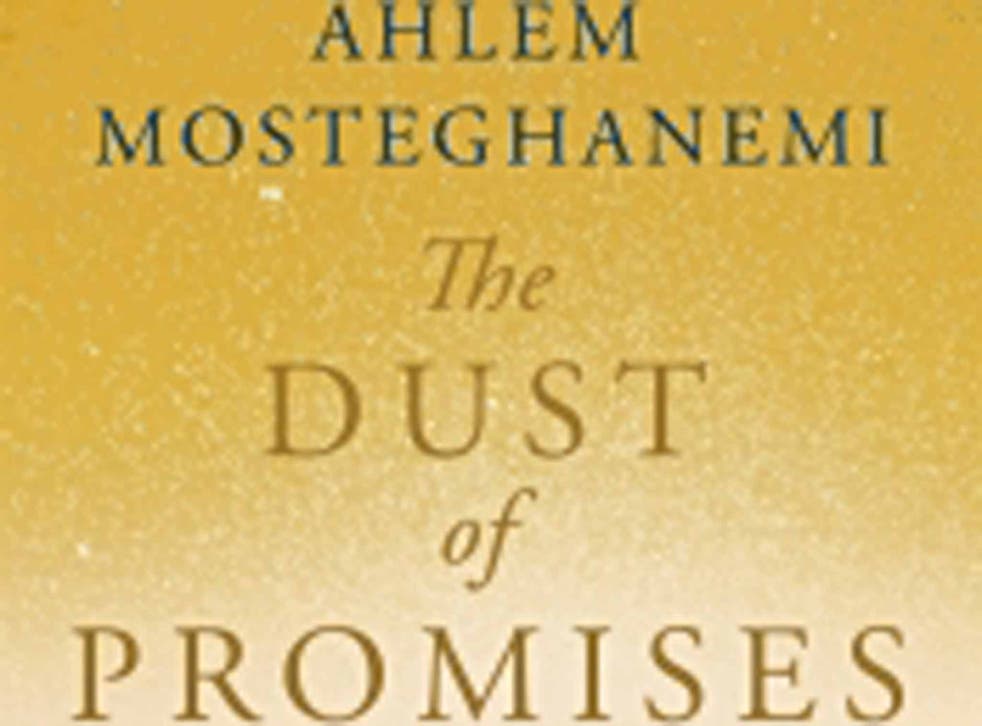 Ahlam Mosteghanemi is a legend in Algeria: the daughter of an activist exiled during the country's war of independence, she became the first Algerian woman to publish fiction in the Arabic language. The ensuing misogynist backlash paradoxically empowered her exilic writings, making her novels bestsellers.
Mosteghanemi's ambitious trilogy, translated as The Bridges of Constantine, Chaos of the Senses and The Dust of Promises, is a testament of exile, an allegory of erotic love and an act of political resistance. Weaving through the trilogy, a trinity of characters links eros, art and war: Khaled, the wounded freedom fighter, is a celebrated expatriate painter; Hayat is an alluring novelist; the journalist narrator of this third book visits Paris to receive a prize for war photography. The narrative concerns the "intertwined, overlapping relationships" of Hayat's lovers.
As The Dust of Promises opens, the narrator has glimpsed Hayat after a two- year absence. Hayat cannot be possessed, any more than the novel's exiles can possess the Algerian motherland. The erotic is political: "A love that has lived at the mercy of murderers" hunkers behind the "barricade of delight".
Narrative moves slowly, under a luxuriant outgrowth of meditations on love, in the form of riddle, hyperbole, paradox. Description is dreamy and insubstantial, as images effloresce into conceits ("her laughter's high heels"; she "danced as if weeping"), tantalising the reader with a version of the lover's tantalisation. An element of postmodern illusionism adds a trompe l'oeil quality, for in this aesthetic world, memory precedes the event remembered; fiction engenders events in the "real" world.
Hayat, mirroring the author, is a courageous novelist who "battled history's tyrants" with "gunpowder disguised as a book". Her elusiveness corresponds with her defiant ability to "outsmart Arab custom officials" and "find ways round checkpoints". The novelist – Hayat, but also Hayat as a figure for the author, Mosteghanemi – tells "secrets that are, in reality, your own secrets". The narrator longs to possess the beloved, who however possesses him.
"When we lose a love, we write a poem; when we lose our homeland, we write a novel," wrote Mosteghanemi in the 1980s. The Dust of Promises integrates the two in a rhapsodic and voluptuous prose poem, whose central figure "wasn't Hayat ... whose name means 'life'. She was life itself".
Bloomsbury £18.99. Order for £16.99 (free p&p) from the Independent Bookshop: 08430 600 030
Register for free to continue reading
Registration is a free and easy way to support our truly independent journalism
By registering, you will also enjoy limited access to Premium articles, exclusive newsletters, commenting, and virtual events with our leading journalists
Already have an account? sign in
Register for free to continue reading
Registration is a free and easy way to support our truly independent journalism
By registering, you will also enjoy limited access to Premium articles, exclusive newsletters, commenting, and virtual events with our leading journalists
Already have an account? sign in
Join our new commenting forum
Join thought-provoking conversations, follow other Independent readers and see their replies