The End of Vandalism by Tom Drury, book review: A slow march to greatness
This is fiction that doesn't thrust its greatness upon you so much as insinuate itself
James Kidd
Saturday 21 March 2015 13:00 Comments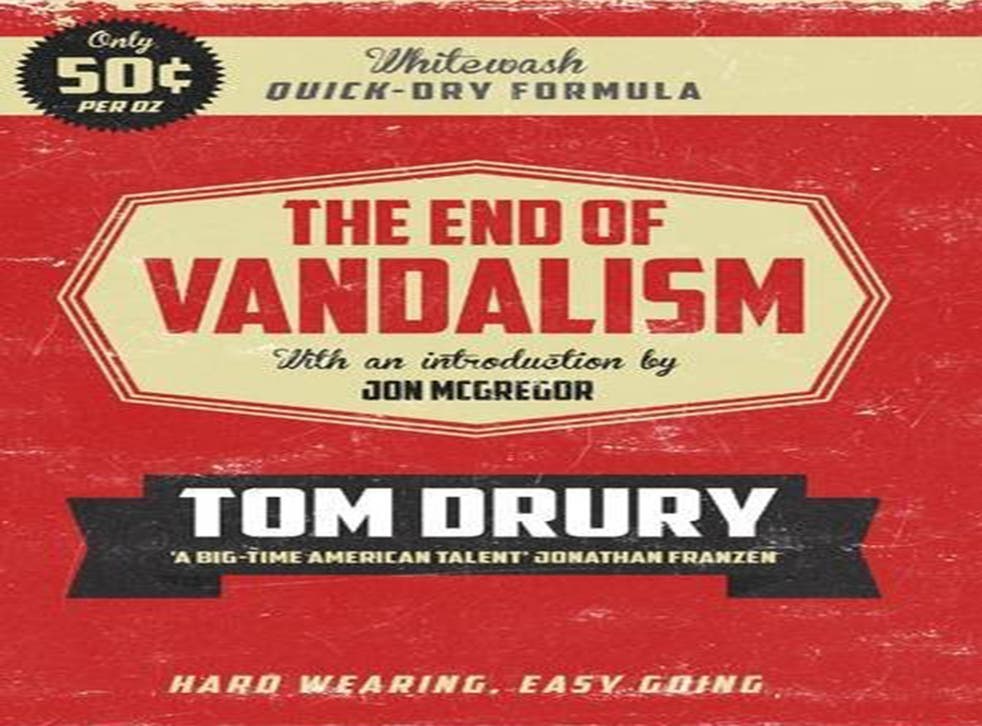 I don't know offhand what was the best novel released in 1994. James Kelman's How Late It Was, How Late? Cormac McCarthy's The Crossing? Sidney Sheldon's Nothing Lasts Forever? But there can't have been many better than Tom Drury's The End of Vandalism, which is gaining a welcome release in the UK thanks to the astute Old Street Press.
In one sense, you can understand why the book has made a slow impression. This is fiction that doesn't thrust its greatness upon you so much as insinuate itself through vivid, credible characters, close observation, and lovely, deadpan dialogue.
Take the passage when our hero, Sheriff Dan Norman, asks Drury's three titular vandals why they are protesting on a water tower in Iowa. "'We want people to wake up,' said Dane Marquardt. He cupped his hand and yelled 'Wake up!' at the people on the ground. 'Look at them, they're so insignificant.'
'We're in a band,' said Errol Thomas. 'I would have guessed that,' said Dan." The cast is broad enough to require its own appendix, but the mood is intimate. This owes something to Drury's lightness of touch that elevates even the briefest character sketch: "Mrs Thorsen, the small, strangely high-waisted science teacher."
The dispersed populace enables Drury to explore questions of community and isolation. "What will you build your life around?" a character asks in a typically offhand aside. There is a centre, however: the aforementioned Dan Norman (one letter from "Normal", a Druryean name if ever there was one) and Louise Darling.
Having divorced her roguish if charming husband "Tiny", Louise settles down with Dan and attempts to reconcile herself to life and relationships in Grouse County: "She felt as if she had strayed far from the people she understood. On the other hand, she lived within 12 miles of where she was born."
Louise especially is wonderful: occasionally infuriating but regularly funny. For example, when expressing her impatience with listening to other people's dreams: "I was on the phone with my cousin and then it was like I was the phone …". She and Dan also navigate one of the most genuinely affecting heartbreaks I have read for many years.
I'm still not 100 per cent certain what was the best novel released in 1994, but I am 98 per cent sure that I have just read the finest one published this year. The End of Vandalism is a masterpiece.
Old Street Press £12
Register for free to continue reading
Registration is a free and easy way to support our truly independent journalism
By registering, you will also enjoy limited access to Premium articles, exclusive newsletters, commenting, and virtual events with our leading journalists
Already have an account? sign in
Join our new commenting forum
Join thought-provoking conversations, follow other Independent readers and see their replies