The Islands, By Carlos Gamerro, trans. Ian Barnett in collaboration with the author
A march from terror to trauma with the armies of the night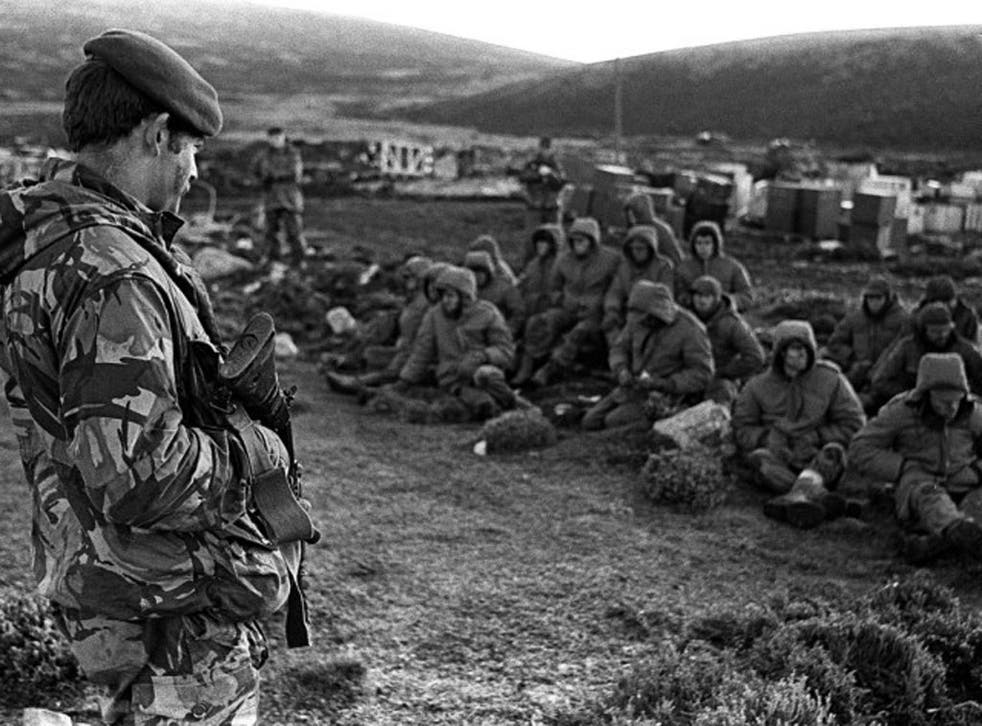 "It isn't the criminal who returns to the scene of the crime; it's the victim, in the tyrannical hope they'll change the unfair result that's damaged them." So says a minor character in Carlos Gamerro's dazzling The Islands, a novel dealing with the Falklands war, its aftermath, and Argentina's recurrent obsession with Malvinas.
The main obsession here belongs to former soldiers with crippling dreams of revenge. But Gamerro examines the armed conflict within the context of blind national pride and the machinations of a declining military junta. The islands play a part in a chauvinistic epic about the country's presumed destiny. Or, as a pro-military character puts it: "Argentina is an erect prick ready to breed, and the Malvinas, its balls. When we recover them, fertility shall return to our lands."
The war put an end to what little power the junta had left, but the national triumphalism hardly went away. The Islands, set largely in 1992, follows its resurgence in the roaring Nineties. The key character is an monstrous businessman who sees himself as a Nietzschean Übermensch, plans the foundation of a new capital, and dreams of marching on Malvinas, where he lost his first-born. With a knowing wink to Marlowe, Gamerro has named him Tamerlán (Tamburlaine).
But, as in so many tragedies, the would-be conqueror first needs to put his house in order. Tamerlán's younger son has committed murder in view of 25 witnesses, and his father needs their names in order to buy their silence. Unfortunately, only the Intelligence Services know who those people are. So the narrator, Felipe Félix, is brought in to retrieve their identities. A war veteran, Félix lives at the frontier of legality, and makes money as a "security systems specialist" – "in a word... hacker". Tamerlá* offers him a hundred thousand dollars.
What stars as an investigation in cyberspace, and in a cyberpunk vein, descends to the streets as the information proves elusive. Do not expect a noirish novel with gentle realistic touches. Gamerro pushes towards satire and hyperbole. Félix's narrative charts his perambulations around a distorted Buenos Aires populated by half-broken characters.
All are, in one way or another, connected with the Falklands war. There is a crazed ex-conscript, confined to a derelict psychiatric hospital, who spends his days reciting gibberish about his days in battle; there is a sadistic ex-lieutenant who obsessively plays a Malvinas videogame in which the Argentines defeat the Brits; and there is a love interest, a wonderfully realised character who was once an guerrilla warrior, survived repeated torture, was forced to marry her torturer and had twin daughters by him, both with Down syndrome.
That bit of allegorical overkillshows how far Gamerro can go against politically correct pieties. The Islands is not a well-mannered novel, but it deploys bad taste conscientiously, using the negative force of taboos, scatology, profanity and the depiction of violence. If there is a weakness, it lies mainly with the characters, who are largely archetypical, and have archetypal conflicts. Tamerlán's dead son died during a phase of Oedipal rebellion against his father. Félix is looking for redemption. And so on.
The trauma of war lies at the centre of this novel which examines a society saddled with posttraumatic stress disorder. As for the portrayal of the war itself, Gamerro delays it until the penultimate chapter, where we see the Battle of Mount Longdon through Félix's eyes. It is worth waiting for this bravura piece of writing, with its cinematic sweep, sustained drama, and pitch-perfect dialogue.
Here as elsewhere, the prose mixes registers, and intersperses precise observation with energising metaphors: "We start to run across the plain, which booms and buckles under our feet, flapping our arms in the air like windmill sails, in pursuit of a balance that's always just a few steps ahead". British readers will be able to appreciate all the inflexions of the original thanks to Ian Barnett's assiduous translation, in collaboration with author.
Register for free to continue reading
Registration is a free and easy way to support our truly independent journalism
By registering, you will also enjoy limited access to Premium articles, exclusive newsletters, commenting, and virtual events with our leading journalists
Already have an account? sign in
Register for free to continue reading
Registration is a free and easy way to support our truly independent journalism
By registering, you will also enjoy limited access to Premium articles, exclusive newsletters, commenting, and virtual events with our leading journalists
Already have an account? sign in
Join our new commenting forum
Join thought-provoking conversations, follow other Independent readers and see their replies