The Lonely City: Adventures in the Art of Being Alone by Olivia Laing, book review
Olivia Laing draws a distinction between being alone and being lonely. As Michele Roberts reflects, we must not equate the former with failure
Michle Roberts
Thursday 25 February 2016 16:34 Comments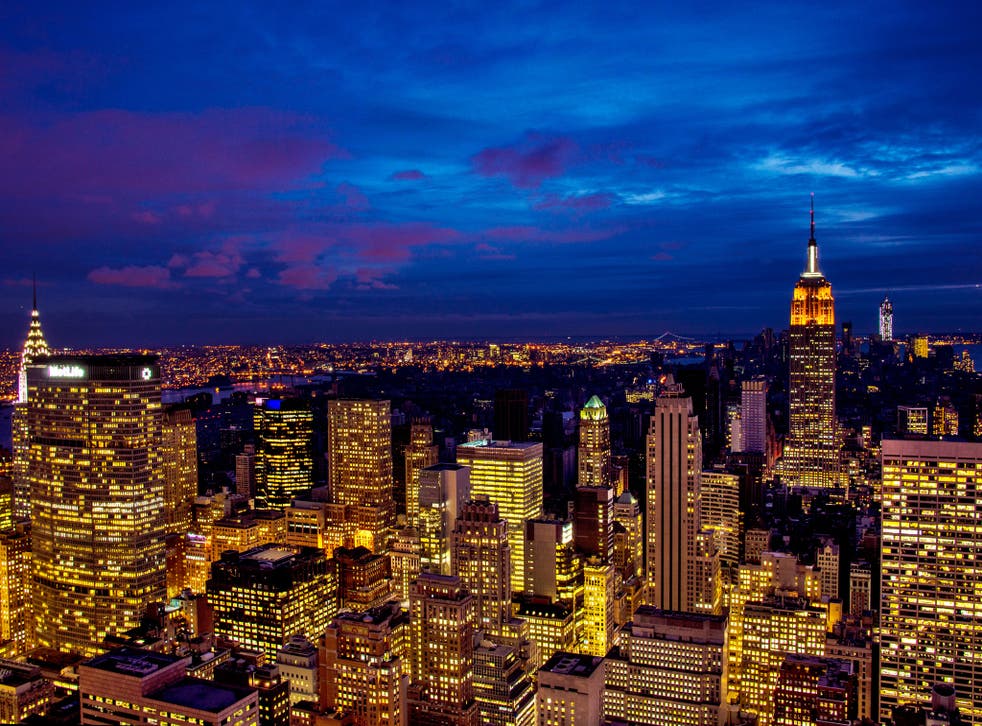 Before I'd ever visited New York, it glimmered in my imagination as a mythical city of glamour and possibility. Bricks and mortar constructed not just brownstones and skyscrapers but glittering, towering fairytales. What happens to those would-be heroes who arrive there, drift with the crowd but eventually encounter a lack of sociability and belonging, the dream dwindling down gutters? What of those who, having always lived in the big city, nonetheless feel themselves outcasts, banished to the margins?
No date on St Valentine's? Not liked enough on Facebook? Modern Western culture often associates aloneness with loneliness, and loneliness with failure, being a loser, labels loners as future psychopaths. Sociologists, with a few brave exceptions, have avoided the subject, as though it's a contaminating illness.
Olivia Laing's potent, compassionate study claims that urban loneliness, properly understood and accepted, becomes a sheltering city in itself; a fragile home. In addition, some of the people who dwell there can transcend the stigma surrounding their isolation, transcend prejudice, and convert taboo feelings into groundbreaking art, via paint, film and video. Those able to admit their aggression and do something with it, that is. Talent is one thing but the capacity to keep running with it is quite another.
Culture news in pictures

Show all 33
To illustrate her contention that loneliness can provoke inspiration rather than equate with handicap, can also provide rich subject-matter, Laing offers sensitively drawn portraits of seven male American artists who all started as outsiders yet went on to become well known: Edward Hopper, Andy Warhol, David Wojnarowicz, Henry Darger, Klaus Nomi, Peter Hujar, Jean-Michel Basquiat. Apart from solitary Hopper, who stuck to paint, others worked in modern media, employing technology and relying on collaboration. Some exhibited while others such as Darger made work in secret. Framing these are a few sketches of female friends and enemies: Valerie Solanas, author of the SCUM manifesto, who infamously shot Warhol, Hopper's bullied painter wife Jo, the photographer Nan Goldin and Greta Garbo pursued by a stalker. The women are more shadowy than the men, but are not the subject of this book.
Is the idea of the suffering, solitary male artist a new one? Hasn't Western bourgeois culture traditionally enjoyed depicting artists as romantic outsiders? (This allowed artists to be idealised, all right, though simultaneously despised and underpaid.) In late capitalism, Laing seems to be suggesting, urban loneliness is endemic. Her chosen artists of loneliness may initially seem unrecognisably way out, but in fact they are embodying and parading something we can all sometimes feel, whether we're in couples or not, in families or not. The city may inspire these visions, and allow them to be realised, but they reach beyond the city to the modern human condition. The artists are simply brave enough to admit their terrors and longings and make something of them via their chosen form.
In subsequent sections Laing demonstrates how the modern artist collapses the distinction between high and low art, self and work. The work of art is no longer objectively "out there"; it may relate to intimate aspects of the artist's life. For example, AIDS devastated urban gay communities, gay men's explorations of free love and free sex, and created intense loneliness, gays vilified by straights and also initially by each other, yet the trauma paradoxically provoked new forms of song, dance, performance, theatre and video.
Laing concludes with a brilliant chapter on how the anti-loneliness city is being rebuilt by the internet and social media, with their promise of intimate connection without risk or hurt. She avoids moral panic, moral censure, tries to link these fantasies of comfort to the psychoanalyst Donald Winnicott's exploration of childhood needs.
Laing's initial inspiration, she tells us, came from her own experience: hanging on in New York after a love affair ended, enduring anguishing loneliness, then deciding to think about it creatively rather than deny it. A twentieth-century writer such as Antony Storr, in his magisterial work Solitude, opening up some of the same terrain Laing explores, austerely keeps himself out of the text. Laing, very 21st-century in her willingness to mix memoir, travel writing, and biography, employs a narrative method weaving together autobiography, psychological speculation and social commentary.
In this way her chosen form beautifully mirrors and expresses her themes. The artists she discusses all explore feelings of brokenness, fragmentation, unbelonging, disconnection and, in their varied ways, make new wholes out of them, but wholes exhibiting their mended fractures to the gaze of the spectator willing to take enough time to look properly and lovingly. This has always been my view of how writing fiction can operate: the novel or poem as a mended, reinvented pot put back together out of found pieces; shards. We cannot know the shape of the original, necessarily, nor do we need to, but we can make something new with our found words.
It is exhilarating to witness this method operating in non-fiction too. Stitching and collaging odd fragments and genres together, Laing goes beyond reparation to offer something beautifully integrated, original, compassionate. She does not pose as a professional expert; her very subjectivity, her own suffering, confer her authority because they are so enmeshed with her powerful intelligence.
So her own musings on shivering in cramped sublets near Times Square or longing for a lover or obsessing over feeling weird, witnessing and hearing the thrum and strum of the city but being unable to participate, draw her to reflect, for example, on Hopper's smooth surfaces of paint that both invite the gaze and push the viewer away. His depictions of glass facades operate to make cafes and diners seem sealed boxes, reminding us that we all easily become voyeurs, like Hitchcock's protagonist in Rear Window, a film that "mimics or mirrors more than just the contents of Hopper's art. It also reflects the contours of his emotional life, the conflict between detachment and need that was lived out in actuality as well as expressed in coloured streaks of paint on canvas."
Canongate, £16.99. Order at the discounted price of £14.99 inc. p&p from the Independent Bookshop
Register for free to continue reading
Registration is a free and easy way to support our truly independent journalism
By registering, you will also enjoy limited access to Premium articles, exclusive newsletters, commenting, and virtual events with our leading journalists
Already have an account? sign in
Join our new commenting forum
Join thought-provoking conversations, follow other Independent readers and see their replies