The Mandibles: A Family, 2029-2047 by Lionel Shriver, book review: 'Ambitious but flawed'
Chilling in places, but this novel confuses more than it frightens
Lucy Scholes
Thursday 28 April 2016 16:42 Comments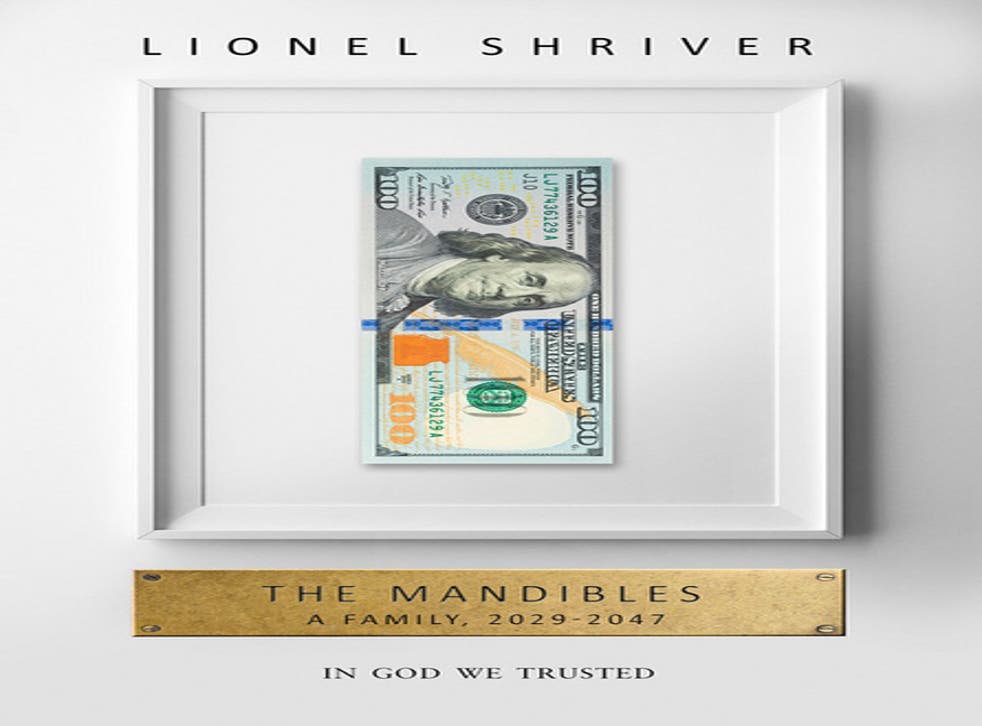 Having, in previous works, explored the evils of the present – from high school shootings to the American health care system – Lionel Shriver's ambitious but flawed new novel, The Mandibles: A Family, 2029-2047, takes an America of the near future as its subject. Sprinkled with just enough speculative inventions to hint towards something Atwoodian – a workforce displaced by robs; voice-activated household management systems; self-driving cars; and increasingly Orwellian levels of state control and surveillance – this is also a world in which the once glorious United States is now teetering on the edge of complete financial meltdown, crippled by national debt and with the dollar in free-fall.
The Mandibles have been luckier than most – "While crude survival from one day to the next might be every human's animal goal, for generations the Mandible family had managed to dress up the project as considerably more exalted" – but this is brought to a swift, sharp end when the fortune the younger generations have been counting on inheriting when 97-year-old Douglas Mandible departs this world, is wiped out. What follows is a speedy descent from the luxuries of an upper middle-class existence into a life of daily drudgery, hardship, violence and fear. All four generations of the family are forced to crowd into one small Brooklyn house – that belonging to Florence, one of Douglas's two grand-daughters and the only one of the 13 (14 if you include their lodger) who's got an actual job (in one of the city's homeless shelters, currently operating at a 200% capacity and growing) – where regular washing and re-using of pieces of torn up cloth is the only toilet paper available.
"It was hard to identify with the characters," Florence's son Willing declares of the novel that made his great aunt Nollie's name back in the day, long before the printed word became obsolete (as ever, Shriver cuts close to the bone!). "They make decisions because they're in love, or they're angry, or they want adventure. You never know how they afford their houses. They never decide not to do something because it costs too much. The whole book – you never find out how much these characters pay in taxes." It's too pointed a reference for Shriver not to be reminding us that what she's doing here is the exact opposite: employing a fastidious, and impressive, attention to detail when it comes to the economics that underlie the world she's created, wholeheartedly directing the characters' actions therein.
Although convincing in its vision, the end result is equally alienating, not least because the novel thus tends towards huge swathes of exposition. Forgivable perhaps when it comes to explanations of Keynesian theory, but less excusable when it results in the strange omission of what purports to be the most exciting and interesting chapter in the family's struggle for survival: the events of the years 2029-2047, a blank between the novel's two sections – '2029' and '2047' – that are thereafter merely recapped in a frustratingly clipped fashion. Though distinctly chilling in places, caught somewhere between economic tract and dystopian novel, The Mandibles confuses more than it frightens.
The Borough Press, £16.99
Register for free to continue reading
Registration is a free and easy way to support our truly independent journalism
By registering, you will also enjoy limited access to Premium articles, exclusive newsletters, commenting, and virtual events with our leading journalists
Already have an account? sign in
Join our new commenting forum
Join thought-provoking conversations, follow other Independent readers and see their replies