The Ottoman Secret by Raymond Khoury review: A dystopian thriller that wears its smartness on its sleeve
This alternative history in which Europe is ruled by an autocratic sultan will appeal to fans of 'The Handmaid's Tale'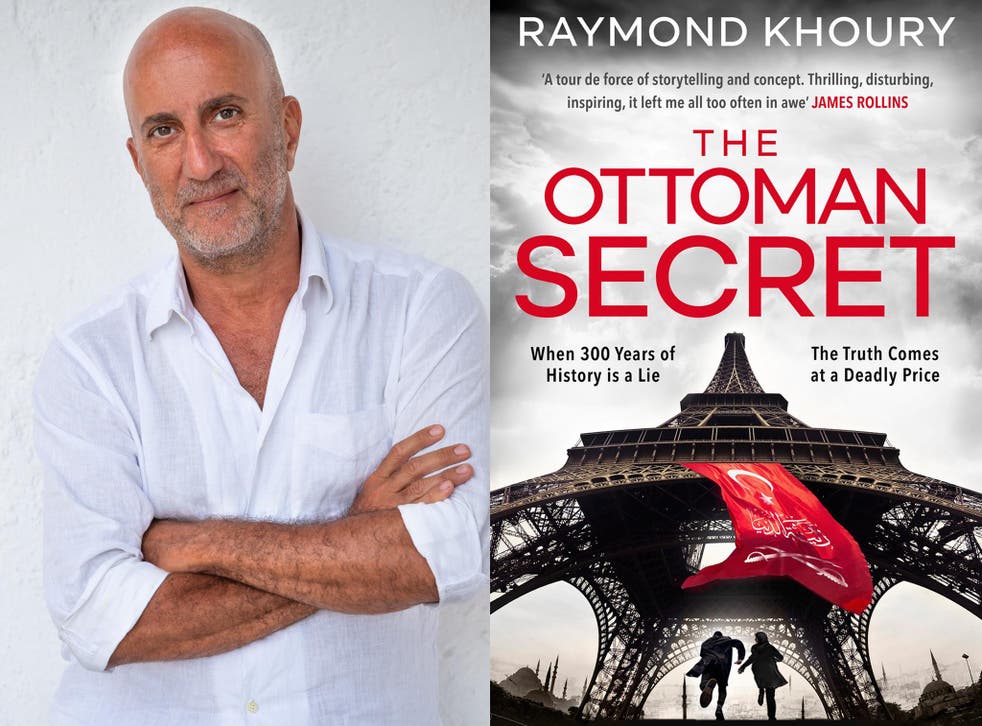 Eventually, every book finds its readers, and I suspect that this summer, you'll never be far from someone who has been claimed by The Ottoman Secret.
Raymond Khoury's latest novel is a dystopian thriller, with a time-travel element, that isn't so much imbued with historical detail as held up by factual scaffolding. We're in Paris, and Europe has been under Ottoman rule for 300 years. Women are veiled, and unmarried men and women may not spend time together without a chaperone. At times, the regime has been relatively liberal, but the autocratic sultan is extremely strict, and the rules are getting tighter. Our hero, Kamal Agha, works for the state police as a special investigator, and when a body turns up in the Seine, he must find the mysterious tattooed murderer who did the deed. But, to complicate things, his family are falling foul of the extreme regime with acts of political dissidence, and Kamal is caught between duty and loyalty. To complicate things further, the mysterious tattooed murderer is a time traveller.
Khoury seems to have been positioned as a sort of literary Lee Child. He started his career as a screenwriter – his debut smash hit, The Last Templar, was initially written as a screenplay before he turned it into a novel – and his style is, in places, sweeping and cinematic. There's a sense that the camera is always zooming in on a detail or panning out to take in a vast landscape. Some readers will adore this, others will suffer from motion sickness. He's a meticulous researcher, and you can't accuse him of failing to study his subject in depth. The trouble is that Khoury spends a lot of time explaining the facts in order to justify the fiction. If you're a reluctant novel reader who longs to learn, this is enough to justify the fact that it will take up a significant amount of space in your suitcase (it's a substantial 576 pages long). Anyone who longs to get lost in a story might find that the staccato bursts of information and explanation prevent them from getting fully lost in Khoury's imagined world.
40 books to read while self-isolating

Show all 40
Perhaps handily, contemporary Ottoman rule is not female friendly. Kamal's professional partner Taymoor is an aspiring womaniser whose sexist, two-dimensional understanding of women is revealed in some painfully clunky dialogue. I suspect that for some novelists, it's easier to write a character who has a culturally justifiable tendency to objectify women than it is to write a three-dimensional woman. Kamal's lover Leyla might make some poolside readers a little restless in their shorts: "It was hard to say which was more provocative: her face or her body… she was young – barely 20 – and she had an untamed spirit along with a nerve and audacity that knew little bounds." The wonderful thing about writing fiction is that the author is free to imagine and create whatever they like. It might not be fair for me to express discomfort about a male novelist who is close to 60 getting hot and bothered about an imaginary "barely 20"-year-old – but the vibe doesn't feel very 2019, either. Leyla's beauty and sexual rapaciousness provides a convenient canvas for Kamal to consider the limitations of the age – but it forced me to consider the limitations of the writer. Even Nisreen, the politically dissident sister-in-law who is permitted more depth than any other woman in the story, feels a little flat. She's more motivated by the absence of her own missing husband than by ideology.
The Ottoman Secret has a knowingly clever premise, and wears its smartness on its sleeve. If you like a lot of syllables to your sentences, and you were much fonder of The Da Vinci Code than you're prepared to publicly admit, this could be your book of the year. But I don't think the characters have been crafted carefully enough to hold up a slightly preposterous plot. The book is bloated where it needs to be tight and tense. In a sense, it succeeds in allowing its readers to experience time travel alongside its mysterious antihero. By the time you finish, you may well feel as though you've been reading since 1682.
'The Ottoman Secret' is published by Penguin on 30 May, £14.99
Join our new commenting forum
Join thought-provoking conversations, follow other Independent readers and see their replies