The Seven by Ruth Dudley Edwards, book review: A look back in anger at Dublin's 1916 Easter Rising
Dudley Edwards' disdain for her subjects is obvious and she attempts to demonise them - and anyone else who has Irish nationalist sympathies - in every way possible
Kevin Lynch
Thursday 17 March 2016 16:13 Comments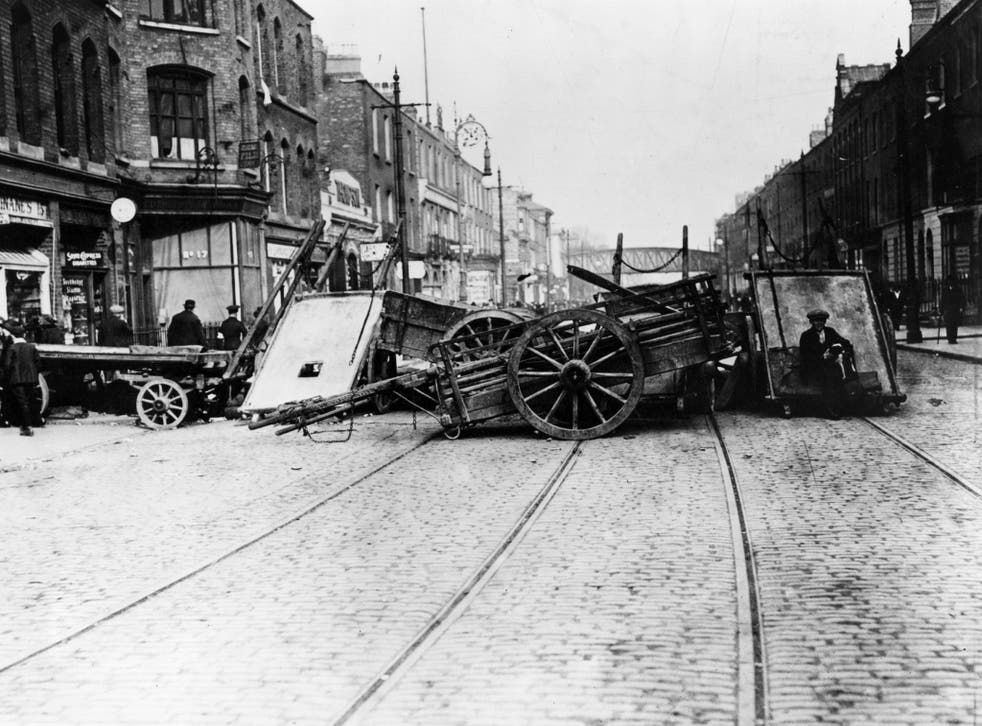 The history of Ireland is often misunderstood, sometimes manipulated and seldom learned from. It was with trepidation that I came to read this, written by someone who has made no secret of her opposition to everything that her subjects stood for.
But, for a moment, there was hope. On the dustjacket it declares that Ruth Dudley Edwards draws on "a lifetime's research and reflection" to separate the myths surrounding seven key figures in Irish history and "assess their virtues and flaws".
The seven are the signatories of the Proclamation of the Irish Republic during the Easter Rising in Dublin in 1916 – Thomas Clarke, Sean Mac Diarmada, Eamonn Ceannt, Padraig Pearse, Thomas MacDonagh, Joseph Plunkett and James Connolly. All of them were executed for their involvement in the failed rebellion.
Dudley Edwards also writes crime fiction and it seems that she has brought much of that discipline to this work. Her disdain for each of the seven is obvious and she attempts to demonise them – and anyone else who has Irish nationalist sympathies – in every way possible.
Culture news in pictures

Show all 33
Her crass assumptions about and character assassinations of the seven reveal the fiction writer. She attempts to make her villains as evil and unhinged as possible. Even innocent personality traits and habits are described in such a way as to make them sinister. But there are serious attacks too. Schoolteacher Pearse is said to be a "tormented, repressed paedophile". Other people associated with the Rising are cut apart. Sir Roger Casement was "probably bipolar" – told in a way to make the illness and nationalism intrinsically linked.
The little jibes about each of her main subjects become all the more ridiculous. Clarke and Mac Diarmada are sneered at for being teetotallers, but one of their heroes – the Protestant Wolfe Tone – is denounced as a heavy drinker. Poor Ceannt really falls foul of this author because unlike Clarke or Mac Diarmada "he also eschewed tobacco". Maud Gonne, the muse of WB Yeats, is derided as "an Englishwoman turned extreme Irish nationalist" – by a Dublin-born Catholic who grew up to be a Unionist supporter.
There are also mistakes. Dudley Edwards refers to the corner of O'Connell Street and Parnell Street. O'Connell Street was called Sackville Street then. Connolly's Irish Socialist Republican Party (ISRP) at one point becomes the IRSP – a party that was formed in the 1970s in Belfast.
The greatest error is that this is an attempt to examine Ireland with no honest look at British rule there. By the end, I wondered if it had been the Salvation Army rather than the British Army which upheld that rule for centuries.
It is fitting to conclude with a Dudley Edwards quote about Connolly as it sums up what went wrong in writing this book. "He ignored what did not fit in with his theory, notably 19th-century Ulster, its Unionist Protestant masses and human nature." The seven didn't fit in with the theories espoused here and they have been demonised.
Oneworld, £18.99. Order at £16.99 inc. p&p from the Independent Bookshop
Register for free to continue reading
Registration is a free and easy way to support our truly independent journalism
By registering, you will also enjoy limited access to Premium articles, exclusive newsletters, commenting, and virtual events with our leading journalists
Already have an account? sign in
Join our new commenting forum
Join thought-provoking conversations, follow other Independent readers and see their replies