These Are The Days That Must Happen To You, By Dan Walsh
Uneasy rider: one man's two-wheeled road trips to the edge of hell and back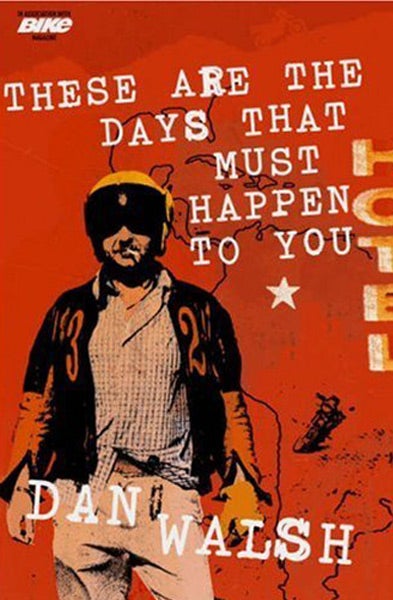 "What're you rebelling against, Johnny?" "Whaddya got?" says Marlon Brando in The Wild One. Mix one cool Triumph motorcycle with the hottest leather jacket in movie history and you have a high-octane fuel capable of igniting any adolescent fantasy of rebellion.
The movie is still seductive, in a quaint, well-upholstered way. The Hells Angels who inspired it were scruffy, violent outlaws. When Easy Rider came along, the myth of the motorcycle renegade took on an acid colour, the road trip as journey into one's darkest soul. Nowadays, many bikers are grey-haired weekend trippers or pampered BMW tourists.
Dan Walsh, a staff writer for Bike magazine, walked out on his life and took to the road on an unfashionable BMW Funduro. He wanted to escape the claustrophobic clutter of grown-up life. He rode to South Africa and back, and then from Toronto to Buenos Aires. He had no GPS, maps, spares, puncture repair kit, no insurance and no licence. He was kidnapped in Kenya, held hostage in a cage behind a brothel, slung in jail, got lost in the Sahara and rode through a minefield. There were times when he felt "proper scared".
He suffers "border stress, breakdown stress, bloody-hell-that-was-close stress", but survives on his wits and charm. After witnessing a van get hit by a train and the driver killed, he's in shock and thinks himself dead: "No, Dan, you're not dead, you just smell like it."
Walsh thought that running away on a motorcycle would cure him of the bad chemicals and faulty wiring that have always hobbled him. He's running away from himself, but two years down the road, five years away from England, "I'm as bad as ever." He gets into fights, drinks too much and fools around with a gangster's wife in South America until told to leave the country sharpish. He contracts typhoid in Bolivia and his momentum grinds to a halt. He suffers such harsh dog-days that he contemplates suicide: "I just had to know what happens if you keep going. And now I do know. You sail off the edge. There is no bottom step."
Walsh's writing is raw and impressionistic, vibrant and unrestrained, baggy like a burst mattress. He is an engaging raconteur, searingly honest about his shortcomings, but remains defiant to the end: "How do you get away with it? Lucky bastard!"
Join our commenting forum
Join thought-provoking conversations, follow other Independent readers and see their replies