Two Years Eight Months and Twenty Eight Nights, By Salman Rushdie - book review: Imagining Islam's battle with secularism
Jonathan Cape - £18.99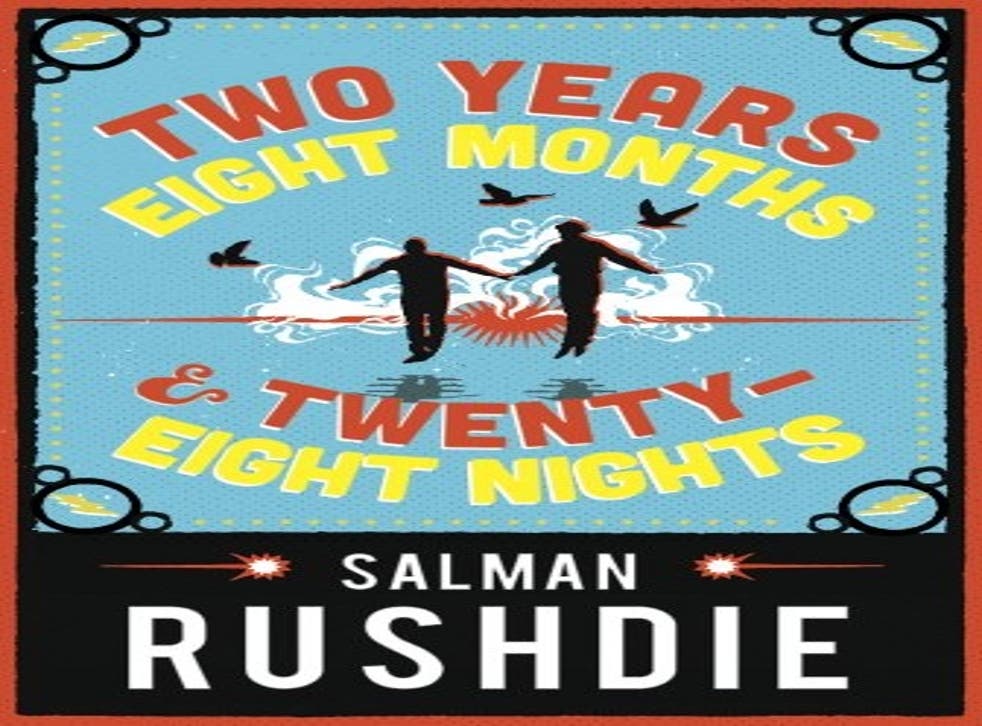 Salman Rushdie's 12th novel tackles a subject close to his heart – the battle between fundamentalist Islam and the three-pronged fork of secularity: reason, logic and science. The title adds up to 1,001 nights, an allusion to the story of Scheherazade, and although there are not 1,001 strands of story here, there are many, and they are colourful and compelling. Rushdie's last book, the memoir Joseph Anton, told about his life in hiding after the Ayatollah Khomeini's fatwa. Here, Rushdie uses the fantastical elements that have occurred in some of his previous work to illustrate this battle.
The real-life 12th-century philosopher and physician Ibn Rushd is sometimes seen as the forefather of secular thought, and admiration for him spurred Rushdie's father to adopt his name. Rushd was, for a time, exiled and his books burned – like Rushdie himself in some quarters – when his philosophy fell out of favour. He advocated cause and effect, analysed Aristotle and argued against the teachings of another philosopher, Ghazali. Ghazali believed that God created and controlled everything and that philosophy was a blasphemy.
The narrator of the novel looks back from a time in the future and tells how a jinnia, a female jinni (or genie) named Dunia (a similar name to Scheherazade's sister) loved Ibn Rushd and gave birth to many of his children. Around 800 years later, near the end of the 20th century, a breach occurs between the worlds of the jinni and the mortals and Dunia reappears. A fierce battle ensues between the evil, or dark, jinni and Dunia, and she enlists the help of her human descendants to help. The dark jinni have the characteristics of the Taliban and Islamic State, wanting to ban music, art, free speech, journalism, and laughter, and to curtail women's rights. One, modelled on Bin Laden, watches porn. The others have womanised, gambled and broken their own edicts earlier in their lives.
Dunia's descendants include a gardener who floats above the surface of the ground owing to the anti-gravitational powers of Zabardast, a dark jinni; a graphic artist named Jinendra, who dreads becoming an accountant like his boring cousin; and a baby with the power to root out corruption. Rushdie displays the wry humour that helped make Midnight's Children such a masterpiece: Jinendra's cousin is so conformist that he changes his name to Normal, while the equivalent of the sat nav on Dunia's magic carpet goes awry at one point. I longed for more of this playfulness and less of the fantastical action. There is also the paradox of using magic realism to illustrate the battle between fundamentalist Islam and reason, in that by definition it involves invoking magic – anathema to reason and science. Meteors here, for example, are the work of evil jinni. But then, as our narrator says: "To recount a fantasy, a story of the imaginary, is also a way of recounting a tale about the actual." And the struggle invoked by Rushdie's vivid allegory is one all too familiar to most rationalists.
Register for free to continue reading
Registration is a free and easy way to support our truly independent journalism
By registering, you will also enjoy limited access to Premium articles, exclusive newsletters, commenting, and virtual events with our leading journalists
Already have an account? sign in
Register for free to continue reading
Registration is a free and easy way to support our truly independent journalism
By registering, you will also enjoy limited access to Premium articles, exclusive newsletters, commenting, and virtual events with our leading journalists
Already have an account? sign in
Join our new commenting forum
Join thought-provoking conversations, follow other Independent readers and see their replies