Waging Heavy Peace, By Neil Young
The rock legend writes a fine memoir about his Crazy Horse days and the sober aftermath
Tim Cumming
Thursday 18 October 2012 19:35 Comments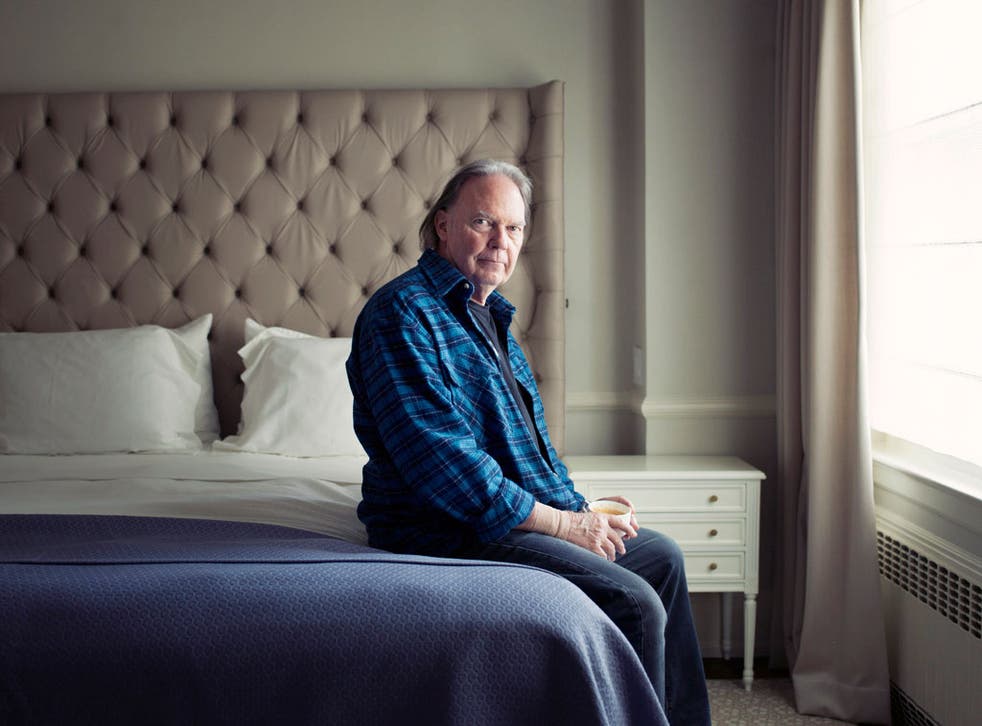 Rock'n'roll memoirs range from the fast-food accounts of a Lemmy or Ronnie Wood – books that go down without touching the sides – through Keith Richards's hefty left hook of a book, folding the life in with the legend, to Dylan's masterly Chronicles, revealing of many things but himself. But there is none quite like Neil Young's eccentric, sprawling, absorbing telling of his life.
It's a bit of a struggle at first, with more detail than you need on model railroads, but once you've sunk in Young's conversational, late-night fireside tone and acclimatised to his style – a prosaic stream-of-consciousness dictated through the hands, the writerly equivalent of naïve painting and beyond the powers of any ghost writer – the book takes off in pretty well any direction that comes to mind. Before you know it you're past page 400 and wishing there was as much to come. He's talking to you, not at you, unravelling himself as well, and you don't want it to end.
Young's an old rocker with complex preoccupations: music, trains, guitars, family, buildings, cars, loyalty, weed, sound reproduction, lines of cocaine at all the right viewpoints in life, following the muse, feeding the Horse – Crazy Horse, the band he turns to find his unwritten songs, whole herds of them roaming like buffalo (Young's image). The root passion is to make his ideas become real. His is the voice of the original hippie, but one who gets stuff done. He's a material guy, rewarding himself with vintage cars after finishing a record, and at the same time he's roaming around with the Great Spirit as if it was his favourite roadie.
Stories and stars from his musical life bubble up – the first mind-blowing taste of Haight Ashbury, writing "Ohio" for CSNY, the master take of "Like a Hurricane", recording "Tonight's the Night" with Joni Mitchell weighing in, smashed on tequila. For Young, these showstoppers are on the same level of significance as what hat to wear, what car to drive to a gig or finding your life's work in a box on the floor of a second-hand music store, and feeling a bit empty. You see "rock * roll history" from the inside out, and in the present tense. It can't be ghosted.
The book, we discover, was written straight. For the first time in decades, no drugs, no drink. No songs either, though they have since come with a new album, Psychedelic Pill. The impetus was breaking his little toe in a pool with his wife and quadriplegic son, Ben. His family life and its needs figures large – they're the guy ropes that peg his inner life down. This book draws you in to the inner circle of this singular artist's interior life, so that you're almost stumbling with him over old equipment and new designs, drawing hit after hit from that warm, involving voice, the mix of crazy hippie humour, cosmic wisdom, and an upright, Henry Fonda-like moral rectitude.
There's something dead straight about Young, however quixotic his music, or his muse. "What the hell is that cloudy stuff in my brain?" he demands. "I wish I'd never seen that shit." It's stuff in his MRI scan but he's unflinching about facing his fears – or following his aims. Throughout there's an urgency beneath the laid-back vibes, a need to deal with the good and the difficult, head on. And the cool stuff too, like this lesson from the Neil Young school of interior design. Take three Indian arrows, throw them with force into the redwood panels of your latest north Californian backwoods trap, and that's it. You're home.
Register for free to continue reading
Registration is a free and easy way to support our truly independent journalism
By registering, you will also enjoy limited access to Premium articles, exclusive newsletters, commenting, and virtual events with our leading journalists
Already have an account? sign in
Join our new commenting forum
Join thought-provoking conversations, follow other Independent readers and see their replies