You Think It, I'll Say It by Curtis Sittenfeld, review: Short stories that deal with shifting power dynamics
Every page of this book is engaging, but the writer fails to push beyond her white middle class comfort zone 
Lucy Scholes
Wednesday 02 May 2018 14:08 Comments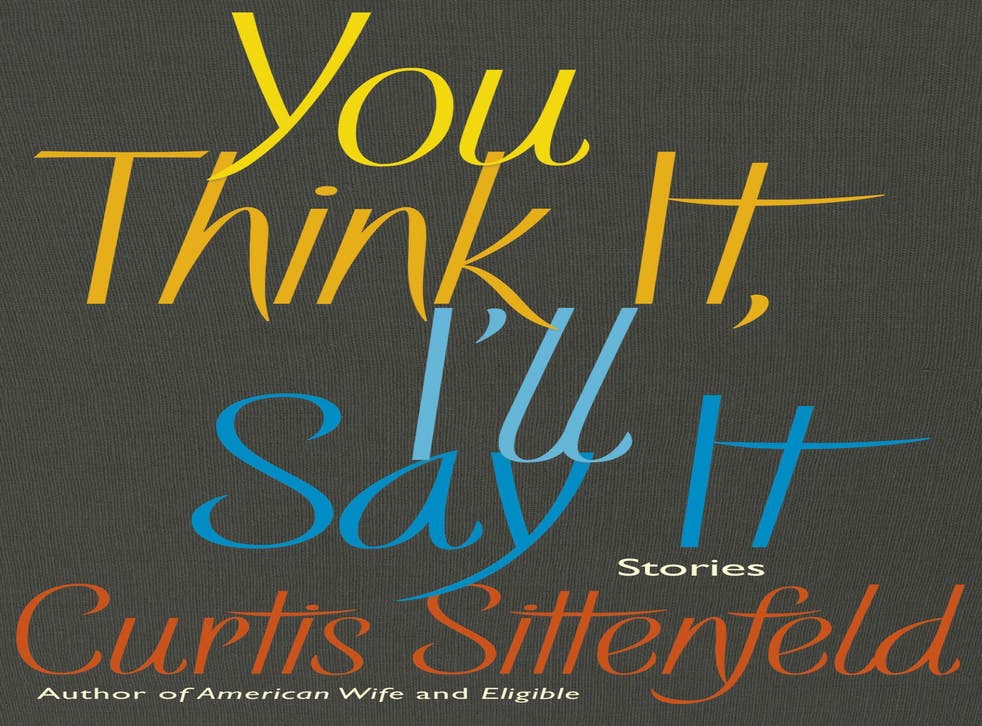 Curtis Sittenfeld's short story collection takes its title from a neat little twist on that of a game played between two of her characters, Julie and Graham, in "The World Has Many Butterflies". Their kids attend the same private school, and Graham works for the same Houston investment banking firm as Julie's husband, thus their paths cross at myriad social events, from school fundraisers to dinner parties at the homes of mutual friends.
One day, at another couple's 20th anniversary celebrations at the local country club, Graham appears by Julie's side and, nodding to the other guests around them, says to her, "I'll think it, you say it". Julie lets fly a series of catty home truths about their fellow guests, forging an intimacy between them, and future social occasions they both attend aren't as dull as they used to be.
More than a year later, however, it turns out this confidence between them doesn't mean what Julie thinks it does. "You do realise, don't you, that you weren't saying what I thought?" Graham says, setting her straight. "You were saying what you thought. I was just listening." Whether he's referring to the specific conversation that's immediately come before, or back much further, all the way to that first day at the country club, it's hard to tell.
Either way though, Julie's had the rug pulled out from under her.
This is an effect that Sittenfeld plays with on repeat in the collection. Each of the 11 stories included herein deal with power dynamics between characters, and how the balance of which can shift, often vertiginously and calamitously.
Sometimes this happens swiftly, in the course of a single encounter and all but without warning, as in "The World Has Many Butterflies" or "Gender Studies", in which a Gender and Women's Studies professor and her taxi driver find themselves equally but differently wrong-footed during a sexual encounter.
Sometimes, the transference of power happens over the course of a much longer period. In "A Regular Couple", for example, a now high-powered lawyer honeymooning with her trophy husband runs into a woman who used to bully her when they were at high school together years before. In "The Prairie Wife", a suburban wife and mother is angered by what an old flame – now famous due to her "lifestyle-brand empire" – is keeping secret from her wholesome fans.
Sittenfeld often employs the narrative technique of characters confronting their pasts, particularly in the form of high school experiences haunting the present. This is not surprising, perhaps, given she evoked the claustrophobia and competition of this world so wonderfully in her novel Prep, the milieu of which – waspish, white, ivy-clad – is evoked again here.
Indeed, my one criticism of the collection would be that Sittenfeld doesn't push beyond her comfort zone. Her characters are predominantly white, middle class and well educated, a uniformity that eventually begins to feel a little limiting. Sittenfeld is a consummate professional, every page of this book as engaging as the next, but I'd still love to see her try something a little unexpected next time.
​'You Think It, I'll Say It', is published by Doubleday
Register for free to continue reading
Registration is a free and easy way to support our truly independent journalism
By registering, you will also enjoy limited access to Premium articles, exclusive newsletters, commenting, and virtual events with our leading journalists
Already have an account? sign in
Join our new commenting forum
Join thought-provoking conversations, follow other Independent readers and see their replies