Bookshops are back - because you can't meet a lover on your kindle
A new chapter for bookshops; week in books column by Arifa Akbar
Arifa Akbar
Wednesday 24 February 2016 19:44 Comments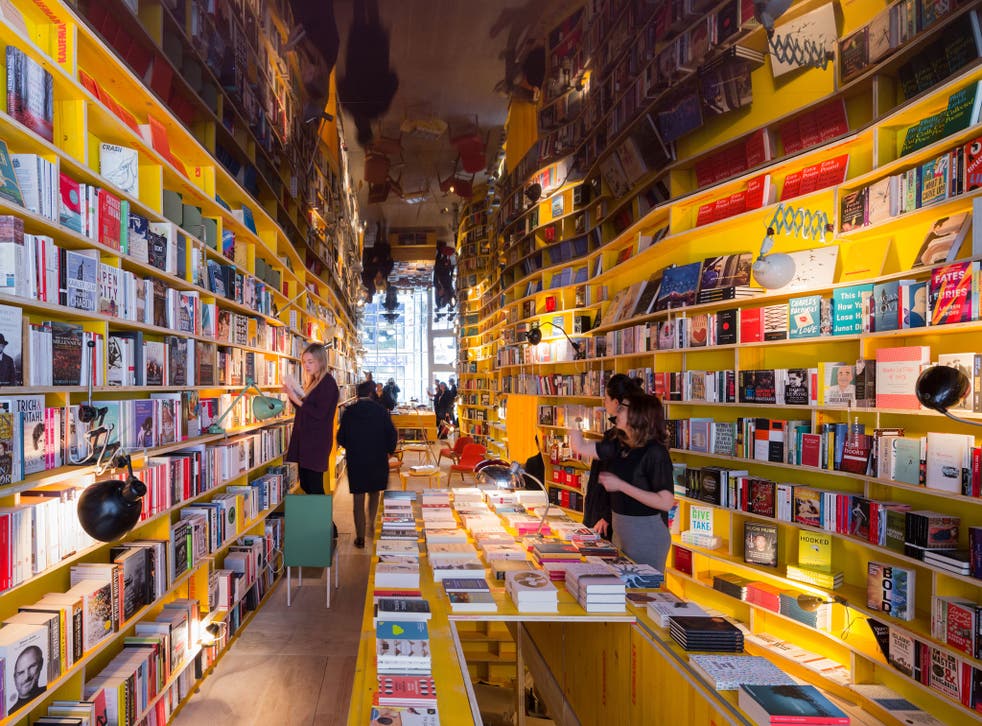 There is nothing like the romance of a bookshop. A living, breathing behemoth where people wander around in dreamy circles, bump into interesting strangers, flirt, buy a book, go for coffee, fall in love, get their hearts broken, then go back for consolation. We know this from films of old, from 84 Charing Cross Road and The Big Sleep to Manhattan, Notting Hill and You've Got Mail. This is the "How We Met" story that we would like to tell our children and friends: "Oh, we met in the poetry section of that old bookshop in 1984, and look at us now!"
Well, now we can. Again. For a while, it looked as if the story might be a defunct one with the rise and rise of digital bookshoppery – the e-book, the print-on-demand book, the Amazon juggernaut. Why bother wandering around a shambolically dusty, second-hand store looking for an obscure favourite when you can surf the clean, clinical surfaces of your laptop? Why pay £7.99 for a paperback when you can get it on your iPad for £1.99?
Culture news in pictures

Show all 33
Because we want to. Because the physical bookshop holds, more and more, a lure that digital can't quite emulate. The latest and most romantic of offering is Libreria, a wondrously sprawling venue in the East End of London, which is 830 square feet of books, and more books. It is also a design sensation with all the add-ons that you can imagine; its shelves are handcrafted by Slade School artists, its layout inspired by a Jorge Luis Borges short story. Its wooden display units are on wheels so that the floor space can be opened up for events "nearly every night". It's got a whisky bar too and a printing press in the basement that might one day publish its own titles. According to The Bookseller, its co-founder Rohan Silva conceived it as an "experiential" bookshop designed to attract millennials; he also received hundreds of job applications from the, presumably, "millennials" who want to work there.
Libreria's glorious birth does not mark the return of the bookshop. Bookshops have been clawing back high-street space for some time, not in their yesteryear incarnation but in guises that meet what today's customers want. Foyles had its revamp two years ago, moving up the street on Charing Cross Road and offering a cleaner, sleeker shop with ramped-up live events; there are now a crop of bookshops that sell clothes; the flagship Waterstones on Tottenham Court Road has its own cinema. Burley Fisher Books opened in Hackney this month, specialising in titles by independent presses and serving coffee; high street clothes and gifts stores such as Oliver Bonas and Urban Outfitters have for their part created "book spots" on their shop floors; Ink@84 in north London sells coffee, wine, and organises writing masterclasses. These added-value twists are apparently important to us, and have led us back to the physical store. We are, it now seems, choosing the book over the ebook more than we were.
We are also choosing the letter over the email – a new trend to tweet letters is a joyous mash-up of old and new. Shaun Usher's brilliant project –Letters of Note and its sequel – must surely have something to do with the return of the letter, not just in giving us the beautiful, coffee-table books he has put together but also the live events attended by the likes of Benedict Cumberbatch. The "physical", it turns out, holds an appeal that cannot easily be surpassed by virtual technology, which is most life-affirming. I hope, in years to come, couples will be telling their friends how they met in that old bookshop, Libreria, way back in 2016!
The rhymes of passion that don't make women weep
Poems That Make Grown Men Cry was throwing down a gauntlet in 2014. It dared those who had kept tender displays of emotion battened down over centuries to pick though its pages and not weep. Brave was the editor who commissioned it; brave was the man who picked it up too. Poems That Make Grown Women Cry, a sister volume published this week, is a whole other matter. There is no wager in this title; it has always been all right for women to shed a gentle tear, hasn't it? So why would women need the aid of this volume? What we get is an insight into what makes a hundred women cry including Judi Dench, Joan Baez, Diana Athill, Elena Ferrante, Yoko Ono, Germaine Greer, Siri Hustvedt and more. What is also interesting is that Anthony Holden, its co-editor, tells us that "Many more women than men told me they didn't weep at anything. I received more polite refusals from eminent women than I had from their male counterparts."
Click here to take the 'Which literary character are you' quiz
Register for free to continue reading
Registration is a free and easy way to support our truly independent journalism
By registering, you will also enjoy limited access to Premium articles, exclusive newsletters, commenting, and virtual events with our leading journalists
Already have an account? sign in
Join our new commenting forum
Join thought-provoking conversations, follow other Independent readers and see their replies