10 faces to watch in 2015 from Maisie Williams to Dane Baptiste
The rising stars who are ready to take the arts world by storm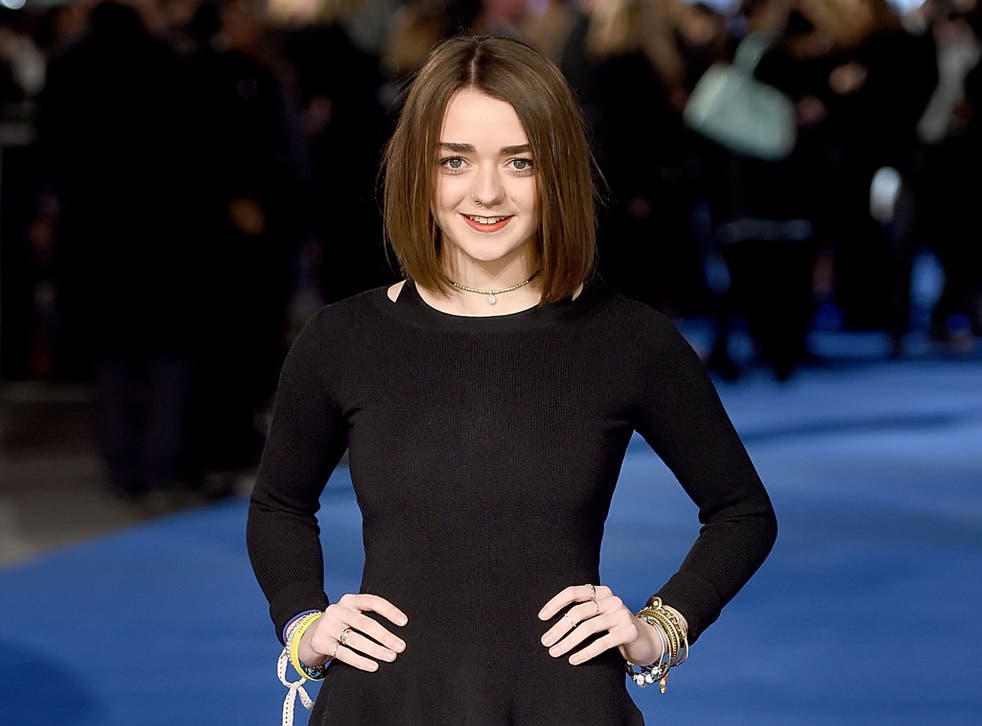 Our critics choose the faces to watch in 2015, from a soaring dance sensation to a feminist artist, a rising voice of radio and the new stars of stage, screen and music.
Bright young things: 10 faces to watch in 2015

Show all 10
Dance: Marcelino Sambe, 20
The Royal Ballet's Portuguese-born first artist is already making waves. He's the kind of dancer who draws your eye even in smaller roles. Choreographers Kim Brandstrup and Alastair Marriott created roles for him when he was still in the corps de ballet, showing off his soaring jump and velvety flow of movement. Sambé has an impressive technique, matched with energy and stage presence. He's also a budding choreographer, selected by Youth Dance England and creating works for The Royal Ballet's Draft Works programme. In February, he's scheduled to dance in the virtuoso pas de trois in the Royal Ballet production of Swan Lake.
Books: Eliza Robertson, 27
At just 27, Eliza Robertson has already distinguished herself as a promising new voice on the literary scene. Wallflowers, her debut collection of short stories is published by Bloomsbury on 15 January. A bestseller in her home country, Canada, the New York Times hailed it as a "captivating" read. Her pre-published career was sprinkled with stardust too: while completing her MA in Prose Fiction at the University of East Anglia, she received the Man Booker Scholarship and the Curtis Brown Award for best writer. This debut collection is international in scope, spanning Pacific beaches, Lisbon cafés and the wilds of Canada.
Comedy: Dane Baptiste, 33
The south Londoner was nominated for the Best Newcomer prize at the Foster's Edinburgh Comedy Awards last August – the first black British comedian to make the shortlists. Smart, likeable and utterly at ease on stage, his material hops from his Grenadian roots to his twin sister, from nutmeg to wasps. With appearances on Seann Walsh's Comedy Spectacular and CBBC's The Johnny and Inel Show under his belt, last year he supported Katherine Ryan on tour and is now clearly destined for major television vehicles like Mock the Week and Live at the Apollo. In the meantime, see his award-nominated show Citizen Dane at London's Soho Theatre from 26 January.
Radio: Emma Barnett, 29
This award-winning journalist and broadcaster, who specialises in technology, women's issues and politics, started out on the graveyard shift at LBC. Having shown that the late-night callers were no match for her quick-wittedness, she was swiftly moved into the drive-time slot. Lately, however, Barnett's career has gone up a gear. Last October, she landed a new 5Live show, the news-and-tech-themed 5 Live Hit List, while this year she will be fronting various documentaries including Radio 4's Mindfulness: Panacea or Fad? and a series of Woman's Hour features in which she traces Sylvia Pankhurst's journey around the UK, examining the lives of working women.
Television: Colin Morgan, 28
DSI Stella Gibson had her pick of the police in The Fall, but it was DS Tom Anderson, who caught her eye. That should tell you something about the appeal of Colin Morgan, the actor who played him. Born in Armagh, Northern Ireland, Morgan has a background in theatre that includes Shakespeare at the Globe, but it wasn't until he landed the title role in BBC teatime favourite Merlin that he arrived on television.
The Fall represents an intriguing shift towards more mature material and there's more to come in 2015, when Morgan stars alongside William Hurt in Channel 4's new sci-fi series Humans.
Film: Maisie Williams, 17
Maisie Williams has long excelled as the impish but endlessly defiant Arya Stark in HBO's Game of Thrones but she now looks set to make the transition to the big screen. She was very striking as the teenage rebel/cross-country runner Abbie in Irish comedy-drama Gold and she stars in Carol Morley's eagerly awaited new film, The Falling, about a hysterical fainting fit at an all-girls' school in the late 1960s.
She has also been chosen as a Shooting Star at the Berlin Festival, an honour that Daniel Craig and Rachel Weisz likewise enjoyed at the start of their careers.
Music: Jinnwoo, 27
Jinnwoo is Leicester-born, Brighton-based Ben Webb, a wyrd-folk singer-songwriter whose debut EP, Your Baby, appeared this summer, more recently followed by the single "I Am, I Am, the World's Oldest Man". These early songs hint at a reclusive, introspective character somewhat at odds with Webb's day-job as a professional photographer (he shot the cover for The Rails' debut album). There's certainly a quiet intensity to Jinnwoo's work that recalls influences as disparate as Sixties folkie Anne Briggs and Elliott Smith. Jinnwoo's debut album, Strangers Bring Me No Light, is scheduled for an autumn 2015 release.
Theatre: Laura Jane Matthewson, 24
Laura Jane Matthewson made her professional London debut in the musical Dogfight and left no one who saw her in any doubt that a star was being born. She played Rose, the shy, dowdy waitress who retaliates with combative courage and creativity after the titular misogynistic prank. Matthewson has a radiant gift for combining warm, down-to-earth humour and soaring plaintiveness. Her delivery of Rose's wistfully yearning folk songs was devastatingly beautiful. It wasn't only Jamie Muscato's excellent marine who fell in love with that wry, tender emotional intelligence. Mark my words: this is the start of something big.
Visual Arts: Elektra KB, 29
Feminism returned in 2014 and we need a new generation of feminist artists to confront inequality afresh. Elektra KB was born in Soviet-era Odessa and moved to Colombia as a child. Now studying for an MFA at Hunter College, New York, her bold and graphic work often uses materials associated with "women's" craft, and considers "the demonisation of women and revolutionary culture since the heretics in the Middle Ages".
Her subject matter has included police brutality during the 2012 agrarian workers' strike in Colombia and "Cathara Insurgent Women". Her work is dramatic and exciting. She is one to watch.
Classical: Max Hoehn, 25
Max Hoehn has just been announced as the winner of Independent Opera's £300,000 Director Fellowship for 2015, which will propel him into the limelight after four years working behind the operatic scenes in Zurich and Vienna, and at the Grimeborn Festival in east London and Glyndebourne. While still at Oxford, he co-adapted for the stage Bulgakov's epic novel The Master and Margarita. Hoehn also has founded a theatre company called Isle of Noise, which will perform radical new forms of music theatre. His big break should come this autumn when he stages the UK premiere of Simon Vosecek's Biedermann und die Brandstifter at Sadler's Wells.
Register for free to continue reading
Registration is a free and easy way to support our truly independent journalism
By registering, you will also enjoy limited access to Premium articles, exclusive newsletters, commenting, and virtual events with our leading journalists
Already have an account? sign in
Register for free to continue reading
Registration is a free and easy way to support our truly independent journalism
By registering, you will also enjoy limited access to Premium articles, exclusive newsletters, commenting, and virtual events with our leading journalists
Already have an account? sign in
Join our new commenting forum
Join thought-provoking conversations, follow other Independent readers and see their replies