Can pop-up bookshops change the way we buy books?
What's a distinguished, old publishing house like Faber doing hosting gigs in its own pop-up shop?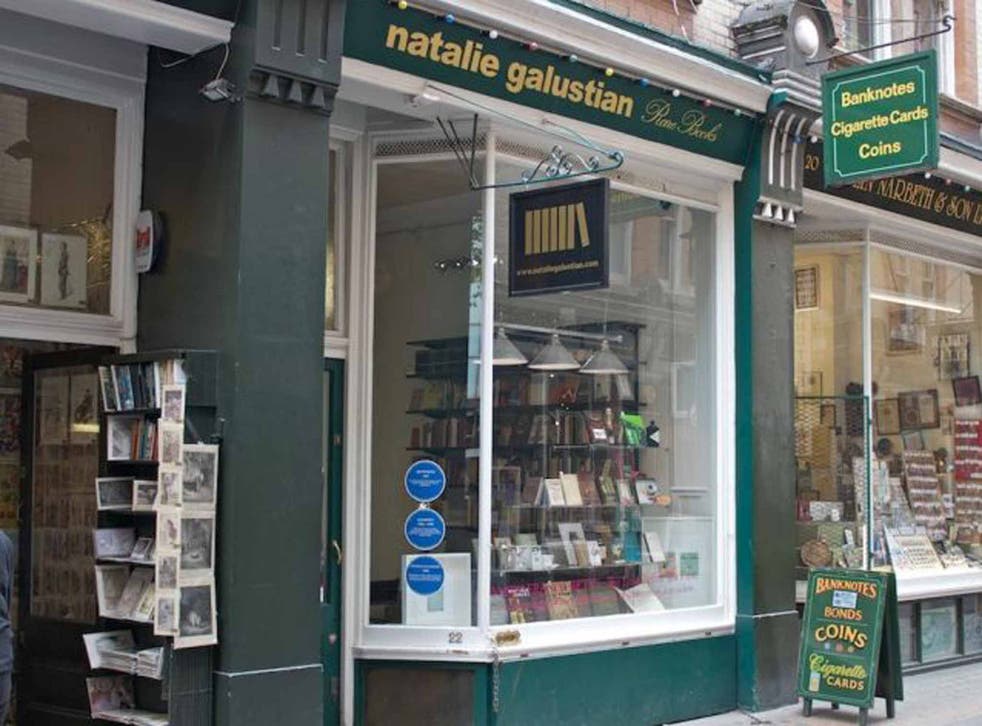 You're familiar with pop-up restaurants? And pop-up fashion outlets from Comme des Garçons, and pop-up Marmite emporia and pop-up Halloween shops? Well, here's a new one: pop-up publishing. From tomorrow for three months, Londoners passing through Cecil Court, in the heart of Soho's second-hand book trade, will find a new arrival: a temporary "pop-up shop" devoted to the productions of just one publisher, Faber & Faber.
Though the Faber name is most closely associated with poetry (they publish TS Eliot, who was once a director of the firm, WH Auden, Philip Larkin and Seamus Heaney), the pop-up shelves will mainly be filled with titles from its music list: they include England's Dreaming, Jon Savage's history of punk, Simon Reynolds's chronicle of post-punk, Rip It Up and Start Again, and, this autumn, Lit Up Inside, an anthology of song lyrics by Van Morrison. But here's something new: to flesh out the words in these books, the shop will also feature music, images and voices. Visitors on the first night can expect to find Viv Albertine of the girl-punk band The Slits reading from her book, Clothes, Clothes, Clothes, Music, Music, Music, Boys, Boys, Boys, and an appearance by Andrew Weatherall, the acid-house DJ and producer. Future weeks will feature art exhibits by Stanley Donwood, who does all of Radiohead's artwork, and Green Gartside of Scritti Politti.
It's unusual, even slightly unedifying, to see a distinguished old publishing house (85 this year) flirting with multi-media extravagance – like seeing Lady Violet Crawley attempting to twerk. But this is the newest incarnation of an experiment in creative publishing called Faber Social, which started life three years ago.
"It was dreamt up as a guerrilla unit," says its director, Lee Brackstone, "to produce the best music books around, and hold events around those books, to link publications to live music. It grew out of a literary salon I set up at a venue called The Social, where fiction, poetry and music are all performed by artists."
The Social saw some memorable evenings. One devoted to story-telling found 120 people crammed into the basement to listen to John McGregor, Sarah Hall and Edna O'Brien reading their work. "Edna was supposed to be the climax," said Brackstone, "but I persuaded Jarvis Cocker to come along; he read a story that we'd published along with his lyrics, then sang a couple of songs. So that was pretty magical."
Is the shop a branding exercise? "It's an attempt by a publisher to engage directly with its readers," said Brackstone, cautiously, "an opportunity to express ourselves in the high street. We want people to walk into a shop in the heart of traditional bookselling London, and go, 'Wow, these 80 music books, stretching from The Beastie Boys to Beck, are all published by one company.' It's a way to say we don't just make books, we also create experiences."
Brackstone concedes that publishing is in a trough. "It's no secret that the last three-to-five years have been a bit of a bloodbath. Simply judging print runs has become difficult. Where, five years ago, we could expect bookshops to buy in 5,000 copies of a book, today it might be 500 copies. E-book sales are approaching 40 per cent of total book sales. In the US it's over 50 per cent. So if we can identify the likely audience for our music list, and build a community who follow us on Twitter and Facebook, and get to know them, we can judge much better what kind of experience we can offer."
If the pop-up initiative seems a gamble, Faber Social have chosen the right partner. The Cecil Court shop is owned by Natalie Galustian, a rare-book dealer with a fondness for risk. After 10 years in the book trade, she opened her shop in 2010 offering just one large item: a collection of vintage poker and other gambling books. "There were 400 of them," she says. "I'd been putting the collection together for years, and I was determined to sell them as a single entity. After three months, they were all bought by [Hollywood actress and poker ace] Jennifer Tilly, who spotted them in the window on her way to the Empire Casino in Leicester Square, to play in the world series of Poker Europe."
Galustian's shop has often featured themed collections – Caribbean literature, Prohibition-era cocktail books, French erotica – and has a downstairs gallery for art and photography exhibitions. The idea for the pop-up started, she says, "at the London Book Fair, when I was complaining to some friends about business being a bit slow, and Lee said why didn't the Independent Alliance [a loose confederacy of independent publishers that includes Granta, Faber and Canongate] use it to sell their new titles. A few months later, he reminded me of the conversation, and it took off from there."
This isn't the first time that a bookshop has been established and funded by a publisher. The Pan Bookshop began life in 1975 and lasted 32 years before being closed in January 2008 by its parent company Macmillan, which blamed "tough market conditions, a decline in the overall trading of independent bookshops, combined with an expensive high-street location in Chelsea". It didn't, however, confine itself to selling only Pan paperbacks.
In the 1970s and 1980s, Penguin Books opened some own-brand bookshops, but they also failed to endure. Considerably more successful was Feltrinelli, the leading Italian publisher founded by the remarkable "millionaire revolutionary" Giangiacomo Feltrinelli in 1954. Internationally-minded and fearless, he published Doctor Zhivago in Italian, in the teeth of the Russian government's disapproval, and works by James Baldwin, Garcia Marquez and Carlos Fuentes. In the 1960s he began acquiring bookshops to sell his acquisitions, and Feltrinelli Books is now one of Italy's biggest-selling bookshop chains.
Will Faber's little shop start a trend? "I don't think we're seeing the start of a seismic shift in how the publishing ecosystem works," says Richard Mollet, chief executive of the Publishers Association. "The basic model of how publishers work, through wholesalers and retailers, isn't going to change dramatically anytime soon. It's true that, in the Netherlands and Germany and Japan, there have been publishers who own every bit of the supply chain, including bookshops – but they invariably offer shelf space to other publishers and stock their rivals' books. You can't read too much into this pop-up idea. It's a really great tactical way of drawing attention to the brand… but no more than that."
Brackstone is more buoyant about his brainchild. He disparages the supine "complacency" of publishers who whine that Amazon has ruined everything and high-street bookselling is falling apart. "This is an attempt to reinvigorate ourselves," he says, "and insist that it's our responsibility to add value to publications and make people want them." Which means adding voices, visuals and performances to the central offering of words. It'll be interesting to see how far he takes it. If anyone can get the famously difficult Van Morrison to show up at Cecil Court, singing "Moondance" to astonished bookshop customers, it's the combative Mr B.
Register for free to continue reading
Registration is a free and easy way to support our truly independent journalism
By registering, you will also enjoy limited access to Premium articles, exclusive newsletters, commenting, and virtual events with our leading journalists
Already have an account? sign in
Register for free to continue reading
Registration is a free and easy way to support our truly independent journalism
By registering, you will also enjoy limited access to Premium articles, exclusive newsletters, commenting, and virtual events with our leading journalists
Already have an account? sign in
Join our new commenting forum
Join thought-provoking conversations, follow other Independent readers and see their replies