English National Opera's beards smell 'like wet dog'
Kate Youde
Friday 08 February 2013 20:00 Comments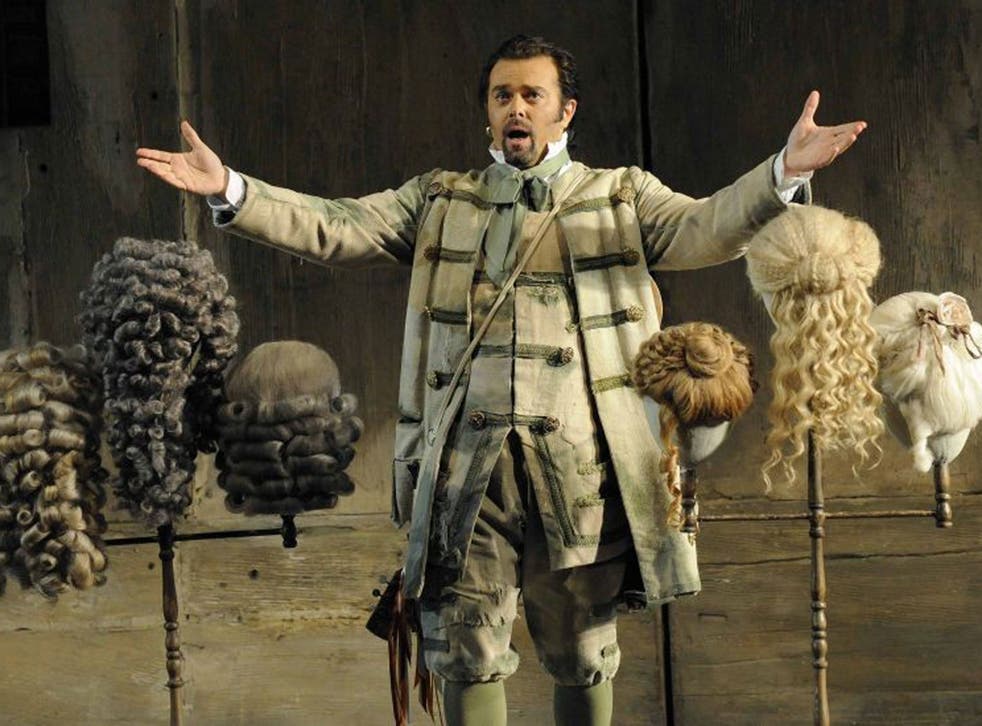 Take hair from the belly of a yak, wrap it in tissue, wind it around wooden dowelling, secure it with cotton and string, and boil for two to three hours. Before you reach for Heston's cookbook, this is not the latest culinary fad but English National Opera's recipe for curling facial hair. "It smells like wet dog," says Vanessa Davis, wigs and make-up supervisor at ENO."Whenever we do it, everyone complains."
Yet the process, which is like a perm but without chemicals, is often a necessary step in preparing for the company's stage productions.
Luckily for its staff, ENO's staging of Rossini's The Barber of Seville, starring Garry Magee as Figaro (pictured), later this month, features only one moustache, but it does call for 28 wigs. While some of these will also be made from yak hair, which is used because of its coarse texture, many will be human hair.
"The most common question I get asked is: 'Does the hair come from dead people?'" says Davis, who also works with yak tail hair (great for long beards), horsehair (used for judges' and barristers' wigs) and angora (soft like baby hair). The human hair comes from a merchant, who sources different types from across the globe and sterilises it. (No worries about lice, then.) Spanish, Polish and Russian hair is particularly common. An average wig is made from between 150 and 180g of hair, which can cost £300 to £600.
ENO keeps its stock in a boiler room under the London Coliseum stage, where large drawers bear labels such as "mid brown long" and "crazy colour". The room also houses its "priceless" archive of wigs from previous shows.
Making a wig by hand is a painstaking craft: every hair must be knotted individually into special lace, a process that takes an experienced wigmaker a week to 10 days.
The 11th revival of director Jonathan Miller's celebrated production of The Barber of Seville sees Andrew Kennedy (singing Count Almaviva) don four different wigs. During a fitting, a wigmaker wrapped the singer's head in cling film and Sellotaped it to create a cast, before marking out his hair line and taking eight sets of measurements. The fitter used this cast to make a replica of the performer's scalp from a malleable head block filled with cork, on which the wigs are then built.
But the hard work does not stop once a wig is finished. ENO's nine wigmakers have to "turn" the wigs after every performance. This involves a shampoo if necessary, and a re-style before the next performance.
'The Barber of Seville', London Coliseum, London WC2 (www.eno.org)
25 February to 17 March
Register for free to continue reading
Registration is a free and easy way to support our truly independent journalism
By registering, you will also enjoy limited access to Premium articles, exclusive newsletters, commenting, and virtual events with our leading journalists
Already have an account? sign in
Join our new commenting forum
Join thought-provoking conversations, follow other Independent readers and see their replies