Julian Lloyd Webber: I'm doing a Dudamel over here
The Venezuelan conductor showed how poor children could become musicians. Julian Lloyd Webber explains how he was determined to do the same here. The result can be seen at the Proms on Sunday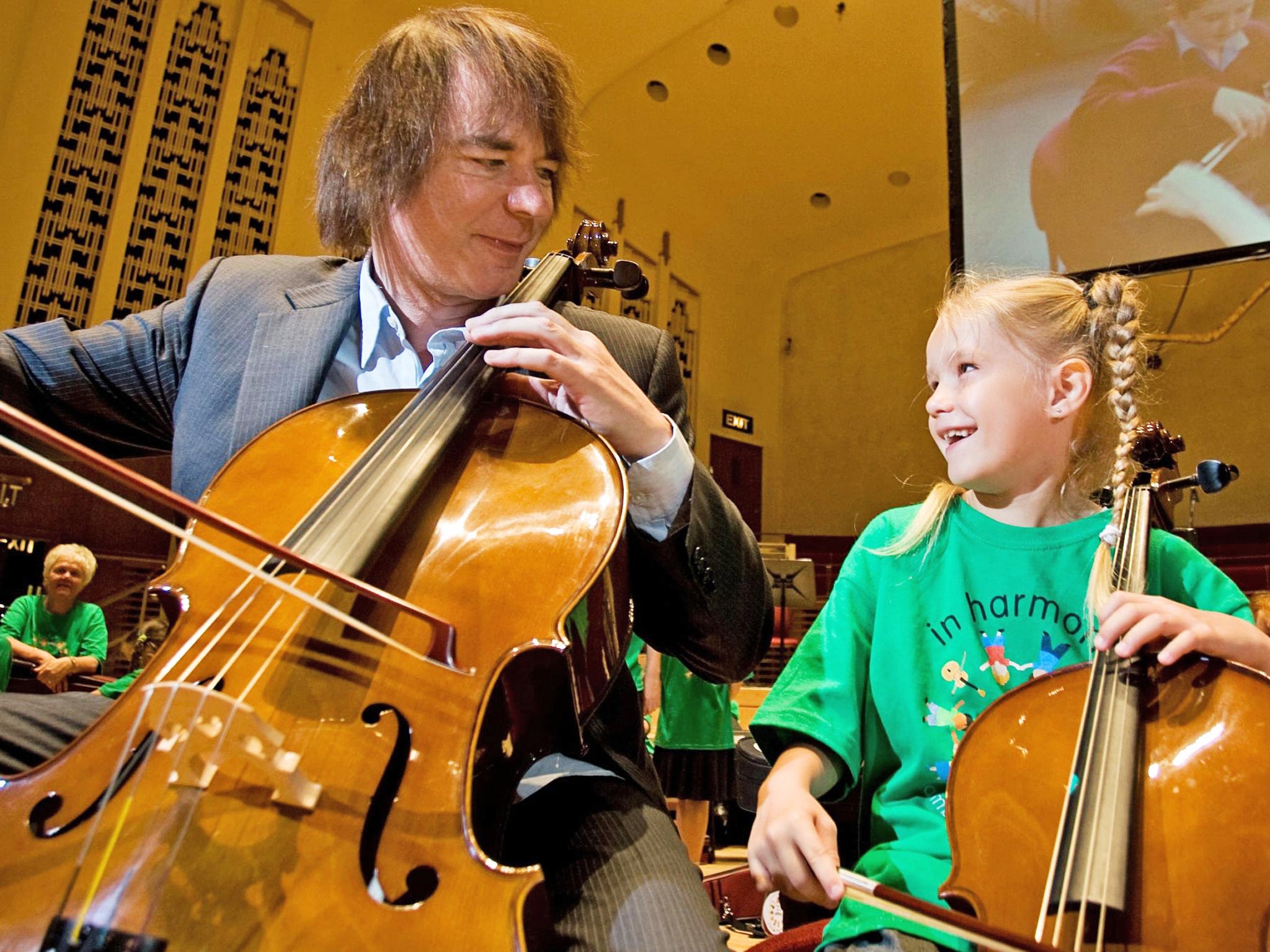 On the night of August 19 2007, I was one among thousands of transfixed listeners in a sweltering Royal Albert Hall watching the young Venezuelan conductor Gustavo Dudamel putting the Simón Bolívar Youth Orchestra through its paces. Like everyone else in the audience, I was captivated by the young players' extraordinary passion and musicianship in Shostakovich's epic Tenth Symphony, and suitably caught up in the exuberance they exuded in Bernstein's Mambo. Here was world class playing of the highest professional standard – but what really struck a chord with me was that these children were not from privileged, moneyed backgrounds. Far from it. They were products of Venezuela's extraordinary social programme El Sistema, which – through the power of making music together – has saved many hundreds of thousands of children from lives of poverty and crime. So when I was asked, just a few weeks after the concert, by Schools Minister Andrew Adonis if I wanted to lead a similar programme in England, I didn't miss a beat. For if there is one single thread that has run through my life as a musician, it is my resolute belief that music is for everyone.
When I first attended lessons at the Royal College of Music Junior Department in the early 1960s, I soon became self-conscious that I was one of only a very few pupils who attended a fee-paying school. Sadly, that position is now completely reversed – almost all their pupils are at fee-paying schools. So it's to the present government's credit that not only is it continuing to back the In Harmony programme – which aims to bring music to every child – but that it has already expanded it from three to six projects. Why would they do that? As we were recently forcefully reminded by our Minister for the Arts, the government expects to see tangible results from its funding. Well, In Harmony is providing tangible results in spades!
In April 2009, following 18 months of preparation, In Harmony began with three pilot projects in the most disadvantaged areas of Lambeth, Liverpool and Norwich. It proved so successful that last year the Coalition Government (with support from Arts Council England) started four additional projects in Leeds, Gateshead, Nottingham, and Telford. At the same time, other Sistema-inspired programmes in England began to spring up independently. And now, on 1 September – almost exactly six years after the sensational Simón Bolívar Youth Orchestra Prom – comes the icing on the cake: children from In Harmony Liverpool will appear on that same Royal Albert Hall platform, alongside the Royal Liverpool Philharmonic Orchestra, at the Proms. It will be 'lump in the throat' time for everyone who has been involved with In Harmony from the outset. A mere four years after its beginning, this is a magnificent achievement that shows just how far the children have progressed musically in an incredibly short space of time.
The Prom will also be a celebration of the personal journeys of In Harmony Liverpool's children, as well as demonstrating the pride and resilience of one of England's poorest communities. Most importantly, it will be a testament to music's power to change lives. And, beyond doubt, lives have been changed at West Everton's Faith Primary School, where In Harmony Liverpool is based.
In 2008 – before In Harmony – only 35 per cent of children at the school were achieving the required level of literacy. By 2010 – less than two years after In Harmony began there – that figure had jumped to more than 80 per cent, with a similar improvement also recorded in pupil's numeracy.
To quote from its 2012 Ofsted report: "It is very clear that participation in the 'In Harmony' programme has a much wider benefit for the pupils' personal and social development, as well as for their general educational attainment. While recognising the school's good fortune in being involved with the 'In Harmony' project, parents and staff speak passionately about the way that involvement in music has changed children's attitudes and expectations. As one parent said, 'music has given our children respect for themselves, respect for each other, and respect for education'."
Yet, in all honesty, when I was first invited to Venezuela in 2008 by El Sistema's founder, José Antonio Abreu, I had heard so much hype about El Sistema that I was more than ready to be disappointed. I can only say that the reality was more impressive than anything I'd been led to believe. From that point on, I became determined that as many people as possible involved with Sistema-based programmes in England should experience El Sistema.
Earlier this year, the Sistema England charity, which I chair, sent project leaders and music tutors from In Harmony to Venezuela to see El Sistema at first hand. They visited nucleos (community centres) across the country and talked with individual children, parents and tutors; and they met the inspirational Antonio Abreu, They saw that, even though it is primarily a social programme, there is no social change without the achievement of musical excellence. Only when the children see that, through hard work, they can perform even the most challenging music, do they then gain the confidence to strive towards anything else they may want in life. The English tutors also met Lennar Acosta, a young man who grew up in the streets of Caracas, leading a life of crime, until the power of music inspired him to change. In his words: "I exchanged my gun for a clarinet". Like so many others, music transformed Lennar's life, and he now leads a nucleo that engages 1,000 children from the barrios of Caracas.
El Sistema's success has become a global phenomenon – all over the world, Sistema-inspired programmes are springing up almost every day, regardless of political system. The key to their success is that they are not just music education projects; they are social programmes with music at their heart. When times are tough, the strain on communities becomes greater. Music can be the inspiration – even the glue if you like – that can bind them together, because music demands equality. It knows no boundaries of language, race or background. All the players are equal – working and playing together In Harmony. See it for yourself on 1 September.
In Harmony will make their debut in Prom 66 at the Royal Albert Hall, London SW7 (0845 401 5040; bbc.co.uk/proms) in 'The Big Proms Bear Hunt' on 1 September at 4pm
Join our commenting forum
Join thought-provoking conversations, follow other Independent readers and see their replies