The Bayreuth Festival preview: Let the madness begin!
It's Wagner's bicentenary and there's a new 'Ring' in the wings. But can the festival shrug off its history, asks Adrian Mourby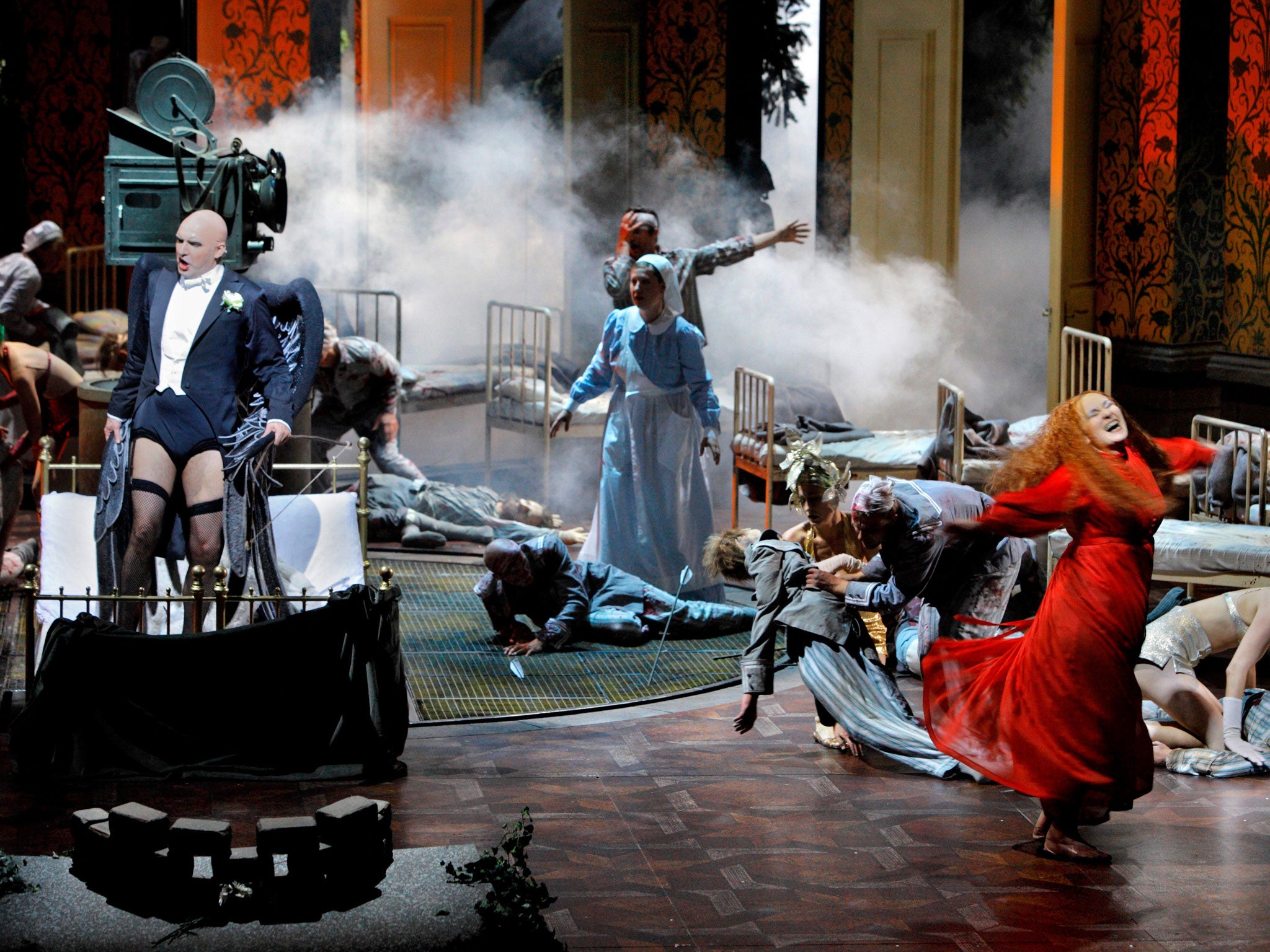 The Wagners of Bayreuth are Germany's longest running soap opera. Even if Richard Wagner hadn't written some of the most politically controversial, sexually explicit and gloriously long operas in the world, the behaviour of his family would still be headline news in Heute and Der Spiegel.
Wagner himself designed the world-famous Festspielhaus (festival house) up on a wooded hillside outside the small Baroque city of Bayreuth. It's a revolutionary building on the inside with a foyer in Pompeian red, a Greek stage and hidden orchestra. The Festspielhaus is a brilliant, surprising building but brilliance and scandal are the trademarks of the Wagner clan, whatever they do. This year's 200th anniversary festival, commissioned by Wagner's great granddaughter, Katharina, is guaranteed to create controversy. Last year, Evgeny Nikitin, the baritone who Katharina employed to sing in The Flying Dutchman, had to resign when it was revealed he had a swastika tattooed on his chest. This year, director Frank Castorf has ruffled feathers by declaring that his Ring Cycle will open in the defeated Germany of 1945 and that the gold over which Wagner's characters fight will be oil wells.
It's an old adage in the opera world that members of the Wagner family are either mad or brilliant. And occasionally both. It all began with the brilliant Richard who revolutionised European music while on the run from his many creditors, the husbands of women he seduced, and the secret police of several German states. In 1848, Wagner had handed out tracts and home-made grenades on the barricades. He was proscribed as a dangerous revolutionary for years. This was the Wagner who called on the King of Saxony to abdicate and serve his country as president and who financially ruined King Ludwig of Bavaria in order to get his works staged.
Richard Wagner was a man of extreme and inconsistent views and outrageously selfish behaviour. But the truly dramatic Bayreuth scandals only began after his death.
The madness of Cosima
Wagner himself was charming. He enjoyed drinking and a good Rossini opera. It was after his death in 1883 that Wagner's widow, Cosima, turned Bayreuth into a place of extremism. Cosima was Franz Liszt's illegitimate daughter and not entirely stable. For 25 hours she lay alongside her husband's remains, refusing food or drink. Weeks after the funeral, Cosima was still trying to die but, eventually, realising this wouldn't happen, she took over the running of the fledgling Bayreuth Festival that Wagner had set up to celebrate his own music. But she did so in her own idiosyncratic way. A hidden box was constructed in the theatre from which Cosima, unseen, could observe everything. She refused to deal directly with the outside world – or even her own children – but issued orders to everyone on scraps of paper. Nothing was allowed to change while Cosima ran Bayreuth. Everything had to be as it was for "Dear Richard". Cosima died in 1930, 47 years after her husband, having established Bayreuth as an annual event of cultural importance but also a place where Jews were not welcome.
Those 'unsuitable' gays
Cosima made sure Bayreuth stayed a family project and appointed her son Siegfried to succeed her. The poor boy had been brought up as Wagner's heir but too much was expected of him. He was not a great conductor, nor were the operas he wrote successful, despite Cosima's backing. Siegfried was also bisexual in a family that regarded homosexuality as worse than Judaism. A number of potential scandals were expensively suppressed until Cosima virtually ordered her 45-year-old son to marry. She selected a 17-year-old English orphan, Winifred Klindworth, to be Siegfried's bride in 1915. The couple had two sons, but Siegfried continued to find male lovers and the family continued to pay for stories to be kept out of the press. Bayreuth was not a safe place to be gay. In the 1930s the heldentenor Max Lorenz was one of a number of singers entrapped by the police for soliciting in a Bayreuth urinal. He was only released when Winifred, now running the festival, made a personal appeal to Adolf Hitler. The Fuhrer's view was that Lorenz, as a Jew and homosexual, was not a suitable person to sing Tristan. Winifred replied that without Lorenz she might have to close Bayreuth, and he was released.
Our blessed Adolf
Siegfried survived his domineering mother by only a few months, so his English wife Winifred took over the entire running of Bayreuth in 1930. Unfortunately Winifred was a personal admirer of Hitler, whom she referred to as "Unser Seliger Adolf " (Our Blessed Adolf). The two met in 1923, just before the proto-Führer had attempted to seize power in Munich. During Hitler's year in prison for high treason Winifred had sent him food parcels and the stationery on which parts of Mein Kampf were written. It was thanks to Winifred that Haus Wahnfried, Wagner's old home in Bayreuth, became one of Hitler's weekend retreats and Nazism became closely linked to Bayreuth and Wagner's music. In return, Hitler gave the festival state subsidies and tax-exempt status. After the Second World War, Winifred was banned from Bayreuth by the Allies during the period of "de-Nazification". Nevertheless she continued to speak well of Hitler in interviews, a fact Winifred's sons, Wieland and Wolfgang, have worked hard to play down.
The Wagners at war
Because Bayreuth is a family business there have always been squabbles over who runs it. After the deposition of their mother Winifred, Wagner's grandsons took over the festival in 1945 and threw out the 19th-century way of staging the operas. Wieland pioneered a minimalism that relied on empty stages and lighting effects. Wolfgang followed suit, but was always in his older brother's shadow. When Wieland died in 1966 aged 49, Wolfgang did what he could to destroy his brother's reputation, incinerating his archive of correspondence and destroying his sets. He also leaked the information that Wieland had been a civilian director of the Flossenbürg concentration camp duringthe war. In later life (he died in 2010) Wolfgang became increasingly autocratic in the way he ran Bayreuth, and was publically denounced by both his own children and Wieland's.
The struggle to succeed Wolfgang was like the Wars of the Roses. Wolfgang had long been estranged from his elder daughter, Eva, and from Gottfried, his son whom he had thrown out of the family home in 1975. Wolfgang had wanted the daughter of his second marriage, Katharina, to succeed him but Nike Wagner, Wieland's daughter and the most intelligent of the current generation, also made a bid to run the festival in collaboration with the Belgian opera administrator, Gérard Mortier. The battle raged publicly until Eva formed an alliance with her stepsister, Katharina, and took over. Nike later announced that the festival might do better if the Wagner clan didn't run it – after all, the RSC copes without the Shakespeare family.
Meanwhile, Gottfried has never missed a chance to attack his family (with the exception of Nike, whom everyone likes). Gottfried's main argument has been that Wagner's music and the entire clan are anti-Semitic. In 1997, he wrote a book on this subject: He Who Does Not Howl with the Wolf, and he now the only Wagner to have been invited to Israel. He is banned from Bayreuth.
Underpants, tadpoles and sewage plants: the 'nincompoop' productions
Ever since the shock of Wieland and Wolfgang's post-war minimalism, a new Ring Cycle at Bayreuth invariably generates controversy. In 1976, when Wolfgang employed Patrice Chéreau to direct the centenary production, the boos were deafening. Chéreau made Wagner's Rhine Maidens prostitutes and turned the whole thing into a critique of capitalism. Perversely, the Chéreau Ring was soon hailed as a masterpiece and the next one was being booed.
Katharina Wagner's own productions have fared less well. She has also courted controversy but been dismissed as a "nincompoop" (and worse) by reviewers. Katharina's debut at Bayreuth (Die Meistersinger in 2007) was jeered for featuring topless dancers and Richard Wagner jigging around in his underpants. Last year she commissioned a Tannhäuser set in a sewage plant with the chorus disguised as tadpoles. "Being booed belongs to the job description of a director," she has admitted.
The scandals of Bayreuth aren't going away any time soon.
The Bayreuth Festival, Germany, opens on Friday
Join our commenting forum
Join thought-provoking conversations, follow other Independent readers and see their replies