Lady Macbeth of Mtsensk, Coliseum, opera review: Crudely split both in atmosphere and time
This music's graphic evocations of sex and its exuberantly satirical treatment of priests, police, and kulaks reflect the composer's youth – he was only twenty-five – but its dramaturgy is callow
Michael Church
Monday 28 September 2015 18:06 Comments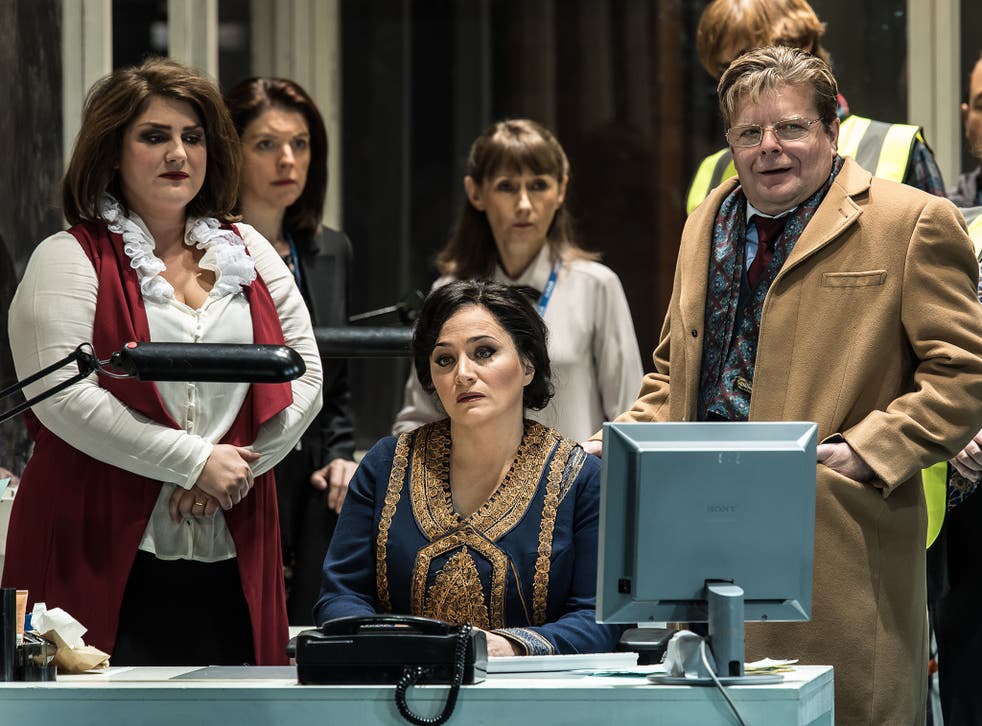 This Lady Macbeth doesn't do things by halves. Married to a flour merchant, Katerina Ismailova takes one of his workers as a lover, gives her father-in-law rat poison, and then, aided by her lover, strangles her husband. On their way to Siberia, the lover deserts her for another female convict; Katerina finally kills both her rival and herself.
But just as Flaubert loved and sympathised with his Emma Bovary, so did Shostakovich empathise with his Katerina, whose story he had drawn from a nineteenth-century novella by Nikolai Leskov. Shostakovich explained that his plot concerned 'a most truthful and tragic portrait of a talented, clever, and exceptional woman perishing in the nightmare conditions of pre-revolutionary Russia'. This was emphatically provincial Russia, where the theoretically-abolished serf-system with its vicious patriarchal customs still effectively ruled.
The opera was premiered to popular acclaim in 1934, but then, on Stalin's say-so, was savaged in Pravda which alleged that its modernistic but entirely accessible score was full of vulgarity and coarseness, 'muddle rather than music'; thus began the composer's long sojourn in the political wilderness.
Director-designer Dmitri Tcherniakov's set for this new ENO production is crudely split both in atmosphere and time - between a clinically-clean twenty-first-century office where female clerks work at computers, and Katerina's bedroom, a womb-like bower of ancient carpets; she herself wears traditional peasant garb. We instantly wonder how Tcherniakov is going to make these two worlds mesh, but we soon realise he won't even try to.
With Mark Wigglesworth drawing a brilliantly detailed performance from the pit, soprano Patricia Racette gilding her arias with expressive grace, and bass-baritone Robert Hayward's father-in-law Boris effortlessly commanding the stage, we are in excellent hands. The chorus of assembled workers sing with Russian gutsiness; every minor role honours Shostakovich's instruction that it should be melodious and lyrical.
This music's graphic evocations of sex and its exuberantly satirical treatment of priests, police, and kulaks reflect the composer's youth – he was only twenty-five – but its dramaturgy is callow. The lover Sergei, convincingly sung by John Daszak, is inconsistently drawn, and the liberties which Tcherniakov takes with the libretto compound this problem.
Sergei is supposed to be a practised charmer, but here he leads a gang rape of a co-worker (at least its depiction is less offensive than that of the rape in Covent Garden's William Tell). It's thus made entirely implausible that Racette's dignified Katerina should yield herself to him in public just one minute later. Sometimes Tcherniakov's little embellishments of the plot work, other times they fall clumsily flat. He takes advantage of the orchestral interludes to stage symbolic cameo scenes between the lovers, but these have a very contrived air. The Siberian prison is well-realised – Clare Presland makes a fine Sonyetka, and Matthew Best's Old Convict is beautifully sung – but then the murder-suicide is dramatically a mess.
Last week Mark Wigglesworth – ENO's new music director - went on record as saying that the company had 'lost its way a bit'. On this showing, the musical portents are excellent, but the production ones still look dodgy.
Register for free to continue reading
Registration is a free and easy way to support our truly independent journalism
By registering, you will also enjoy limited access to Premium articles, exclusive newsletters, commenting, and virtual events with our leading journalists
Already have an account? sign in
Join our new commenting forum
Join thought-provoking conversations, follow other Independent readers and see their replies