Le Vin herbé, Wales Millennium Centre, Cardiff, review: Sublimely sung by Tom Randle and Caitlin Hulcup
Polly Grahams's staging for Welsh National Opera of Frank Martin's opera stars Tom Randle and Caitlin Hulcup as Tristan and Iseult and offers a very different take on Wagner's 'Tristan und Isolde'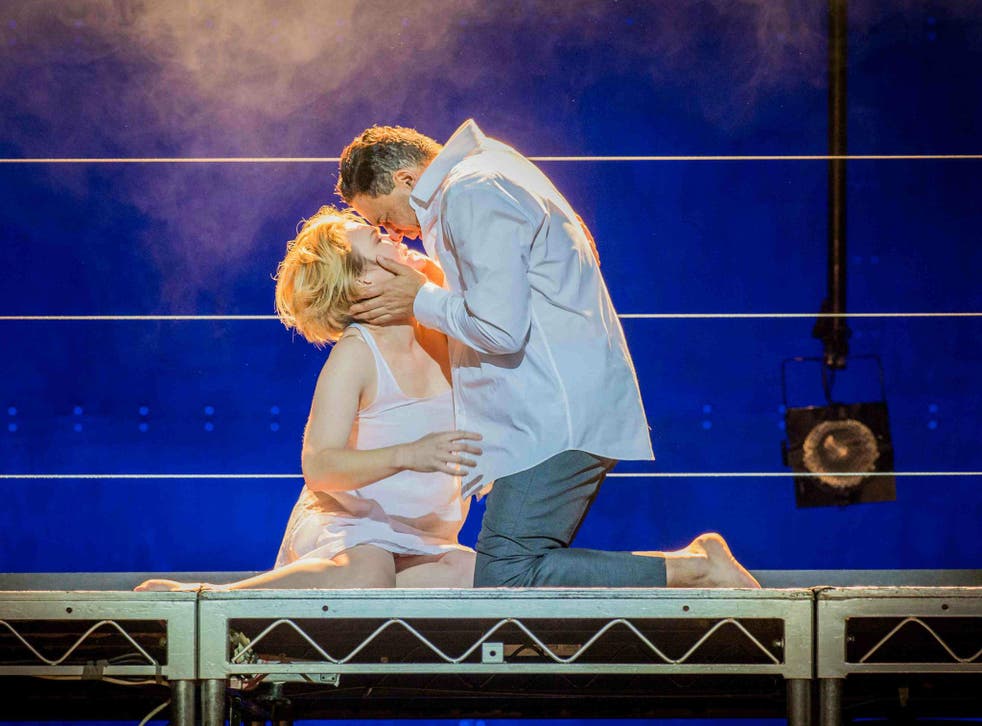 Frank Martin's 1941 oratorio profane, Le Vin herbé, is a recounting of Tristan and Iseult's love-death far removed from the shattering excess of Wagner's music drama. Intimate and understated, with a darkly ravishing chamber score, in director Polly Graham's revelatory staging for Welsh National Opera, it proves loaded with existential dilemmas as potent as the philtre the lovers fatefully imbibe.
Caught between overwhelming passion and chivalric duty, Tristan and Iseult – sublimely sung by Tom Randle and Caitlin Hulcup – can neither live nor die without the other. Their struggle is at once liminal and physical; grounded in designer April Dalton's matt-black innards of a set, it and they are exposed in lighting now starkly monochrome, now lustrous with sudden colour.
The WNO strings-piano octet, with conductor James Southall, are placed onstage before a raised (ship's) walkway as the pulsating, almost liturgical, heart of the production. Around them according to Jo Fong's fluid movement design, and addressing us directly, the WNO chorus alternately surge or hold position; both witness to and narrator of an unfolding tragedy with which they intently interact. Solo storytellers step forth alongside King Mark (Howard Kirk), Brangien (Rosie Hay) and more. All were superb in a vividly poignant marriage of music and theatre.
Touring until 25 April (www.wno.org)
Register for free to continue reading
Registration is a free and easy way to support our truly independent journalism
By registering, you will also enjoy limited access to Premium articles, exclusive newsletters, commenting, and virtual events with our leading journalists
Already have an account? sign in
Register for free to continue reading
Registration is a free and easy way to support our truly independent journalism
By registering, you will also enjoy limited access to Premium articles, exclusive newsletters, commenting, and virtual events with our leading journalists
Already have an account? sign in
Join our new commenting forum
Join thought-provoking conversations, follow other Independent readers and see their replies