Berlin Philharmonic musicians vote in secret on Simon Rattle's replacement
The secrecy surrounding the vote creates its own hype
Allan Hall Comments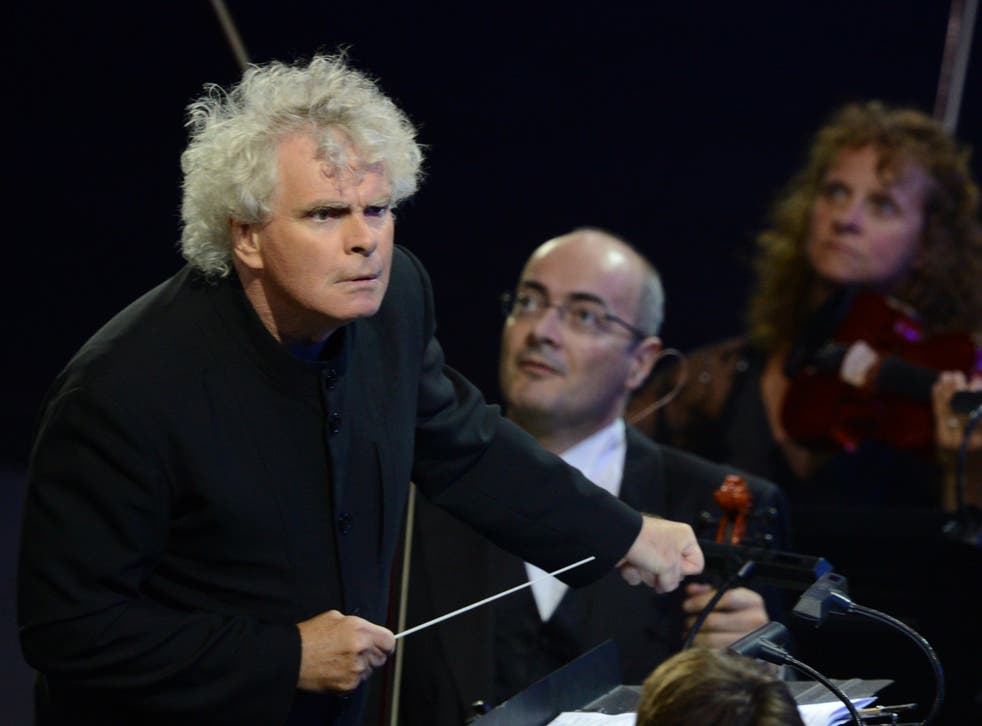 The classical music world's equivalent of a papal election takes place this Monday, as the musicians of the Berlin Philharmonic Orchestra go into their secret conclave to elect a successor to their British artistic director, Sir Simon Rattle.
The new holder of the title, in effect the chief conductor, will be passed a baton previously held by some of the greatest names in the concert hall firmament: Hans von Bülow, Arthur Nikisch, Wilhelm Furtwängler, Herbert von Karajan and Claudio Abbado to name a few.
Founded in Berlin in 1882, the Berlin Philharmonic has a reputation for excellence often equalled but rarely surpassed. Its success, believes film-maker Thomas Grube, who has made two documentaries about the orchestra, is thanks to a mixture of pride, excellence, extreme motivation and self-interest.
Mr Grube told broadcaster Deutsche Welle: "On the one hand, they are all the best in their field. But that alone is not enough. It has a lot to do with the system and with the way the orchestra is set up. With this group, every single musician – to put it in business terms – is like a shareholder. The orchestra chooses its members itself. The musicians elect their principal conductor."
The secrecy surrounding the vote creates its own hype. "It's not the calm before the storm – we are right in the middle of the storm," says Ulrich Knörzer, the orchestra's co-chairman.
When the 124 orchestra members meet at a secret Berlin location today it will be minus their mobile telephones or any electronic recording devices. Procedural rules state they can vote for "any living conductor", but in practice they are given paper slips, led into a guarded room and asked to thrash out their favourites from a pool of about 30 names.
No one can go in or out, or communicate with them. Round one is counted by an electoral committee of four members, chosen among themselves and kept secret. It is understood subsequent rounds of voting continue until a consensus is reached.
Sir Simon is to join the London Symphony Orchestra as its music director. Daniel Barenboim, 72, was, until last month, among the favourites to succeed him in Berlin, but the Argentine-born maestro has ruled himself out. When Sir Simon was asked about Barenboim's suitability, he replied: "What can you say? He IS music." But he wants to conduct it elsewhere.
Other names in the running include Berlin native Christian Thielemann, 56, seen as much more of a traditionalist than Sir Simon, who quite literally rattled the core support of the philharmonic with a tendency towards modern, sometimes atonal composers after he took on the post in 2002. But Thielemann is considered by some to have a "prickly temperament" which may count against him.
Andris Nelsons, 37, from Latvia is another candidate, seen as the kind of enfant terrible admired by Sir Simon. He is chief conductor of the City of Birmingham Symphony Orchestra, and also music director of the Boston Symphony Orchestra, and has conducted to great critical acclaim at the Wagner pilgrimage, the Bayreuth Festival.
The winner will take on a 100-concert schedule in Berlin, tours, recording contracts, and all the paperwork and stress entailed in keeping notoriously stroppy orchestra members close to happy. He will get a rumoured €500,000 a year (£360,000), generous expenses and the ability to earn more from recordings.
Register for free to continue reading
Registration is a free and easy way to support our truly independent journalism
By registering, you will also enjoy limited access to Premium articles, exclusive newsletters, commenting, and virtual events with our leading journalists
Already have an account? sign in
Join our new commenting forum
Join thought-provoking conversations, follow other Independent readers and see their replies